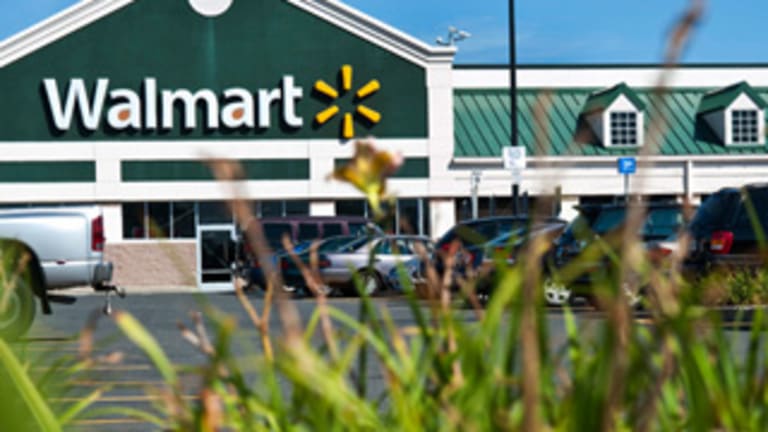 The Real Cost of Walmart to Taxpayers
America's biggest employer receives the biggest tax breaks. Recently released reports reveal that taxpayers subsidize Walmart stores to the tune of up to $5,815 per employee per year.
NEW YORK (TheStreet) -- Walmart (WMT) is America's largest private employer. It was listed as the #1 company in the 2013 Fortune 500 and the #2 company on the Global 500. With revenues of $473 billion and profits of $16 billion, Walmart has a market cap of $249.36 billion. The company currently employs over 1.4 million people, most of whom are low wage earners. The net effect of the low wages and minimal benefits is that many of its employees are on public assistance.
A report released Wednesday by Americans for Tax Fairness found that each Walmart Supercenter employee costs the taxpayer $3,015 to $5,815. Since Walmart has 1.4 million employees nationwide, the total estimated cost to U.S. taxpayers is $6.2 billion. The assistance that Walmart employees receive includes school breakfasts and lunches for their kids, earned income tax credits, section 8 housing assistance, food stamps and other benefits.
Walmart Generates Revenues from Customers on Welfare
Billions of dollars are generated annually by Walmart through sales to people on government assistance. Company executives went on record to explain why the company's profits shrank from $17 billion in 2012 to $16 billion in 2013 -- partly as a consequence of cuts to food stamp programs.
Other factors contributing to decreased profit include the increase in the cost of goods sold, income tax liabilities and selling, general and administrative expenditures.
Walmart's revenue was reported as $421.8 billion in January 2011, $446.5 billion in January 2012, $468.7 billion in January 2013 and $476.2 billion in January 2014. However, the net income was less flattering: $16.4 billion, $15.7 billion, $17.0 billion and $16.0 billion, respectively.
The growing revenue streams were countered by higher expenditures and increased selling, general and administrative expenses.
Walmart fourth-quarter figures for 2013 were listed as $1.67 per share on Feb. 22, 2014. Analysts are expecting 2014 Q1 earnings per share of $1.14, Q2 EPS of $1.25, Q3 EPS of $1.14 and Q4 EPS of $1.160. For 2014 as a whole, Walmart is expected to earn $5.11 per share.
Walmart stock has enjoyed robust growth since October 1996. Then the stock was trading at $11.38 per share. Three years later, the stock was at $69.13. A period of consolidation and growth between October 1999 and July 2011 saw the stock price averaging around $50 per share. Then from July 2011, the stock price went from $51.90 per share to its April 2014 trading range around $77 per share.
Over the last 52 weeks, shares have fluctuated from $71.51 on the low end to $81.37 on the high end. Walmart is now near record highs, and investors may not be all that eager to go all-in at that valuation.
Findings of Americans for Tax Fairness Report
Wednesday's Americans for Tax Fairness report found that Walmart accounted for $13.5 billion in sales paid with food stamps in 2013. The states in which Walmart took in the most revenue from food stamps are:
California -- $1.38 billion
Florida -- $1.06 billion
Texas -- $1.05 billion
New York -- $1.01 billion
Illinois -- $607.5 million
Georgia -- $522 million
Michigan -- $497 million
Employees of Walmart earn on average $11.83 per hour, which is above the federal minimum wage of $7.25 per hour. Workers also have access to 401(k) retirement plans, health and education benefits.
Walmart continues to invest in non-profits -- including a donation of $515,000 via the Walmart Foundation Nevada State Giving Program -- as well as donating $1.75 million in grants, $10 million to the U.S. Manufacturing Innovation fund and an ongoing collaboration with Wild Oats to reduce organic food prices.
At the time of publication, the author held no positions in any of the stocks mentioned.
This article represents the opinion of a contributor and not necessarily that of TheStreet or its editorial staff.