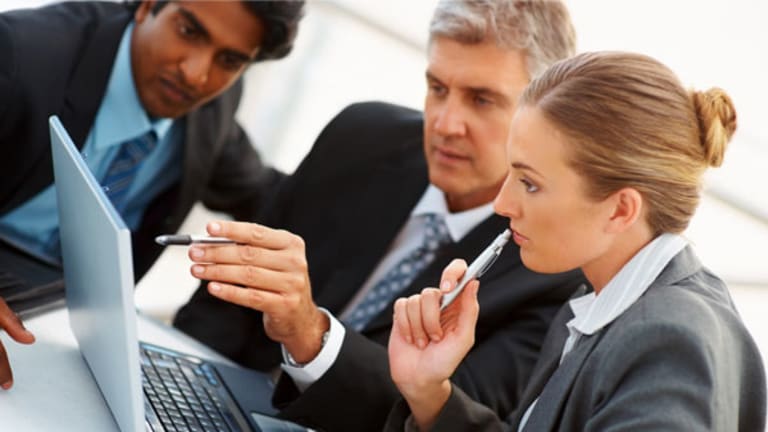 The Pros and Cons of the Eurobond
Many EU officials think they're the best bet for preserving the euro. But are they?
By Fisher Investments
NEW YORK (
) -- Eurobonds. German Chancellor Angela Merkel hates them. French President François Hollande loves them. And a growing chorus of EU officials think they're the best bet for preserving the euro.
But are they, really?
The pro-eurobond case is simple enough: Instead of issuing their own sovereign debt, nations would issue bonds collectively and they'd share liability and debt service responsibility. Yields would no longer vary throughout the monetary union, theoretically smoothing one of the eurozone's most glaring imbalances. Peripheral nations' borrowing costs would likely fall, making it easier for them to borrow, service outstanding debt and stay solvent. So far, so good.
Easier borrowing also helps nations finance public infrastructure projects -- the main reason Hollande, Italian Prime Minister Mario Monti and their Brussels cohorts are so enamored of them. They believe fiscal stimulus will best help peripheral Europe's weaker nations start growing again, but financing these projects on a large scale is exceedingly difficult under the current system.
The European Commission typically pitches in, but nearly half of EU member states oppose increasing the Commission's budget. To nations like the UK, which are trying to rein in debt, sending more money to Brussels doesn't make sense. Eurobonds would theoretically provide a workaround to such political hang-ups.
To Merkel and her constituents, however, the advantages are overstated and the risks, particularly to Germany, glossed over. If Germany were forced to borrow through a collective scheme, where peripheral risks as well as German fiscal strength would determine yields, its borrowing costs would likely rise, and German taxpayers don't want to pay for (in their eyes) the profligacy of others. (A phenomenon Ken Fisher wrote about
here.)
And, as one German official told
Reuters, pooling debt likely unleashes "unpleasant" political tensions over what is and isn't appropriate fiscal policy -- tensions that could dwarf today's bailout politicking.
Other Quibbles
Merkel also quibbles with eurobonds' larger purpose, infrastructure financing. Cross-border transport, water and communication projects can give economies a bit of a boost in the short term, but they don't do much to rectify nations' divergent competitiveness--the issue at the eurozone's heart. As Ken Fisher also
recently wrote, Europe's share of the global economy has fallen since similar troubles hit the region 20 years ago -- high unit labor costs, bloated public sectors and regulatory red tape have hampered productivity in some nations, making it difficult for them to compete within Europe and globally. Merkel has long championed free-market reforms to restore competitiveness will lay the best foundation for long-term growth, To her, eurobonds are a distraction and, at best, a Band-Aid.
Political debate aside, eurobonds are plagued with so many administrative hurdles, they may never see the light of day.
Article 125 of the Lisbon Treaty -- the infamous no-bailout clause -- states the EU or any member state "shall not be liable for or assume the commitments of central governments, regional, local or other public authorities, other bodies governed by public law, or public undertakings of any member state." Eurobonds thus require a treaty amendment -- a Herculean task, considering all 27 heads of state must sign off and all national parliaments need to ratify it. Negotiations on language all parties find acceptable, including potential opt-outs, could take years.
In Fisher Investments' view, the deregulation, tax relief and labor market liberalization Merkel's pushing likely provide the best long-term path for Europe. As ever, though, there's likely no quick fix for the region.
Even if the union can pull off eurobonds in the far future, as a potential near-term fix for the eurozone they're no more a silver bullet than any of the other grand plans touted in the past two-plus years. But the political will to preserve the euro remains steadfast, and officials likely continue their step-by-step approach to keeping the currency union intact.
This commentary comes from an independent investor or market observer as part of TheStreet guest contributor program. The views expressed are those of the author and do not necessarily represent the views of TheStreet or its management.