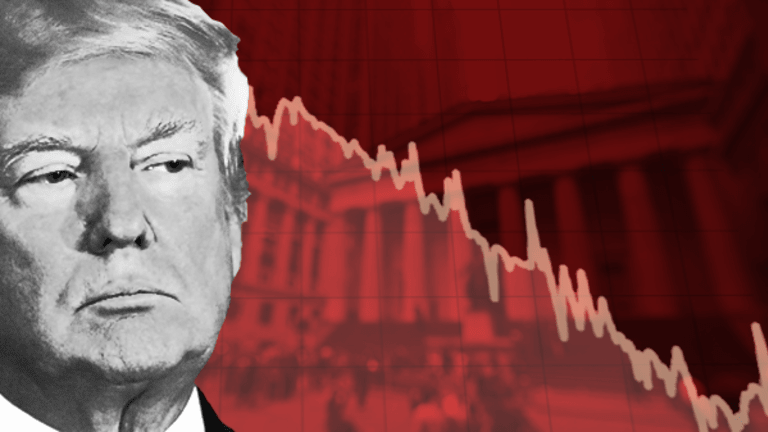 This Is Why Investors Must Now Fear President Trump: Market Recon
Tax reform? Infrastructure package? Take a number.
"Success comes when people act together; failure tends to happen alone." -- Deepak Chopra
The Agenda That Never Was
Frustrating. This U.S. president frustrates me greatly. From a policy point of view, I am all about rolling back regulation, cutting corporate taxes, repatriating funds from abroad, defense spending, infrastructure building, and leveling trade balances. Who could possibly be against such things, after what this country has been through? I really wanted this president to do well. Heck, I want every president to do well. I am American. Now, we find ourselves in a position where business leaders have fled in aggregate from advisory boards put together by the president for the purpose of furthering the interests of U.S. business itself. Moral introspection? Perhaps, for some. In the wake of the president's failure to take a public stand against the actions of some far-right hate groups this weekend, that is a factor for some business leaders. But let's face it... these are business leaders. Dollars and cents, as well as public perception, mean more when making a statement than does conscience.
Without getting political, because that is not why you read me, business leaders have lost faith in the president's ability to promote his agenda. That is the bottom line. Ethically repugnant, at worst; complete lack of personal discipline, at best. They are the same, at the bottom of the page. The agenda has flat-lined. Tax reform? Infrastructure package? Take a number. You may rather wait for service at your local Department of Motor Vehicles. There is good news, though.
The good news is that the markets have gotten to where they are on strong fundamentals. Stocks are about earnings and expectations for growth. Largely, thanks to the strength in foreign economies and favorable exchange rates, many U.S. corporations are in much better shape than they were just a few years ago. After the election, there was a certain level of euphoria spread around the world of business. One of our own would surely have a major, and positive impact. Well, even without progress on any part of the agenda away from regulation, the data has caught up to the euphoria. Nothing put forth from either the executive or the legislative branches of government is currently priced in.
When Doves Fly
Political turmoil aside, let me try that again. Congruent with the turmoil permeating the political scene, the Federal Reserve released its Minutes from the July meeting late yesterday. I have said repeatedly that I believe the methodical management of the balance sheet was written in stone. I see nothing here that would challenge this stance, and still expect to see the program that will become known as "quantitative tightening" to launch this September. There seems to be no hurry among committee members to raise the fed funds rate anytime soon, as several have openly expressed concerns over the lack of consumer level inflation.
The likelihood is, at least from my perspective, that the committee would like to observe financial market behavior in response to the launch of this program. It is obvious that these policymakers would like to get another rate hike under their collective belts if not this year, then early next year. There is a chance that they simply set this threat up, so that there will be market-wide relief when there is no trigger pull and the economy is not forced to handle a double dose of tougher monetary conditions all at once. Futures markets are still putting the odds of a December rate hike at nearly 50/50, but traders clearly took these Minutes as dovish. Dallas Fed President Robert Kaplan speaks this afternoon, as well as tomorrow morning. He is your typical swing voter at the FOMC. Suddenly, his words matter.
'Trivalry'
Anyone been to a Target (TGT) - Get Target Corporation Report lately? Me neither. You know what? Someone has. For the second quarter, Target beat earnings per share expectations by four cents. It also beat revenue projections by $130 million. Comparable sales in stores open at least a year saw a 1.3% increase in business, when the street was looking for a rise of 0.7%.
Want to talk about the internet? Comparable digital sales increased 32% this quarter. Target plans to improve its online business, expanding its ability to deliver next day, same day delivery for in-store purchases. Speaking of in-store, the firm is remodeling more than 100 locations, while simultaneously panning to double the number of "small-format" stores. Sound like a firm left for dead to you? Sounds more like a firm learning how to compete with the likes of Walmart (WMT) - Get Walmart Inc. Report and Amazon (AMZN) - Get Amazon.com, Inc. Report to me. The company raised full year guidance $0.54 on the low end of the range, and $0.34 on the high end.
Walmart's valiant fight to remain relevant in the age of e-commerce is now well known. I have long been pounding the table on its behalf, raising my target price twice. WMT will report this morning. Wall Street looks for EPS of $1.07, with whispers that are slightly higher than that on revenue of $122.72 billion. The stock has been strong into earnings, but at least is well off its August highs. I never want to go into these things riding too high.
Is there room in this rivalry between WMT and AMZN for a third party? Is this about to become a "trivalry"? Not yet, in my opinion. That said, the table is set.
Macro
08:30 - Initial Jobless Claims (Weekly):Expecting 240,000, Last Week 244,000. This item stands virtually no chance of impacting the marketplace today due to the regularity of its results. The entire range of consensus view for today's print spans just 7000, from 238,000 to 244,000. The four-week moving average now stands at 241,000, and has hit the tape between 230,000 and 250,000 for 19 consecutive weeks now.
08:30 - Philadelphia Fed Manufacturing Index (August):Expecting 17.9, July 19.5.New orders in the Philadelphia index barely grew in July. That was disguised by a headline print that still showed overall expansion at fairly strong levels. Remember, decent-looking manufacturing surveys do not last for long without incoming order flow. There is some possible good news, however. On Tuesday, the Empire State beat expectations, and that beat was largely powered by new orders. Two things to keep in mind here. Philadelphia is the most important regional manufacturing survey in the country, and Philly has outperformed New York at the headline level for 12 consecutive months.
09:15 - Industrial Production (July):Expecting 0.3%, June 0.4% m/m.
09:15 - Capacity Utilization (July):Expecting 76.7%, June 76.6%. These numbers have lifted themselves off the floor of late. Industrial production, which had been just pitiful throughout 2016, has actually expanded for five going on six consecutive months. This is while capacity utilization also on the rise, is expected to equal a 17 month high this month. This is the macro event of the day.
10:00 - Leading Indicators (July):Expecting 0.3%, June 0.6% m/m. the components of this index have all been priced in at this point, and have been for some time. This renders the series inconsequential in the eyes of the marketplace. You can skip ahead to 10;30.
10:30 - Natural Gas Inventories (Weekly):Expecting 26 billion, Last Week 28 billion cubic feet. Natural gas ramped back above $3.0 late last week, only to see the selloff in this commodity resume this week partially due to a bit of dollar strength. The truth is that with the last sale around $2.92, nat gas could give up as much as a dime should this item show a significant build today, and further support for the dollar at current levels.
13:00 - Fed Speaker.Dallas Fed President Robert Kaplan will speak from Lubbock, Texas this afternoon. Kaplan is a voting member of the FOMC, who had been hawkish until recently. Lately he has been openly concerned over the lack of progress made concerning consumer level inflation. There will be a period set aside at this event for Kaplan to field questions from the media, as well as the audience.
Here's why the Fed should raise interest rates: 
13:40 - Fed Speaker.Minneapolis Fed Pres. Neel Kashkari, who also is a voting member of the FOMC is scheduled to speak from Edina, Minnesota. Kashkari has been consistently dovish all year, and will take questions from the audience today.
Sarge's Trading Levels
These are my levels to watch today for where I think that the S&P 500, and the Russell 2000 might either pause or turn.
SPX: 2485, 2476, 2469, 2463, 2456, 2447
RUT: 1400, 1391, 1385, 1377, 1368, 1362
Today's Earnings Highlights (Consensus EPS Expectations)
Before the Open: (BABA) - Get Alibaba Group Holding Ltd. Sponsored ADR Report ($0.93), (BKE) - Get Buckle, Inc. Report ($0.24), (CATO) - Get Cato Corporation Class A Report ($0.11), (SPLS) ($0.12), (WMT) - Get Walmart Inc. Report ($1.07)
After the Close: (AMAT) - Get Applied Materials, Inc. Report ($0.84), (GPS) - Get Gap, Inc. (GPS) Report ($0.52), (ROST) - Get Ross Stores, Inc. Report ($0.77), (ZOES) ($0.02)
Get Morning Recon delivered directly to your inbox each market day. Click here to sign up for e-mail delivery of Stephen "Sarge" Guilfoyle's Morning Recon, Jim Cramer's Daily Booyah! or other great free newsletters from TheStreet.
More of What's Trending on TheStreet:
At the time of publication, Stephen Guilfoyle was long AMZN, WMT, although positions may change at any time.