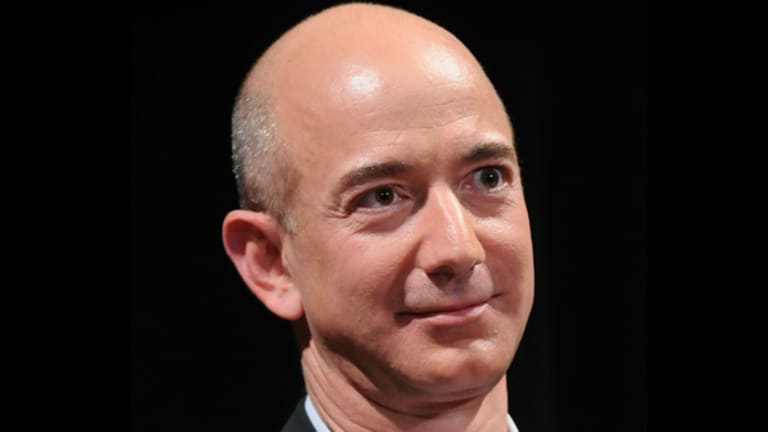 The Only CEO Who Could Hold Steve Jobs's Jock Strap
Jeff Bezos' wise words coincide with columnist on 'flip-flopping' and having an open mind.
Jeff Bezos' wise words coincide with columnist on 'flip-flopping' and having an open mind.
NEW YORK (TheStreet) -- It's been a surreal last few days.
I'm pleased to note that I have accepted a full-time staff position, official Nov. 1, as
TheStreet's
Director of Social Media. I will continue my writing and television/video work with the added responsibility of running
TheStreet's
social feeds. So, please follow or like us on
,
and
.
Over two days last week, I not only got to work on Wall Street and enjoy Manhattan's urban energy,
I received a tour of the New York Stock Exchange
from
Jill Malandrino of TheStreet's OptionProfits premium service
.
Good times. But I never take them for granted. Even during the good times, you've got to remember,
this too shall pass
, because it will.
The story I saw on my way home, however, gave me serious beer muscles.
Thank you to the only CEO who can hold former
Apple
(AAPL) - Get Report
CEO Steve Jobs's jock strap -- Jeff Bezos from
Amazon.com
(AMZN) - Get Report
.
What Happened?
Magic. That's what happened.
Bezos recently spoke to a Web app company,
, in Chicago. After his talk, he took questions from employees.
Bezos and I must be on the same mission.
From the 37signals blog:
Bezos said people who were right a lot of the time were people who often changed their minds. He doesn't think consistency of thought is a particularly positive trait. It's perfectly healthy -- encouraged, even -- to have an idea tomorrow that contradicted your idea today.
He's observed that the smartest people are constantly revising their understanding, reconsidering a problem they thought they'd already solved. They're open to new points of view, new information, new ideas, contradictions, and challenges to their own way of thinking.
The stock market and politics are two areas that have an annoying macho obsession with "flip-flopping." It comes as no surprise that men dominate both areas.
Thankfully, a new wave of thinkers -- open, willing and able to change -- favor critical thought over rigidity and an insistence on pointing out who was "right" and who was "wrong" every other fleeting day.
It's downright eerie to compare Bezos's sentiment with thoughts I have been developing for some time now, most recently in response to a couple of article comments from last week.
Even if it's only via this perverse cyber relationship he doesn't even know exists, I am happy to be one with
Bezosian
thought. With
the man
gone, it's the closest thing we have to
Jobsian
bits of wisdom. In fact, I'm beginning to wonder if Bezos and Jobs belong in the same category. But that's a topic best assigned to another time.
Investors should take what Bezos says and apply his fresh thinking to their market-related thoughts. Non-investing humans concerned about the quality of their present and future cognitive functioning should as well.
If you find yourself unwilling to consider information and perspectives contrary to the beliefs you hold, there's a good chance emotion has trumped intellect.
I won't rehash the recent
world versus Doug Kass
(who ended up being right on his recent short-term bearish call) AAPL spectacle, but it's a perfect example.
AAPL longs may say they don't care. They're not trading the stock. All that matters is the long-term. And, over that period, AAPL has done nothing but deliver. True. But that doesn't mean you discount valid concerns Kass raises to support his bear case.
Netflix
(NFLX) - Get Report
provides an equally-as-strong example.
Last year, I became "known" for hammering home the eventual implosion case as NFLX powered past $300.
That triggered the formation of a core of readers who got behind the sentiment and felt vindicated as the stock crashed well below $100 towards the end of 2011. Some of these bears shorted the stock or went long put options and made loads of money.
Being an AAPL bull or a NFLX bear has increased wealth for quite a few believers. That, however, is no excuse for an undying loyalty to the stock and your point of view.
I receive emails from readers daily asking about NFLX.
Recently,
. This shift in opinion has brought people out of the woodwork to call me a "flip-flopper" and worse. Many act like I ducked out of some blood-scrawled suicide pact. It's as if I have some oath of faithfulness for the bearish cause to uphold.
These are not sports teams. They're not family members. They're stocks. They're companies.
The 37signals' description of what Bezos said, adapted to apply directly to investors, could not be more on the money. In fact, I'm going to screenshot this, print it and pin it on the cork board that hangs in front of me.
The smartest investors are constantly revising their understanding, reconsidering what they think they already know about a company and its future. They're open to new points of view, new information, new ideas, contradictions, and challenges to their own way of thinking.
At the time of publication the author held no positions in any of the stocks mentioned.
This article is commentary by an independent contributor, separate from TheStreet's regular news coverage.
Rocco Pendola is a private investor with nearly 20 years experience in various forms of media, ranging from radio to print. His work has appeared in academic journals as well as dozens of online and offline publications. He uses his broad experience to help inform his coverage of the stock market, primarily in the technology, Internet and new media spaces. He has taken a long-term approach to investing, focusing on dividend-paying stocks, since he opened his first account as a teenager. Pendola, 37, is based in Santa Monica, Calif., where he lives with his wife and child.