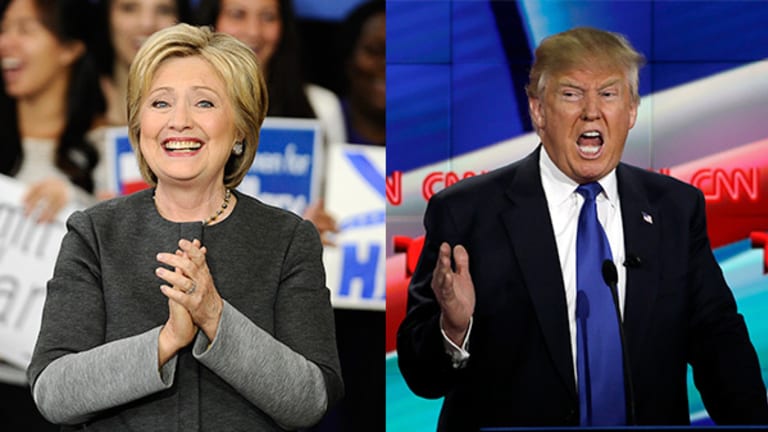 The One Issue Clinton, Trump and Sanders All Agree on
Hillary Clinton, Donald Trump and Bernie Sanders, who has yet to formally end his candidacy, say that the Trans-Pacific Partnership (TPP) trade deal will hurt American business and workers.
It's unusual when Presidential candidates share the same opinion on a major issue. But that seems to be the case for the Trans-Pacific Partnership. 
The presumptive Democratic and Republican nominees, Hillary Clinton and Donald Trump, oppose the trade deal, although Clinton is more measured in her opposition. Democratic candidate Bernie Sanders, who has yet to withdraw from the race and collected more than 1500 delegates in the primaries, also opposes the deal. 
Clinton, Trump and Sanders say that TPP will hurt American business and cost Americans jobs. Clinton's and Trump's opposition may stem from their desire to please key voting blocks -- or at least not offend them. 
TPP is supposed to simulate trade among the U.S. and 11 Pacific Rim countries, Japan, Brunei, Chile, Australia, Malaysia, New Zealand, Mexico, Canada, Singapore, Vietnam, and Peru. The deal, which was signed earlier this year in Auckland, New Zealand, is supposed to lower exporting costs, eliminate taxes and custom duties and raise intellectual property standards that protect in President Barack Obama's words, "data and ideas and jobs."
It is among the largest regional trade agreements in history. 
Obama has been a strong advocate of TPP and has urged Congress to vote it into law this year. 
But TPP has raised fundamental concerns about the autonomy of U.S. trade policy, and whether it will place American businesses at a disadvantage. Some opponents have also expressed their concerns about the deal's impact on the environment and the treatment of workers. 
Bernie Sanders
Stance against TPP: Firm and Clear
Sanders said that the trade deal will "hurt consumers and cost Americans their jobs." Sanders believes that if TPP will make it easier for large corporations to move factories to such countries as "Vietnam, where workers are paid 65 cents an hour." American companies operating in accordance with stricter federal and state labor law will be at a disadvantage. For example, California has a $10 minimum wage, and labor advocates are pushing for that to go much higher (The U.S. minimum wage is $7.25 an hour.)
In an op-ed for the Philadelphia Enquirer Sanders wrote, " If both Clinton and I agree that the TPP should not get to the floor of Congress this year, it's hard to understand why an amendment saying so would not be overwhelmingly passed." 
Sanders also recently tweeted, "We must stop letting multinational fossil fuels corporations rig the system to pad their profits at our expense."
Hillary Clinton
Stance against TPP: Lukewarm and cautious
As reported by The Nation, Clinton and her staff played a major role in crafting the agreement and picking trade partners Vietnam, Brunei, Malaysia, and Singapore. 
The Former Secretary of State supported TPP repeatedly, even calling it the "gold standard," before announcing her opposition to the pact during the primaries. 
In a 2015 CNN Democratic Debate, she said that she had decided to oppose TPP after absorbing "new information." 
She had concerns that the deal would help other countries more than the U.S. "....We have failed to provide the basic safety net support that American workers need in order to be able to compete and win in the global economy, " she said at one point during the primaries.
Still, she has been measured in her comments about TPP throughout her campaign, so as not to seem overly critical of Obama.
Donald Trump
Stance against TPP: Aggressive and vague
Trump has been increasingly vocal in his opposition to TPP. . 
Trump has called the deal a "horrible," although at times, he has not seemed to possess a strong understanding of its details. 
In a Fox Business/Wall Street Journal Republican debate in November, Trump incorrectly included China in the agreement and was corrected by Sen. Rand Paul.
But Trump has said that China is likely to join the trade deal through a "back door." The Washington Post pointed out subsequently that, "There's really one "door" for China to join the TPP, and there are steps that China would have to go through to enter it." A panel of experts told PolitiFact that TPP would negatively affect China.
This article is commentary by an independent contributor. At the time of publication, the author held no positions in the stocks mentioned.