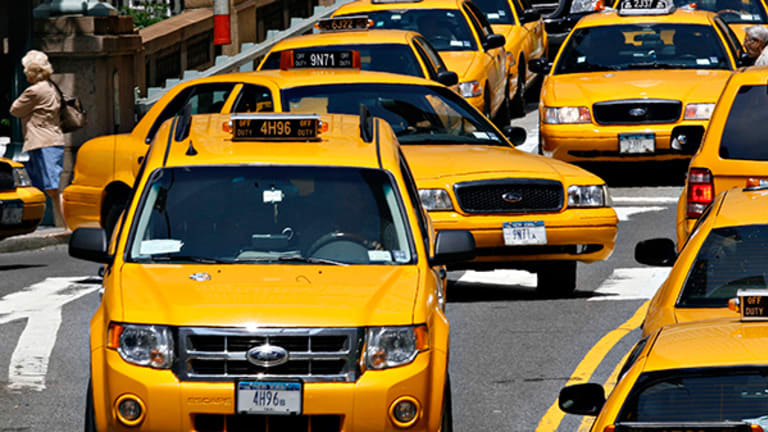 The One Chart That Should Worry Uber and Hurts the Taxi Medallion Short-Selling Thesis
Taxi applications are on the rise in San Francisco, a potential sign that drivers aren't happy working for ride-hailing company Uber Technologies.
There's one chart that should worry Uber Technologies, Lyft, other ride-hailing companies and those who are selling short the stocks of companies that lend money to owners of traditional taxi medallions.
The chart shows the number of applicants for a taxi license in San Francisco.
Source: Data from San Francisco Municipal Transportation Agency; Years shown are fiscal years ending on June 30.
Uber started offering its services in San Francisco in the summer of 2010. Within two years, the number of applications for taxi licenses fell by almost 50%. The likely reason is that taxi drivers were bailing to work for Uber and people who were considering becoming cabbies trying Uber instead. But now applications are increasing again, suggesting that Uber drivers are bailing and returning to traditional taxis.
Uber drivers may have discovered that their net income is not what they'd hoped for. A recent research paper by the author of this article concluded that Uber drivers in New York don't make much more than cabbies there.
Charles Rathbone, a 40-year veteran of the San Francisco taxi business that has taken him from driver to owner to fleet manager, says, "The driver permit numbers mean that the worst of the Uber storm is in the rear-view mirror."
How is this relevant to taxi medallion financial industry lenders, and to you, as an investor?
The market had worried that Uber would so detrimentally affect taxi cab cash flows that owner-operators of taxis would be unable to make payments on their taxi medallion loans. That is the thesis pushed by investors who sell short the stocks of the lenders. Although weaker lenders -- the credit unions -- are showing cracks in their portfolios, more conservative taxi medallion lenders aren't seeing too much pressure.
A study released by Uber earlier this year showed an attrition rate in Uber drivers after one year approaching 50%. And for evidence of driver dissatisfaction, you only need to look at the numerous complaints from Uber drivers at sites such as www.uberpeople.net.
Unhappy Uber drivers and attrition mean less competition from this company. A spreadsheet that Uber produced (and that can be downloaded via this article) revealed that the average number of Uber drivers on the road in New York City at any given time was 3,227... out of more than 20,000 registered vehicles. My conclusion was that many of those 20,000 were no longer active, or that New York City had reached equilibrium or both.
Less competition from Uber would mean more reliable cash flow for taxi drivers in San Francisco. Moreover, the San Francisco Municipal Transportation Agency passed a measure earlier this month that forces UberX drivers to effectively avoid the popular Mission Street to reduce congestion.
The SFMTA also announced recently that it will amend the Transportation Code to make it easier to purchase a medallion, reducing the driving requirement from four out of the last five years to the past 12 months. The SFMTA sent out letters of interest and said it has received 250 replies from potential buyers. One would expect zero responses if Uber were really killing the taxi business.
The research paper referenced above shows that New York City UberX drivers aren't making much more than cabbies, so one would expect that former cabbies will become current cabbies once again, as they abandon Uber in greater numbers. Once again, less competition would mean less of a threat to cash flow.
That could be the death knell to the short-sellers.
As it is, the delinquency data from the Northeast banks that have made significant taxi medallion loans aren't bad at all. The major lenders have assets from $3.7 billion to $307 billion, according to this Piper Jaffray research note from September. The taxi medallion loans only account for small parts of their portfolios, and delinquencies representing even less.
BankUnited (BKU) has no reported delinquencies, according to an article in The Wall Street Journal.
data by
ConnectOne (CNOB) said in its last quarterly report that all of its medallion loans are 100% current as to principal and interest, although the bank said declining medallion values had caused it to record an approximately $2.0 million credit reserve for its taxi medallion loan portfolio.
data by
Sterling Bancorp (STL) and Capital One (COF) have not specified delinquencies but have some "special mentions" in recent quarterly filings (Sterling Bancorp's 10Q is here and Capital One's is here.) These are loans that have potential weaknesses but are not yet considered substandard.
data by
data by
Medallion Financial Corporation (TAXI) is not a bank. Instead, it's a specialty lender with a focus on medallion loans. According to this recent filing, it has $5.5 million, or 1.4%, of its portfolio more than 90 days past due, and $19.5 million 31-90 days late.
TAXI
data by
The companies with multibillion-dollar asset bases can absorb losses. Even Medallion Financial is in OK shape because it takes personal guarantees on all of its loans. It can, and has, restructured loans so borrowers can have an easier time making payments. Because Medallion Financial only gives up about 3.6% annual interest in an amortization-only restructuring, it's barely a blip to the bottom line.
Yes, it's true that some New York credit unions have suffered: Lomto, Melrose, Montauk and Progressive. And of course, Montauk generated headlines when it was seized by New York state regulators in September. These lenders are suffering the most because while their median delinquency rate, according to SNL Financial data cited in this Piper Jaffray note, is 7.8%, that's against relatively small asset bases, of $2.1 billion and less.
Medallion Financial, with its personal guarantees and restructurings, and lenders with large, diversified asset bases are really not facing the same risk.
It's time to keep a close watch on what happens to taxi license volume in other cities, because even those pressures that lenders have faced may begin to wane.
This article is commentary by an independent contributor. At the time of publication, the author was long Medallion Financial (TAXI).