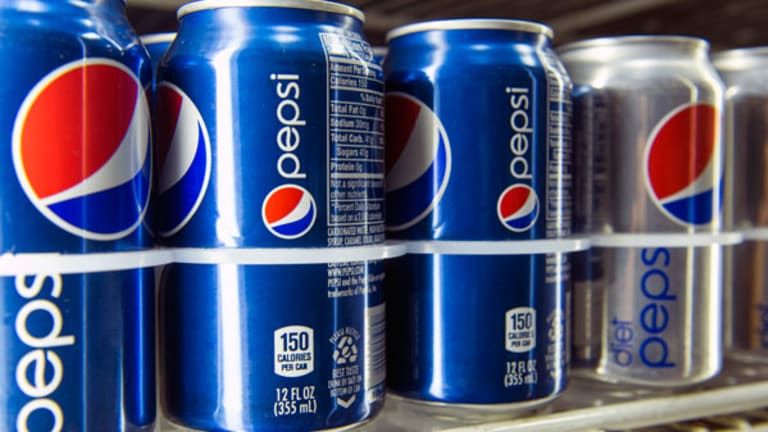 The Olympian Power of PepsiCo
When PepsiCo reports earningsThursday, its fast-growing snacks business may be in the brightest spotlight.
NEW YORK (TheStreet) -- The Olympics are going strong in Russia and one of the big advertisers, PepsiCo (PEP) - Get PepsiCo, Inc. Report, will report its quarterly results before the markets open Thursday. Investors hope the company will step up to the winners platform with news of "gold medal" earnings per share and sales growth.
Pepsi's behemoth beverage division is somewhat overshadowed by its even healthier snacks business. Guess who's watching and listening carefully to the earnings call about that segment of Pepsi's operations?
None other than Nelson Peltz, the legendary activist investor.
As I commented in a recent article, early last year Peltz's Trian Management Fund amassed stakes of more than $1 billion in Pepsi and Mondelez International (MDLZ) - Get Mondelez International, Inc. Class A Report "apparently with the hope of merging the snacks business of PepsiCo with the fast-growing spin-off of Kraft Foods (KRFT) ."
Peltz may have given up on that idea for now but he hasn't stopped criticizing PepsiCo management. Peltz has publicly stated he'll continue to push PepsiCo to spin off its faster-growing snacks unit from its beverage business.
Just the publicity alone helped shares of PEP to almost reach its 52-week high of $87.06 before falling more than 10% to the intraday low of $78.28 on Feb. 4. Shares closed Wednesday at $81.49, down 1.5% for the year to date.
The one-year chart below shows us where the power of Pepsico and its stock price has been, including the most relevant simple moving averages (SMA) of the share price.
One thing the chart shows us: Shares have definitely fallen in 2014 below both the 50-day and 200-day moving average prices. Some technicians refer to this as "the death cross" but this hasn't deterred Pepsico's largest investors from holding tight.

That may be because the power of PepsiCo's Americas Foods division offers some big, money-making brand names. These include Lays and Ruffles potato chips, Doritos and Tostitos tortilla chips, Quaker oatmeal, Aunt Jemima mixes and syrups and Rice-A-Roni, among many others.
Keep in mind that CEO Indra Nooyi owns nearly $50 million of PepsiCo stock, so the highest-ranking officer has her money where her heart is. As far as we know none of the insiders or the major institutional holders have been selling shares since PEP made the infamous "death cross" during the recent market correction.
Maybe it's because they know the company guided analysts' expectations for the possibility of an EPS number that will be lower than the $1.09 per share that PepsiCo booked during the year-ago quarter. This powerhouse of beverages and snack foods also underwhelmed analysts when it came to revenue projections.
That led to the average analyst estimating revenue for the past quarter to be not much more than 1% higher (approximately $20.16 billion, according to Yahoo! Finance) than the year-ago sales growth number. Will there be some positive, upside surprises before the markets open on Thursday?
It won't take an Olympian leap to beat The Street's expectations, and with an apparently sustainable 2.8% dividend yield PepsiCo may exceed its goals and financial metrics. If the operating margin can reach or surpass 15% and its trailing 12-month operating income propels higher than $10 billion, we might just see the shares attempt to regain the 52-week high mark.
With an activist investor flexing his muscles for a possible spinoff of the company's snack division, the eventual outcome may be as lucrative as a PepsiCo shareholder could dream. Stay tuned, your fingers crossed and keep a bag of Doritos nearby for comfort.
At the time of publication the author had a position in PEP.
This article represents the opinion of a contributor and not necessarily that of TheStreet or its editorial staff.
Marc Courtenay is the founder and owner of Advanced Investor Technologies, LLC, as well as the publisher and editor of www.ChecktheMarkets.com.
Courtenay holds a Master's of Science degree in Psychology from California Polytechnic State University, and is a former senior vice-president of Investments for two major brokerage firms. He's been a fiercely independent investment "investigator" and a consulting contributor to the investment publishing world for over 30 years. In addition to his role as an investment publisher and analyst, he serves as a marketing consultant to the investment media industries.
In his role as a financial writer and editor, he specializes in unique investment strategies, growth with income stocks, overlooked investment themes, tax-advantaged themes, risk management, technologies to capture gains and reduce losses, real estate related opportunities,effective wealth preservation techniques, and the use of ETFs for diversification and asset allocation. He also follows and frequently writes about technology, health sciences, energy and resource companies. Because of his training and background in Clinical Counseling and Psychology, he enjoys writing about investor behavior, the herd mentality, how to turn investment mistakes into investment breakthroughs and the stock market's behavioral trends and patterns.