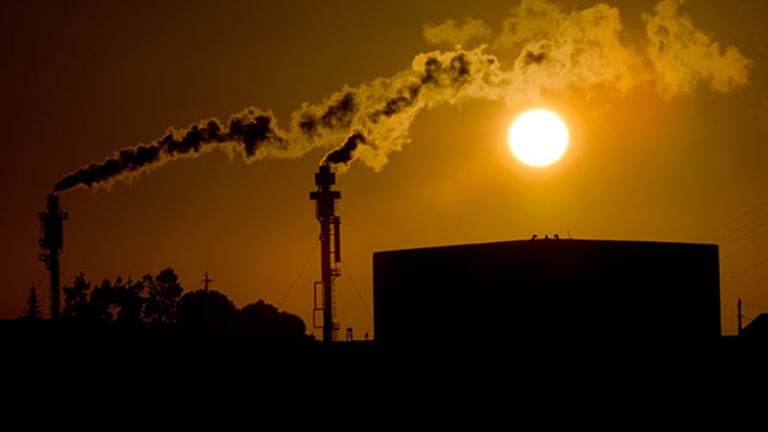 The Oil Spread Is Back
Lower energy prices may be temporary or a sign of things to come. Either way, they are boosting the economy.
NEW YORK (TheStreet) -- Anyone looking for an economic tailwind needs to look at our handy chart on the spot price of oil.
In particular, look at the far right side of the graph. There are two oil prices. One is the world price, based on what's charged for Brent North Sea oil in Europe. The other is the U.S. price, defined as West Texas Intermediate, or WTI.
Since 2011, there has been a pronounced difference or spread between these prices. Early this summer, it seemed to be disappearing. Now it has widened again, and is at about $15/barrel according to the chart. Analysts, like Dan Dicker, who thought WTI would surpass Brent in July,
.
This is an enormous economic tailwind, notes Mark Perry on the American Enterprise Institute's blog
Carpe Diem
.The U.S. exports oil in the form of refined product, and that now totals more than 3 million barrels a day. In constant 2009 dollars, Perry expects that to exceed $7 billion this year, which would help limit the trade deficit.
That is in addition to the natural-gas glut, which has the benchmark "Henry Hub" price staying well below $4 per thousand cubic feet all next year,
according to the CME Group's future contracts
, while European consumers pay over $11/mcf. The explosion in production throughout the eastern Marcellus Shale means some folks there are getting even less than the Henry Hub price.
Energy price bulls remain bullish. Claude Salhani has written at
OilPrice.com
that Saudi Arabia and Iran
. Saudi intelligence chief Prince Bandar told the country's
Al Akhbar
news service the country is
But the link between oil prices and economic growth seems to be broken now. In the past, crude prices were likely to jump on even the hint of better times. Now the Energy Information Agency sees
while drivers buy more fuel-efficient cars.
How can this be bad? Well, fracking costs more than just sticking a pipe in the ground. Fracked wells lose their productive capacity quickly. That means the margin between costs and prices is narrower than it once was, and falling prices narrow it further.
When oil brings in $100/barrel, a landowner may get a royalty of as much as $22 for each barrel that flows. With oil at $85/barrel, that royalty is smaller. When the price of natural gas plunged a few years ago, producers in the Bakken field of North Dakota accelerated their flaring of it -- Perry of AEI had a photo from the National Aeronautics and Space Administration
last year
showing that you can see it from space. If oil production is shut in waiting for higher prices, that slows growth even further.
I'm a big booster of renewable energy, but production can't yet meet demand. Wind energy represents just 2% of grid production today, and solar less than 1/2 of 1%, although the prices paid for solar stocks such as
First Solar
(FSLR)
and
SolarCity
(SCTY)
are way up this year. Biofuels, while interesting, still aren't being produced in commercial quantities. Green energy isn't yet ready to pick up the slack. But production is increasing.
KiOR
(KIOR)
just got another $100 million in
to build a commercial plant in Mississippi. Biochar, which uses a low-oxygen environment to produce both energy
, is coming into its own. Cities are drilling for gas inside landfills, and
.
Today's spread in oil prices may be temporary. What happens to the economy if it becomes permanent, when the energy price needle starts pointing down in a big way? Back in the early 1980s, that turned Houston into an economic wasteland. Will the landing be softer this time?
At the time of publication, the author owned no shares in companies mentioned here.
This article is commentary by an independent contributor, separate from TheStreet's regular news coverage.
Dana Blankenhorn has been a business journalist since 1978, and a tech reporter since 1982. His specialty has been getting to the future ahead of the crowd, then leaving before success arrived. That meant covering the Internet in 1985, e-commerce in 1994, the Internet of Things in 2005, open source in 2005 and, since 2010, renewable energy. He has written for every medium from newspapers and magazines to Web sites, from books to blogs. He still seeks tomorrow from his Craftsman home in Atlanta.