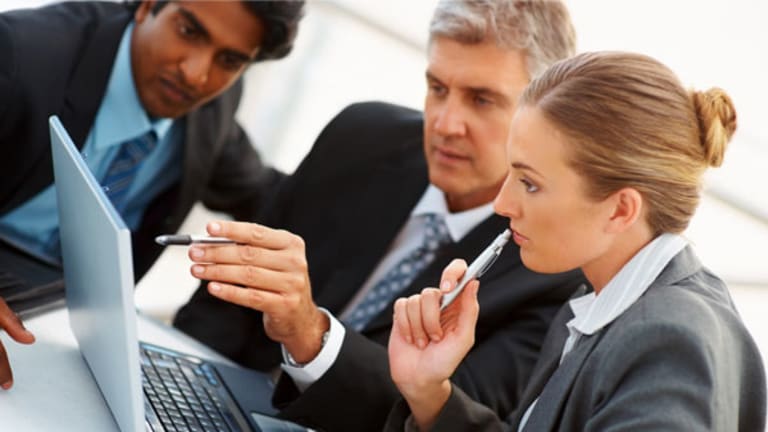 NEW YORK (TheStreet) -- Seldom has one car seemingly so deliberately been designed by oneparty, for drivers belonging to the same party. I'm talking about theultimate Republican car, made by Republicans, for Republicans. Let metell you about it.
It was conceived, designed, engineered and developed under aRepublican president, by a capitalist corporation. The purpose ofbringing this car to market was to maximize profits. The topexecutive pushing for the accelerated development of this car is awell-known outspoken Republican with impeccable Republican credentials.
Republican car buyers are more likely to drive Rolls Royce andBentley, because they appreciate and are willing to pay for cars that are silent, vibration-free and butter-smooth. So this ultimate Republican car needed to trump Rolls Royce and Bentley in being even more silent, vibration-free and butter-smooth.
Whether you drive a Rolls Royce or a diesel pickup truck, a faithfulRepublican driver needs gobbles of torque, so that there is dramatic responsiveness to the accelerator. As a result, this Republican car has 273 lbs of torque available already from the first fraction of a second. Not even a Rolls Royce or a Ford diesel pickup truck delivers this much torque so quickly!
Some of the most popular cars of the 1% have adopted the designs of four bucket seats, separated by a thick center tunnel. Examples include the $90,000 Porsche Panamera and $200,000 Aston Martin Rapide.
Follow
TheStreet
on
and become a fan on
Not surprisingly, the ultimate Republican car incorporates this design element as well.
What all of these ultra-luxury cars also have in common are thick doors, thick pillars, massively efficient brakes and five-star crash ratings. No doubt, so must the ultimate Republican car.
Republicans are better prepared for war than Democrats, so the idealRepublican car must be flexible enough to adapt to changing circumstances in the field. Just like our finest aircraft carriers and submarines, it needs to be able to run on nuclear power if the driver deems it fit.
Finally, the ultimate Republican car must also be able to reduce your taxes. Surely you have paid way too much in taxes, and deserve to see a reduction in your liabilities. You really don't want to send any more money than necessary to the government bureaucrats, do you?
So what car is this ultimate Republican car?
It's the Chevrolet Volt.
Development Under Bush
Hard-core
General Motors
(GM) - Get General Motors Company (GM) Report
Vice Chairman Republican Bob Lutz started the ChevroletVolt project in January 2006, one year into George Bush's second termas president. The first prototype was shown in January 2007, and the full project was approved by GM's board of directors shortly thereafter.
After the development and engineering phase, the production version of the Chevrolet Volt was unveiled on September 16, 2008, after which it entered durability testing and the factory outside Detroit was prepared for volume production. Last time I checked, even after the development culminated in the unveiling of the Volt on Sept. 16, 2008, the McCain-Palin ticket was polling close to 50%.
Designing a car that is capable of driving 25 to 50 miles on electricity, often generated by nuclear power, but having an on-board generator that makes the total range of the car over 375 miles, was not an easy task. It is an expensive proposition, but it has side-benefits in terms of superior performance suitable for the most extraordinary of luxury cars. Don't you want a car that's as silent and smooth as a Rolls Royce?
It's been frequently reported in the media that the average annualincome of a Chevrolet Volt buyer is between $150,000 and $170,000. I don't know if that's true or not, but the people who buy Chevrolet Volts tend to be "trading down" from more expensive European cars such as Mercedes, BMW and Porsche. They tend to be scientists or engineers who understand the benefits of being able to drive on electricity generated from nuclear power. When I think of the Chevrolet Volt, it is easy to imagine Peter Sellers' character in Stanley Kubrick's
Dr. Strangelove
(1964) as its inventor and proponent.
The 1% on Wheels
In other words, Chevrolet Volt buyers tend to be rich Republicans who also don't mind a tax break. If you are already being forced to send away a far too large percentage of your income to the government bureaucrats, isn't a tax credit a good thing to help offset this injustice to begin with?
The Chevrolet Volt, made in GM's Hamtramck-Detroit factory, costs $44,575 pre-tax, loaded with most optional equipment. As with all cars in the market today containing a 16 kilowatt hour or larger battery, buyers get a $7,500 federal tax credit and other state incentives as applicable. For example, California offers a $1,500 tax credit, plus the ability to travel in style in the decidedly 1% carpool lane until year 2015. As a result, Volt buyers who might otherwise have bought a $100,000 European premium car, now typically pay below $40,000 for this superior American premium car.
The Volt has a 10-year warranty, or 150,000 miles, whichever comes first. So far, 93% of buyers are extremely happy with the Volt, according to the
Consumer Reports
survey published in November.
Anton Wahlman was a sell-side equity research analyst covering the communications technology industries from 1996 to 2008: UBS 1996-2002, Needham & Company 2002-2006, and ThinkEquity 2006-2008.