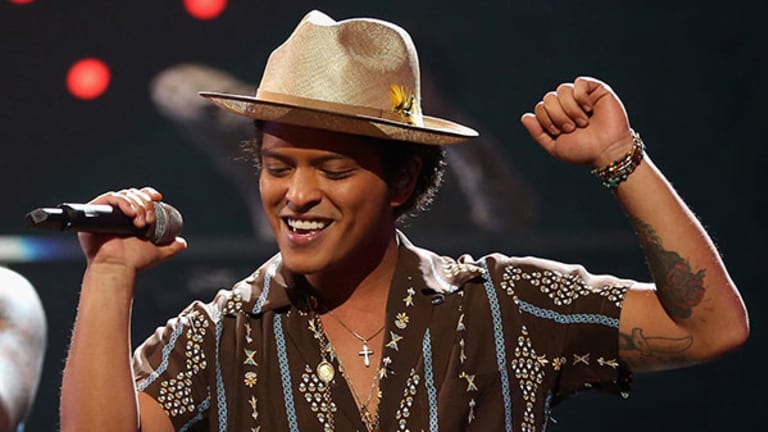 The NFL Has No Faith in Bruno Mars
The pop star has been the Super Bowl halftime headliner since September, but the Red Hot Chili Peppers were added to the mix in a cynical stab at a broader demographic.
The pop star has been the Super Bowl halftime headliner since September, but the Red Hot Chili Peppers were added to the mix in a cynical stab at a broader demographic.
PORTLAND, Ore. (TheStreet) -- Bruno Mars is a Grammy winner, has two platinum albums to his credit and four No. 1 singles here in the U.S.
For just about any gig in entertainment, those are outstanding credentials for a 28-year-old. For the National Football League, broadcast partner Fox (FOXA) - Get Report and Super Bowl halftime show sponsor Pepsi  (PEP) - Get Report , they're reasons to panic.
Everybody seemed fairly confident in Mars' abilities back in September, when it was announced that he'd be headlining the Super Bowl XLVIII halftime show at East Rutherford, N.J.-based MetLife Stadium. The American public seemed well aware of the various, self-destructive acts he'd commit in the name of love, knew he loved them just the way they were and were pretty sure his song Locked Out Of Heaven wasn't written by Sting or performed by The Police.
So what's the problem? Basically that his career started back in 2010 and that someone in the upper echelons thinks that's going to confuse the olds. That's why, on Jan. 10, aging modern rock staples the Red Hot Chili Peppers were brought in to cover all the demographic bases. You see, since Justin Timberlake tore off a piece of Janet Jackson's closing and exposed her nipple for a fraction of a second during the Super Bowl halftime show in 2004, the NFL, its carrier networks and its sponsors have been a bit shy about hiring performers who aren't old enough to run for president.
From 2005 through 2012, the average age of a Super Bowl halftime performer clocked in at 52. That included nobody under 30 and seven headliners over the AARP cutoff age of 55: Paul McCartney in 2005 (62), Mick Jagger and Keith Richards in 2006 (each 62), Tom Petty in 2008 (57), Bruce Springsteen in 2009 (59) and The Who's Roger Daltrey (65) and Pete Townshend (64) in 2010. Even when the show decided to go "young" with Beyonce in 2013, she was 31 and 16 years removed from her major-label debut with Destiny's Child.
As much as we'd like to, it's tough to argue with the result. Two years ago 53-year-old Madonna put on the most-watched Super Bowl halftime show of all time, drawing 114 million viewers. That's more than a third of the entire population and is equivalent to having every human being in California, Texas, New York and Florida watching. Last year, Beyonce and her former Destiny's Child counterparts Kelly Rowland and Michelle Williams drew an average of 104 million viewers. Even Gen Xers just graduating high school or finishing college when Destiny's Child's run began have had more than enough exposure to B & Company to tune in with the kids years later.
It seems as if that was the element missing with Bruno Mars, or at least that's what someone thought. The Red Hot Chili Peppers date back to 1983, released their breakthrough album Blood Sugar Sex Magik 24 years ago and still gets roughly a spin an hour on what remains of rock radio. Gen X is not only familiar with this band, but has been on the receiving end of a psy-ops operation that has seared songs like Aeroplane, Scar Tissue, Soul To Squeeze, Dani California and Give It Away into its collective memory like a regrettable late-night tattoo.
Members Flea, Anthony Kiedis and Chad Smith are all in their early 50s. As an actor, Flea starred in Roger Corman's Suburbia 31 years ago, costarred with Kiedis in the Charlie Sheen/Kristy Swanson vehicle The Chase 20 years ago and is 16 years removed from his bit part in The Big Lebowski. In one of his last featured roles, in the 2011 documentary The Other F Word, Flea talked about the experience of raising his daughter, Clara -- who is just three years younger than Bruno Mars.
The NFL has become addicted to the older halftime musician. It enjoys the perks of employing an artists whose career has spanned generations and loves the millions of fans who tune in to see how they'll perform on one of the world's biggest stages. It also doesn't like having to compete for the spotlight, and it has Fox to thank for that little chip on its shoulder.
Back in 1992, a little outfit called Timberline Productions saddled CBS (CBS) - Get Report with a halftime show featuring a figure skating performance from Brian Boitano and Dorothy Hamill and exactly two songs from adult-oriented-radio favorite Gloria Estefan. Fox saw this and let out a huge yawn, knowing that this show and previous efforts involving marching bands, Elvis impersonators and the impossibly perky chorus Up With People sent the prized 18- to 49-year-old demographic sprinting for the bathroom in years past. It put together a special halftime edition its sketch comedy show In Living Color -- which gave the world Jim Carrey, David Alan Grier and the entire Wayans family -- and drew more than 20 million viewers away from a Super Bowl telecast that averaged 80 million viewers throughout. That's one in four viewers who outright changed the channel on the NFL's biggest event.
The NFL vowed to never have itself or its network partners humiliated in such fashion again and immediately booked Michael Jackson as the halftime act for NBC's Super Bowl XXVII coverage in 1993. The result: Those who saw it remember Jackson's set and the big audience card trick, but don't recall that it was O.J. Simpson who conducted the ceremonial coin toss little more than a year before his arrest in the killings of Nicole Brown Simpson and Ron Goldman.
That's what the NFL's been aiming for every time and -- with the exception of a few missteps like an Indiana Jones stunt show in 1995 and a Blues Brothers-themed debacle in 1997 -- it's hit the mark. This success comes at the expense of an artist like Bruno Mars, who may have plenty of name recognition, but doesn't have a very long resume.
It's a shame since, as the A.V. Club's Erik Adams points out, Bruno Mars can tear the roof off the joint under the right circumstances. He channeled Sam Cooke while performing Grenade at the Grammys in 2011 and followed that up by absolutely torching Amy Winehouse's Valerie during a tribute to her at MTV's Video Music Awards later that year.
But, in the NFL's defense, it's given artists like Bruno Mars this kind of treatment before. At the height of Justin Timberlake's NSync period and as Britney Spears' star was going supernova in 2001, the NFL, CBS, E-Trade and show producer MTV felt it necessary to add Aerosmith to their bill just to round things out. When Timberlake was invited back again by MTV in 2004, it was only with Janet Jackson, Kid Rock, P. Diddy and Nelly in tow.
Like Timberlake, Bruno Mars is a performer who any viewer with the slightest spark left in their nervous system should light up for when halftime hits. Like Timberlake, however, he just isn't stodgy or rock enough to calm fears about older viewers switching channels to a very special Duck Dynasty episode instead of listening to pop music or rhythm and blues. Bruno Mars should probably take that as a compliment, but he should also take a lesson from JT: If the Chili Peppers hit the stage in socks, just leave them where they are.
-- Written by Jason Notte in Portland, Ore.
>To contact the writer of this article, click here: Jason Notte.
>To follow the writer on Twitter, go to http://twitter.com/notteham.
>To submit a news tip, send an email to: tips@thestreet.com.
RELATED STORIES:
>>Vinyl Is Streaming Music's Flipside
>>The United Playlist Of America
>>Gen X Sold Out Cobain and Biggie
Jason Notte is a reporter for TheStreet. His writing has appeared in The New York Times, The Huffington Post, Esquire.com, Time Out New York, the Boston Herald, the Boston Phoenix, the Metro newspaper and the Colorado Springs Independent. He previously served as the political and global affairs editor for Metro U.S., layout editor for Boston Now, assistant news editor for the Herald News of West Paterson, N.J., editor of Go Out! Magazine in Hoboken, N.J., and copy editor and lifestyle editor at the Jersey Journal in Jersey City, N.J.