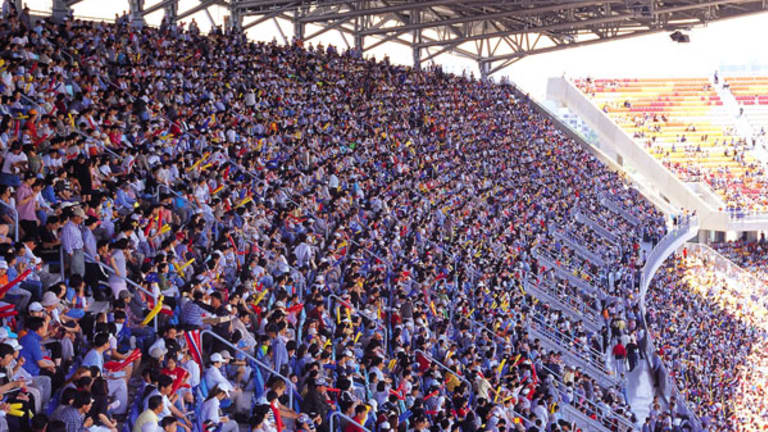 The NFL Doesn't Discriminate Against Money
The National Football League is being sued for 'economic discrimination' by a fan in Las Vegas who couldn't buy a ticket to a game in Seattle. This assumes it has ever refused a dollar.
PORTLAND, Ore. (TheStreet) -- Go ahead and sue the National Football League if you'd like: It'll just remind you that it's a collection of team owners with a well-dressed puppet as its spokesman.
You can take up your grievances with your local field office.
This is what John E. Williams III, a self-proclaimed San Francisco 49ers fan from Las Vegas, fails to realize as he sues the NFL for $50 million. He claims he has been a fan since 1970 and that his inability to get a ticket to January's National Football Conference championship game between the 49ers and Seattle Seahawks in Seattle constitutes "economic discrimination" -- since the Seahawks limit ticket sales only to credit cards with addresses in the states of Washington, Oregon, Montana, Idaho, Alaska and Hawaii, as well as the Canadian provinces of British Columbia and Alberta.
He argues that because the NFL relies on public subsidies and money to build stadiums, it should not restrict ticket sales to exclude people "not from an area determined by the team -- or the NFL -- to be fan of that team." Sorry, Johnny, but that represents a fundamental misunderstanding of how the NFL works.
We dedicate a fair amount of text and real estate to the NFL, its federal protections, its use of public money and its television blackout policy. Along the way, we've learned just a few things about this league and how it's run.
First, it absolutely takes public money. Thirty of the league's 31 stadiums were built with it and new stadiums in Atlanta, Minneapolis and Santa Clara are getting a whole lot of it. However, that public money comes from local sources and goes to local owners. When the Buffalo Bills wanted more than $220 million for renovations to Ralph Wilson Stadium, for instance, Erie County and New York State coughed up the money to pay for it. The owners of the Cincinnati Bengals left their home county destitute to build Paul Brown Stadium and only want more money to renovate it. Seattle got Microsoft co-founder Paul Allen to pay for $130 million of CenturyLink Field's costs, but was left on the hook for another $300 million that won't be completely paid off until 2021.
When those stadiums don't fill, guess which markets can't watch the games on television despite the fact that the league gets roughly half of its $9.5 billion revenue from DirecTV, CBS, NBC, Fox, ABC and ESPN? That's right, the poor fans unlucky enough to tune in to stations that broadcast within a 75-mile radius of the home stadium. That's just a wee bit shorter than the more than 1,100 miles between Seattle and Las Vegas.
You can try to blame the NFL for that policy if you'd like, but it won't stick. A few years back, the league tweaked its blackout policy by allowing teams to declare a game "sold out" when ticket sales reached 85% capacity, rather than 100%. Proceeds for any tickets sold beyond that point would be divided throughout the league, but it let other NFL owners off the hook and put blame for television blackouts squarely on local owners. As a result, the number of NFL television blackouts dropped from 26 in 2010 to just two last season. The Glazer family of owners in Tampa bought up extra seats to keep all Buccaneers home games on the air for the first time in almost four years.
So it would seem that Mr. Williams' qualm is with Paul Allen and the Seahawks organization itself. But it isn't. As Terry Blount at ESPN notes, Las Vegas is one of three states -- California and New Jersey being the others -- where the NFL regularly limits credit-card sales of tickets anyway. It has nothing to do with Seahawks policy and everything to do with the fact that those states are teeming with ticket brokers and other "legitimate businessmen" who'd love nothing more than to work the system and jack up prices.
The NFL has nothing against capitalism, mind you -- it just wants that capital to flow to its owners and franchises. Secondly, CenturyLink Field has a waiting list for season tickets -- which means the overwhelming majority of its seats are spoken for. That makes it especially tough for opposing fans to make up anything more than a small, vocal minority. Finally, why would the Seahawks think a ticket buyer from Las Vegas would automatically be a 49ers fan? Is Las Vegas such a frontrunner town that it'll just root for any California or Arizona team that happens to work its way through the playoffs?
Yes, the NFL is covered by an antitrust exemption that offers its owners blackout policy protections and other perks. Yes, it's umbrella organization operates tax free, though each franchise and its owners are subject to taxation. Yes, it takes public money. However, everything about the NFL's business model has been fabricated with exactly one purpose in mind: Enriching its ownership.
To accuse the league of "economic discrimination" assumes it has ever seen a dollar that it didn't like. It gives its franchises nice, wide berths to make sure the wealth spreads around and uses the sharp point of Los Angeles, Toronto and London to prod small markets into making even more cash. The only concessions it makes to the regions that fill its owners' gaping maws with public money is that the public paying it has the opportunity to buy a ticket and spend even more inside the gates.
John E. Williams III is going to lose this suit in a blowout. While we admire his fervent desire to part with his money, we're going to recommend he spare himself some legal fees and do any of the following: a.) Familiarize himself with the cash-vacuuming business of the NFL and figure out why the Seahawks didn't want his money; b.) Try just a bit harder and make fast friends with one of his city's myriad ticket brokers; or c.) Root for a team that can secure home-field advantage for its conference title game.
-- Written by Jason Notte in Portland, Ore.
>To contact the writer of this article, click here: Jason Notte.
>To follow the writer on Twitter, go to http://twitter.com/notteham.
>To submit a news tip, send an email to: tips@thestreet.com.
RELATED STORIES:
>>Sterling's Past Foretold Clippers Racism
>>10 Cheapest Major League Baseball Tickets
>>10 Cheapest Beers In Major League Baseball
Jason Notte is a reporter for TheStreet. His writing has appeared in The New York Times, The Huffington Post, Esquire.com, Time Out New York, the Boston Herald, the Boston Phoenix, the Metro newspaper and the Colorado Springs Independent. He previously served as the political and global affairs editor for Metro U.S., layout editor for Boston Now, assistant news editor for the Herald News of West Paterson, N.J., editor of Go Out! Magazine in Hoboken, N.J., and copy editor and lifestyle editor at the Jersey Journal in Jersey City, N.J.