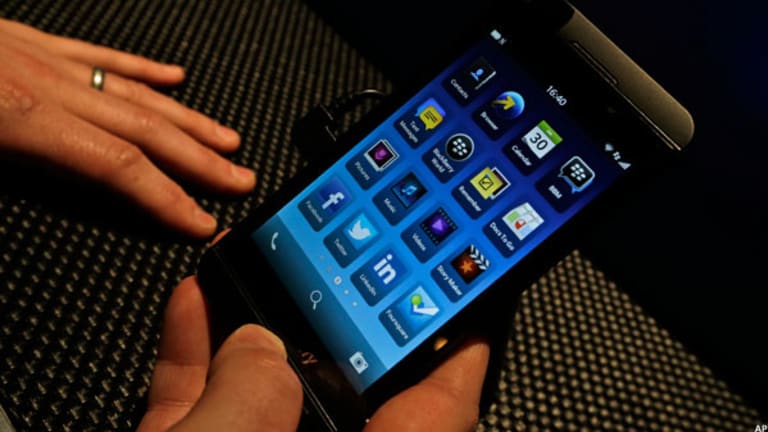 The Next Big Catalysts From BlackBerry
BlackBerry has now gone through its darkest days, which are behind it. It's finally in a position of strength to talk deals.
NEW YORK (TheStreet) -- I have been long BlackBerryundefined since November. Although many hate the stock and think it's about to curl up and die, I continue to think it could have a lot more room to run in 2013. Here's why:
When someone says "X is the new Y," ignore them
. Remember when everyone said that "Greece was the new Lehman?" Guess what? It wasn't. People love facile analogies to make sense of a complicated world. It gives us comfort that we feel we can predict what will happen in a world that is inherently unpredictable. But things are always different than some example in the past.
For a long time, people have written off BlackBerry because it was the "new Palm" or the "new
Nokia
(NOK) - Get Free Report
." It's neither.
Also see: BlackBerry Earnings Breakdown -- Tech Trends >>
33% of the float is held short
. This is an incredibly high number. When you see a short interest this high, it usually means that there is nearly a unanimous view that a company is doomed. I don't think BlackBerry has any chance of threatening either
Apple
(AAPL) - Get Free Report
or Samsung, but today's earnings confirm it's not going out of business anytime soon.
They still have a highly profitable niche user base that they serve and that's going to mean many of these shorts are going to get hurt and be forced to cover. And that's why this stock can move 10% in a day, easily.
More than 50% of the users buying the new Z10 last quarter were non-BlackBerry customers previously
. I was one who questioned why BlackBerry decided to give its all-touch phone (the Z10) a three to four-month lead in selling ahead of the Q10 (which is a QWERTY device). The answer I kept hearing back is that the company really felt it was important to get a meaningful number of their subscriber base on this touch platform because it feels this is the future of the company.
The fact that the phone had decent sales numbers in the quarter and that it attracted so many non-BlackBerry users to their platform in the quarter is a great sign for the company's future.
Also see: BlackBerry's Turnaround -- Live Blog Recap >>
Q10 will be a home run
. On the earnings call today, CEO Thorsten Heins confirmed the Q10 is in the latter stages of testing with 40 carriers globally and would start selling in April (and likely May in the U.S.). Heins teased in the call that most of the existing BlackBerry subscriber base of 76 million worldwide were QWERTY lovers.
Therefore, it suggests that they know there is going to be huge demand for these phones from users. BlackBerry management probably is already well aware of how the quarter is going and orders from carriers for the Q10s allows them to make this kind of statement.
It seems to be sand-bagging about next quarter being breakeven
. BlackBerry was breakeven this quarter. This was a surprise. They brought back a hint of future guidance to this earnings report by saying that they would be breakeven again next quarter. Yet, it would shock me if the company was not getting a steady increase month-to-month of new phone orders from carriers. With the new savings from their CORE restructuring program, the higher margins from the new devices, the new Q10s coming, I would be shocked if BlackBerry management wasn't sand-bagging on the Fiscal first-quarter profitability. I expect it to be wildly profitable. We will see in the June earnings call.
Licensing deals
. The stock has flown up every time there's a rumor of a potential buyout of BlackBerry. These rumors usually seem to involve Lenovo. I think it's unrealistic to expect such a deal, but a joint venture, strategic investment, or licensing deal are all much more palatable and likely to happen as this year rolls on. Possible partners could include:
LG Lenovo Samsung Sony Amazon HP Facebook Cisco IBM
Full buyout
. Any of the American and Japanese companies listed above could be candidates for a full-blown buyout of BlackBerry. And I would even put
Google
(GOOG) - Get Free Report
on the list of companies that would probably want to take a close look at BBRY in a buyout scenario. BlackBerry has now gone through its darkest days, which are now behind it. It's finally in a position of strength to have conversations with all of these companies about a possible deal. It doesn't need a deal but could accept one, if it came along.
Mike Lazaridis is now off the board and this could also be a powerful signal to potential buyers that this is a company ready to deal -- instead of one that will stubbornly refuse a fair deal that is offered. There's a valuable subscriber base, intellectual property, new phones, a strong product roadmap for capitalizing on the "Internet of things", and evidence that real customers are willing to drop their Android or iPhone to move to this new platform.
Product roadmap
. At the moment, BlackBerry gets no respect from investors in their future roadmap. However, it's got a dynamite one. It really is set up -- thanks to their QNX and TAT acquisitions of a few years ago -- to play a big role in the "Internet of things."
It can actually lead both iOS as well as Android in showing the world its software's capabilities to have your phone and tablet talk to multiple intelligent devices around you -- in your car, your home, on the go, and in a health care context. As soon as it starts demonstrating some of these capabilities, especially with partners, this could get investors very excited. There's good reason to believe this evidence will come in the second half of 2013.
At the time of publication the author was long BBRY.
This article was written by an independent contributor, separate from TheStreet's regular news coverage.
Eric Jackson is founder and Managing Member of Ironfire Capital and the general partner and investment manager of Ironfire Capital US Fund LP and Ironfire Capital International Fund, Ltd. In January 2007, Jackson started the world's first Internet-based campaign to increase shareholder value at Yahoo!, leading to a change in CEOs in 2007. He also spoke out in favor of Yahoo!'s accepting Microsoft's buyout offer in 2008. Global Proxy Watch named Jackson as one of its 10 "Stars" who positively influenced international corporate governance and shareowner value in 2007.
Prior to founding Ironfire Capital, Jackson was President and CEO of Jackson Leadership Systems, Inc., a leadership, strategy, and governance consulting firm. He completed his Ph.D. in the Management Department at the Columbia University Graduate School of Business in New York, with a specialization in Strategic Management and Corporate Governance, and holds a B.A. from McGill University.
He was previously Vice President of Strategy and Business Development at VoiceGenie Technologies, a software firm now owned by Alcatel-Lucent. In 2004, Jackson founded the Young Patrons' Circle at the Royal Ontario Museum in Toronto, which is now the second-largest social and philanthropic group of its kind in North America, raising $500,000 annually for the museum. You can follow Jackson on Twitter at www.twitter.com/ericjackson or @ericjackson.
You can contact Eric by emailing him at eric.jackson@thestreet.com.