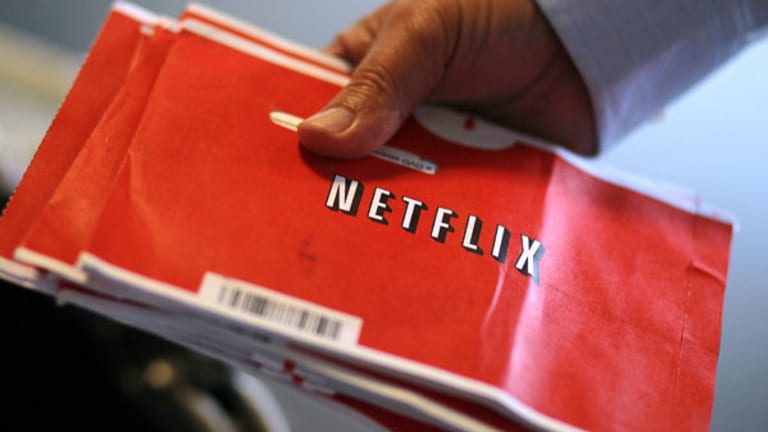 The Netflix Story in Three Tweets
Don't believe Reed Hastings' hype. Or at least consider it more critically.
NEW YORK (TheStreet) -- I'm not certain why it makes me so angry -- well, maybe not angry, rather something like angry -- but I simply cannot let the line most of the media and Wall Street totes on Netflix (NFLX) - Get Free Report slide.
Given the work I have done on Netflix, which includes speaking with a large number of high-level folks from the Hollywood and New York entertainment capitals, I guess I feel I would be negligent if I did not consistently sound the alarm by countering the same sort of mindless euphoria we witness pre-implosion in 2011.
On Tuesday, I took to
and ended up spewing the most sense anybody has ever made of Netflix, at least from an investors' point of view:
Less than 420 characters and yes ...
Explanations that support the contents of those Tweets saturate
my article history at TheStreet
Most recently I expose the real dynamics that underlie both the deal Netflix cut with
Sony
undefined
and Reed Hastings' renewed push to make Netflix part of the cable establishment.
I passionately get into the off-balance sheet and contribution profit/margin issues everybody wants to ignore, discount or gloss over as they ride the magic carpet ride of a pure and mindless momentum stock in ...
Media Darling Netflix to Crush $300 Again
And ...
Netflix: Exposing Wall Street's Incomplete Bull Case
.
In that last story, you'll see video of a
CNBC
hit I did. All I wanted was for the analyst to do a better job making his case. To tell a complete story. To provide the alternative scenarios he includes in his research notes to clients, but omits from television appearances seen my far more people.
Because, there's no doubt, I could be wrong about Netflix. That said, I wasn't in 2011. And I sure don't think I am wrong this time around.
I get upset because, for every person who got in NFLX stock at $60 (
a move I suggested back in July 2012
), I know there are probably multiple people who feel like they missed out, make themselves buy into the bull case and chase this thing where it is now. That's dangerous. That approach can cause tons of pain. Worst case scenario -- it can shatter dreams by crushing retirement accounts and college funds.
I'm telling you, don't believe Reed Hastings' hype. Or at least consider it more critically. He's already rich. Another fall from $300 to $60 isn't nearly as much sweat off of his back as it could be yours.
--
Written by Rocco Pendola in Santa Monica, Calif.
Rocco Pendola is a columnist and
TheStreet's
Director of Social Media. Pendola makes frequent appearances on national television networks such as
CNN
and
CNBC
as well as
TheStreet TV
. Whenever possible, Pendola uses hockey, Springsteen or Southern California references in his work. He lives in Santa Monica.