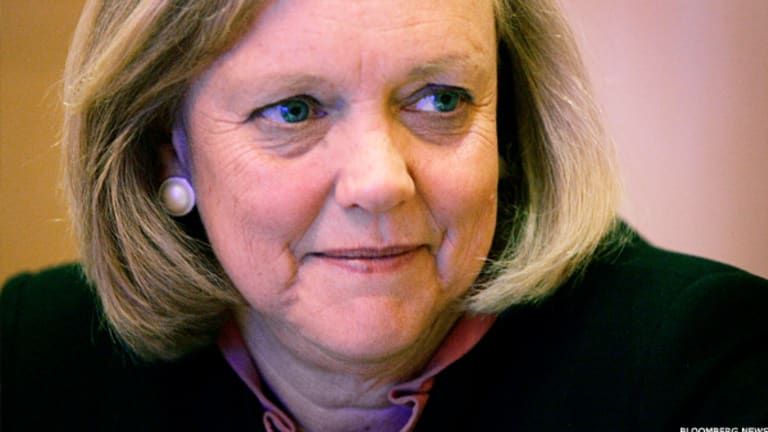 Publish date:
The Mystery of Meg Whitman's HP
It's still hard to see what a highly profitable Hewlett-Packard might look like.
It's still hard to see what a highly profitable Hewlett-Packard might look like.
NEW YORK (TheStreet) -- Hewlett-Packard (HPQ) - Get Report may be the right stock to contemplate over Memorial Day. It's like a good mystery novel, a real "beach read." Only we don't know how it ends.
Forbes
has been pounding the table for HP this week, publishing
a hagiography of CEO Meg Whitman
, a piece by the same author
, and a third piece highlighting its cash flow, Whitman's favorite metric
(since others aren't doing so well)
.
I, on the other hand, have been very negative on HP,
I've called her strategy
using Fear, Uncertainty, Doubt and PR to hide the complete lack of a mobile strategy, the fading of its key printer niche and its unprofitable ties to
Microsoft
(MSFT) - Get Report
.
Still, it's true that HP is dirt cheap. Despite being up over 50% this year, you're paying just 35 cents for each dollar of sales. That's the reverse of the normal tech multiple, closer to what a retailer like
Kroger
(KR) - Get Report
might cost. The ratio is worse than that of
Dell
(DELL) - Get Report
, which thinks so little of the market's valuation it wants to go private.
>>Also see: Key Reversals Suggest Sell in May >>
There remain three good reasons to be skeptical of Whitman's HP:
PC and printer sales are still shrinking overall. There's no real mobile strategy in the market. The cloud hasn't materialized in the way HP's strategy has anticipated.
Dell has the same problems, only not to this degree. It doesn't have a printer division, which is like a boat anchor on results. It has adjusted its cloud strategy away from OpenStack, which, as I've noted, lacks
a compelling public cloud component
. It still has its services division, while HP wrote off EDS years ago.
When you buy HP, you're taking hope over experience, what George Anders himself -- Whitman's Forbes hagiographer -- calls a "gut sense" that she can steer the ship toward profit.
But what's the destination?
Maybe Meg Whitman really is a wizard of a manager with her own reality distortion field. But what will a highly profitable HP look like? What will it be making? Cloud components that the biggest public cloud companies, like
Google
(GOOG) - Get Report
and
Amazon.com
(AMZN) - Get Report
, reject as too-expensive, preferring to build their own? Leadership in failing businesses like PCs and printers? Mobile what, exactly?
I would dearly love to be wrong about HP. Despite the fact that the "real" HP, the instrumentation and testing equipment maker Dave Packard and Bill Hewlett made their names on, was spun out with
Agilent
(A) - Get Report
in 1999, it's still the grand old name of Silicon Valley, the mother tree from which the rest of that forest sprang. We want to believe it can be what it was again.
>>Also see: Tax Tip: Summer Employment for Your Dependent Child >>
Memorial Day is a time when we look into our past and seek inspiration from the sacrifices of those who have come before us. It was a good time for HP to launch another PR attack, and pound the table for stock in this great old company.
But I can't buy stocks based on nostalgia, on hope or on faith. If I'm going on a buggy ride, I want to see the destination. I don't see any yet for Hewlett-Packard.
Please tell me I'm wrong, and what that destination is. I'd like a solution to this mystery as much as anyone else. I want to believe, too.
At the time of publication, the author was long GOOG
This article is commentary by an independent contributor, separate from TheStreet's regular news coverage.