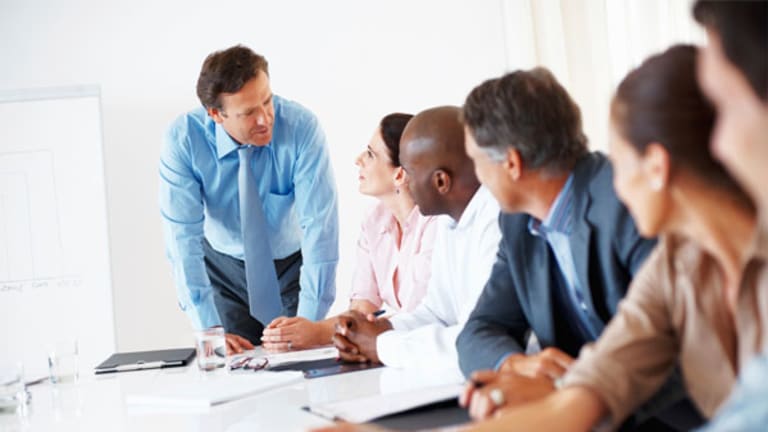 The Mysterious Shine of Twilight Pop Stars
Well past their glory days, many bands are still cranking out new material and reaching fans.
NEW YORK (TheStreet) -- I have a cousin for whom there are no irrelevant music acts, just artists and bands most people don't pay attention to anymore.
Edwin McCain hasn't had a hit single since 1999's "I Could Not Ask For More" (which country singer Sara Evans made a hit of her own in 2001) and hasn't been signed to a major label since his 2001 release
Far From Over
. Yet my cousin still attends his shows regularly and speaks highly of the five original albums McCain has produced since.
My sister and I often joke about my cousin's penchant for these minor recordings by largely forgotten bands like Dishwalla and Better Than Ezra. But I'm starting to suspect my sibling and I are the freaks in this exchange.
John Fogerty is closing
this year and, in May, is releasing
Wrote a Song for Everyone
-- a duets album featuring Foo Fighters, Jennifer Hudson, Kid Rock and My Morning Jacket helping him out on Creedence Clearwater Revival and solo songs. Yet the man released an album of new original songs as recently as 2007 and, by the end of 2013, will have released four albums within the last decade. Basically, if you stopped caring at "Centerfield" back in 1985, you've missed a whole lot of Fogerty -- which includes a collaboration with Bruce Springsteen on a cover of "When Will I Be Loved" on 2009's
The Blue Ridge Rangers Rides Again
.
>>Read: "Nirvana's Nevermind and the Death of Guy Rock" on TheStreet
Yet the world doesn't stop for the release of a John Fogerty album the way it does when Bruce Springsteen puts out a new album or when David Bowie's
The Next Day
-- his first album of new material in a decade --
becomes a cultural event and a reflection on the zeitgeist
. That doesn't stop faded music stars' worlds from turning, though.
The
discussion board of an A.V. Club story
reviewing the documentary
Don't Stop Believin': Everyman's Journey
about current Journey frontman Ariel Pineda recently lit up with a discussion about what happens to bands after their initial burst of fame. A commenter with the handle El Sabor Asiatico noted that Journey has produced four albums since their longest-tenured and most famous frontman Steve Perry left the band for health reasons in 1998. In fact, Steve Perry sound-alikes Pineda and Steve Augeri's 15-year tenure with Journey is more than twice as long as the span in the late-'70s and early '80s when Journey produced the overwhelming majority of its hits.
The same commenter notes that Lionel Richie has released seven albums since the last time he hit the upper reaches of
Billboard
charts with material from a 1992 compilation album. That compilation came a full six years after his peak with the hit-filled
Dancin' on the Ceiling
. His latest album, last year's country-flavored
Tuskegee
, hit the top of the
Billboard
album charts, went platinum and gave Richie some country cred with help from a Shania Twain duet of
Endless Love
and collaboration with acts like Little Big Town and Rasmus Seebach.
>>Read: "10 Terrible Financial Choices In Music History" on TheStreet
So how does, say, The Steve Miller Band, put out two albums of new music since 2010 and tour arenas when most fans and college students stopped listening after reselling their copy of
Greatest Hits: 1974-78
? How did Pat Benatar release
Go
in 2003 and tour as a double-bill with longtime bandmate and husband Neal Giraldo with anybody but the most obsessed fans knowing about either
Go
or Giraldo? How does my cousin not only know about Dogs Eye View's 2006 album
Tomorrow Always Comes
, but is convinced that it just might be better than its 1995 debut album
Happy Nowhere
that produced the band's only hit single, "Everything Falls Apart?"
To beat the living snot out of an old cliché, the music world is changing. Let's just state the obvious and say that digital music has made it a whole lot easier to follow musicians, form communities around them, give them money on Kickstarter and treat every one of their tour dates like a microcosm of a Deadhead reunion.
The not-so -bvious part about that little revolt is that it's also made it a whole lot easier for those faded artists to sneak some new music to their fans when regular radio keeps it off the playlist. Create a station based on, say, Pat Benatar's "Shadows Of The Night" on
Pandora
(P)
and you're likely to get a few tracks from those post-fame albums in the 1990s and 2000s added to the mix. Play some Steve Miller on
iTunes
(AAPL) - Get Apple Inc. Report
,
Amazon
(AMZN) - Get Amazon.com, Inc. Report
,
Spotify
,
Slacker Radio
,
Last FM
, etc., and you stand a good chance of having the new albums recommended to you.
Now let's say you want to see some of these folks live, but maybe they don't pack arenas and big rooms like they used to and are a bit too proud to take tiny checks from the small local venues in town. While maybe a decade or so ago fans would have to wait for a summer shed show, the liberalization of the nation's casino regulations has created dozens of new venues across the country for these folks to play in and get paid well.
For example, did you know that the No. 2 casino destination in America is no longer Atlantic City, but
? If fans want to see America play "Horse With No Name" or selections from 2007's
Here and Now
or think Motley Crue's 2008 release
Saints Of Los Angeles
didn't get a fair shake, the
awaits.
>>Read: "How Dusty Springfield Made Adele Possible" on TheStreet
Also, why waste time getting sponsorship for a gig at SXSW playing behind better-preserved acts like
when a little pride-swallowing will provide you and your core fans other places to play? While the cruise-to-nowhere approach didn't quite work out for Sugar Ray, Smashmouth and a host of other '90s easy pop listening acts booked on the now-cancelled
, acts like
,
and just about every
have been well-served by taking their party to the sea.
Granted, this all only further chips away at the once-communal music experience, builds more barriers between fans and turns music as we know it into a series of clans that don't stick around for the other bands' sets, but it's tough to pretend it's not a great thing for artists lucky enough to capitalize on it. Relevance fades for only a chosen few. The money and the adulation, however, aren't nearly as finite as the broader fame.
-- Written by Jason Notte in Portland, Ore.
>To contact the writer of this article, click here:
Jason Notte
.
>To follow the writer on Twitter, go to
.
>To submit a news tip, send an email to:
.
Jason Notte is a reporter for TheStreet. His writing has appeared in The New York Times, The Huffington Post, Esquire.com, Time Out New York, the Boston Herald, the Boston Phoenix, the Metro newspaper and the Colorado Springs Independent. He previously served as the political and global affairs editor for Metro U.S., layout editor for Boston Now, assistant news editor for the Herald News of West Paterson, N.J., editor of Go Out! Magazine in Hoboken, N.J., and copy editor and lifestyle editor at the Jersey Journal in Jersey City, N.J.