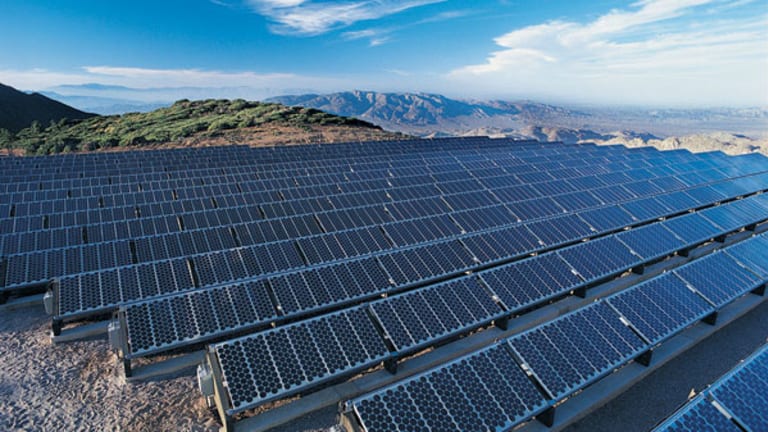 The Moving Target of Grid Parity
When it comes to electricity, apples-to-apples cost comparisons are hard to come by.
When it comes to electricity, apples-to-apples cost comparisons are hard to come by.
NEW YORK (TheStreet) -- Since I last wrote about solar power a few weeks ago , grid parity has become the industry's buzzword du jour.
Grid parity means that when you add all the costs of a panel and divide by the energy output over its useful life it equals the cost of buying electricity from your local power grid over that time.
We can't know what grid energy will cost 10 years from now, so we extrapolate from current figures. Sometimes we add an inflation component. And we can't be sure a panel will deliver the same output over time, either. We make assumptions on both sides.
Still, grid parity matters for policymakers, which means it matters for companies like
First Solar
(FSLR) - Get Report
and
JA Solar
(JASO)
, which make and sell panels. Grid parity defines solar competing without subsidy. The claim of grid parity defines a sustainable market.
A Deutsche Bank analysis,
indicates grid parity will happen across Europe next year, and that it has already been reached in India. This means higher sales and stable pricing across the industry.
Some 100 Gwatts worth of solar power has now been installed worldwide, and demand for 2013 should top 30 Gwatts,
according to SustainableBusiness.
That's still a fraction of U.S. demand, which
a Google analysis
sees at 13 billion kilowatt/hours each month.
It should be smooth sailing for solar, but it's not. There are huge differences in photovoltaic module costs between China and everyone else, as much as 50%,
This means a trade war seems imminent,
.
Nuclear and fossil fuel advocates have also responded to solar success by piling on pressure against the industry in state legislatures. Grant Smith of the Civil Society Institute has an op-ed, seen here
at the Augusta Free Press
, charging the American Legislative Exchange Council or ALEC, a business lobbyist, with lying about solar and wind costs to maintain construction work in progress and support for new nuclear and coal plants.
It's all happening because, when it comes to electricity, apples-to-apples cost comparisons are hard to come by. It takes time and money to build a new power plant, money that has to be guaranteed by ratepayers, and if those ratepayers believe there is an alternative they may be reluctant to issue the guarantee.
A famous Gandhi quote,
, is that "First they ignore you, then they ridicule you, then they fight you, and then you win." The big energy news for 2013 is that solar energy has reached the third stage of its battle to make power. It's being fought. But in the economic fog of war it can be hard to see even an obvious outcome.
Solar costs are not going up. Fossil fuel and nuclear prices are not coming down. Solar delivers the most power when it's most needed, on hot summer days, to run air conditioners. Grid parity, however you define it, is coming. The market winners are not yet obvious, but the trend should be clear.
It points toward abundance.
At the time of publication, the author has no investments in stories mentioned here.
This article is commentary by an independent contributor, separate from TheStreet's regular news coverage.