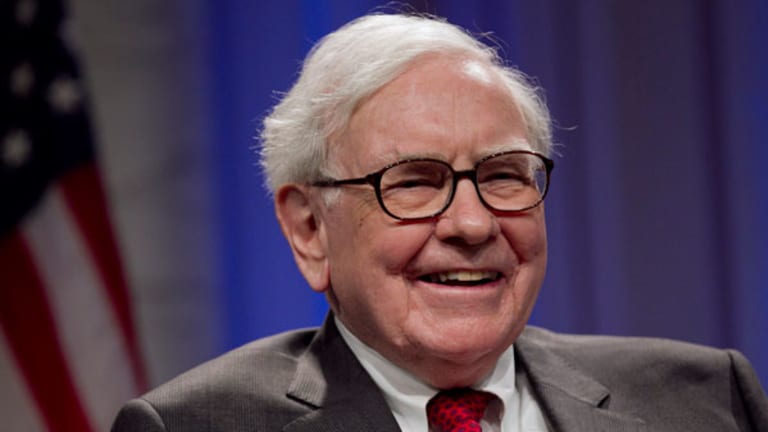 Publish date:
The Most Interesting Industry in the World
Warren Buffett is doubling down on electric utilities, while some analysts are predicting the industry's doom.
Warren Buffett is doubling down on electric utilities, while some analysts are predicting the industry's doom.
NEW YORK (TheStreet) -- How would you like a monopoly on something people have to have, a simple distribution business that may change but will probably never go out of style?
Warren Buffett would. The
Berkshire-Hathaway
( BKR.A) chairman signed off last week on the $5.6 billion purchase of
NV Energy
(NVE)
,
, giving those shareholders a 23% pop and making Berkshire the largest owner of electric utility accounts in the country.
NV Energy is a "bolt-on" to MidAmerican Energy,
acquired for about $9 billion in 1999.
MidAmerican has since become a big investor in renewable energy,
helping to power such suppliers as
First Solar
(FSLR) - Get Report
and
SunPower
(SPWR) - Get Report
to multi-year highs.
Yet, while Buffett is doubling down on this sector, others are running away. Efficiency is starting to cut demand and homeowners are starting to make their own energy with solar panels, demanding connections to the grid. The Edison Electric Institute, which represents the industry, has issued a report by Peter Kind
calling renewables a "mortal threat" to the industry..
What's going on? Many utilities think they're in the power-generation business, but rooftop solar panels put them in the distribution business. This imposes costs -- such as accounting for small providers and storing excess power -- that utilities want to be paid for, just as they're paid up-front for adding, say, a new nuclear plant.
>>Also see: Berkshire Bets on Greening Nevada in $10B NV Energy Deal >>
The result has been a series of battles, with utilities demanding that rooftop providers pay them for use of the lines. It's marked by alarmist reports such as
this from Douglas Short at the Energy Collective
predicting
PG&E
( PGE) -- the utility most impacted right now by rooftop solar -- could go under without relief from these distribution costs.
Yet, amid all this doom and gloom, Berkshire is rushing in. Why?
One reason is a new Department of Energy policy, FERC 890, which assures a return for investments in energy storage. Storage allows utilities to maintain a steady stream of power to customers when they're buying "variable" inputs like solar or wind energy. It's also becoming
for utilities like
AES
(AES) - Get Report
, which serves the Midwest.
Another reason is utility-grade solar is becoming a really good business. Nevada, where NV Energy is located, has lots of empty land and air-conditioner-driven demand that peaks along with solar output and prices. Utility-grade solar could be an $84.6 billion business in 2016,
. The total industry is currently running at $250 billion/year, according to the Department of Energy.
>>Also see: Long-Term Care Insurance 101 >>
What's happening is the old business model -- getting paid upfront for inputs like nuclear power, then re-selling that at a price guaranteeing a return -- is giving way to a new model in which utilities are in the business of arbitraging various forms of supply and demand.
Those who are wedded to the old business model, like
Zach Scheidt of InvestmentU
, are freaking out, while people like Buffett are buying.
Who's right? Time will tell, but my money would be on the side that's usually right -- which is Buffett's side.
At the time of publication the author had no position in any of the stocks mentioned.
This article was written by an independent contributor, separate from TheStreet's regular news coverage.