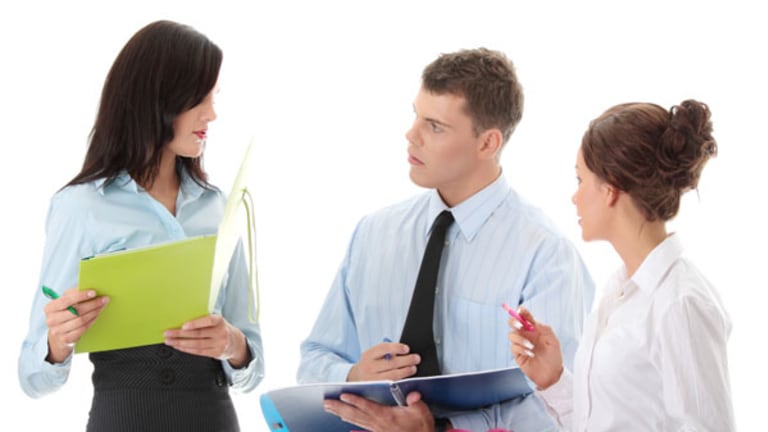 The Most Important Strategic Decision
Managing human capital begins by defining the activities unit managers must perform.
The following commentary comes from an independent investor or market observer as part of TheStreet's guest contributor program, which is separate from the company's news coverage
.
NEW YORK (
) -- What is the most important strategic decision any organization can make? It's actually quite easy -- it's choosing the CEO. After all, the CEO decides: which business the company will be in, the strategy, the culture, etc. There's simply nothing more important than choosing the CEO.
What then, is the most important strategic decision to improve sales in China? Choosing the country manager for China. And so on.
The
McDonald's Corporation
(MCD) - Get McDonald's Corporation (MCD) Report
provides an interesting illustration of this principle. McDonald's is a very simple business founded on three core competencies: real estate selection, marketing and restaurant operations.
Real estate selection is critical in the fast food industry. You probably don't go to McDonalds because the food is good. You go because -- it's there. In July 2011,
Consumer Reports
rated McDonald's last of all hamburger restaurants in taste -- it's been that way for decades. Yet, go to almost any McDonald's at lunch or dinner and it's packed.
On the other end of the spectrum is
Outback Steakhouse.
Outback opens restaurants in the most bizarre locations. That's because Outback's outstanding food makes it a destination. The company wisely buys dirt cheap real estate. And yet, Outbacks, too, are always packed.
The second core competency for McDonald's is marketing -- especially to children. McDonald's is genius at marketing to children. How many times have you gone to a McDonald's at the request of your child? When my son was young, he said that when he grew up he either wanted to work at McDonald's or play in the NBA. Now, that's quality marketing.
The third core competency is store operations. Every McDonald's is the same. Same prices, products, training and store design. Once the location is chosen, the only performance variable is the restaurant manager -- the unit CEO.
Imagine two McDonald's -- Unit 1 is one mile from Unit 2. Unit 1 is a high performing restaurant. Its manager does not want local store marketing, HR or finance support. She just wants to be left alone.
Unit 2 is a poor performer. Customer satisfaction is low, labor and food costs are high, and revenue is falling. Regional staff members offer their help, but often to no avail.
If you fire the low-performing manager in Unit 2 and move the high-performing manager to fill the opening Unit 2 will become high-performing restaurant in 30 days -- virtually every time. At McDonald's the right restaurant manager is the game.
Retail executives from banks, fashion and car dealerships, tell me their experience is the same. Store managers really are the most important asset.
Yet, almost no retail organization knows whether their manager capabilities are getting better year-over-year, or even what ⿿better⿝ means. Virtually every retail business manages unit operating and financial results in excruciating detail. They manage in the rearview mirror. But if managers really are "the game" why don't organizations manage human capital with the discipline that they measure past results?
Improving Store Manager Performance
Managing human capital begins by defining the activities unit managers must perform. Start by clustering tasks into five major activities -- each with a clear performance measure(s). This must clearly describe what managers must deliver and how they must deliver it.
During the annual performance appraisal cycle, assess all managers on each major activity. If performance is measured to an objective standard, you will know if your unit managers are better than last year and all will know precisely what "better" means.
Here is an actual example for a retail bank branch manager in a South American bank.
1. Lead bank operations within a geographic territory
Expected results: Operation audit score; high ratio of transactions per employee; ratio of errors per thousand transactions; client satisfaction with transactions.
2. Lead the consumer services sales
Expected results: Client satisfaction score; branch achieves sales and product mix goals.
3. Lead the small business sales
Expected results: Relationship Managers make the desired number and type of sales calls; branch achieves sales and product mix goals; the office continually improves its business selling processes metrics.
4. Manage approvals
Expected results: Approvals are made at the right organizational level; average speed of response to customer applications; loan risk ratings.
5. Maintain a pleasant and performance-oriented branch
Expected results: High level of employee satisfaction; minimal employee turnover.
Then, for each major activity, identify the top 10% performers. Whatever they do, that's your new training curriculum. No ethereal leadership competencies or theories. Teach your managers what to do, not whom to be. Isn't that what sports coaches do?
The most important strategic decision for any company is choosing the CEO; the most important decision for any company unit is choosing the unit CEO. Once chosen, building a rigorous system for clarifying expectations, training, and assessing performance on each expectation will strengthen your organization's capabilities. What's measured and managed improves.
Hall is managing director of Human Capital Systems (www.humancapitalsystems.com), a firm that designs systems for improving workforce performance. He is also an instructor in Duke Corporate Education's teaching network and author of The New Human Capital Strategy. Hall was formerly a senior vice president at ABN AMRO Bank in Amsterdam and IBM Asia-Pacific's executive in charge of executive leadership and organization effectiveness. During his tenure, IBM was twice ranked No. 1 in the world in Hewitt/Chief Executive magazine's "Top Company for Leaders." Hall completed his Ph.D in industrial-organizational psychology at Tulane University, with a dissertation on people management practices of Japanese corporations.