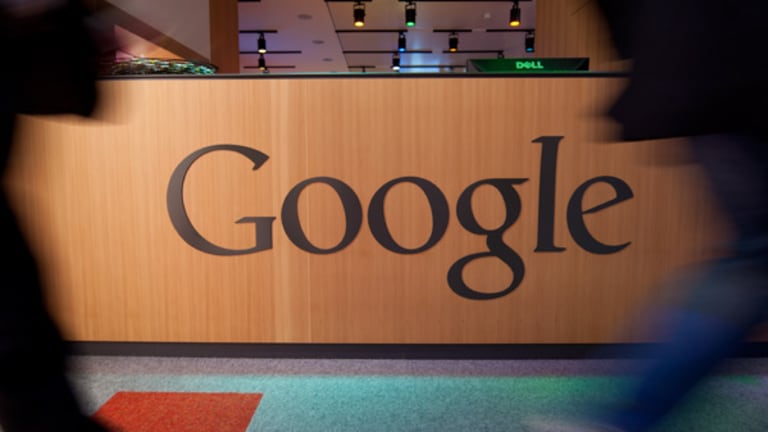 The Microsofting of Google
The intent of the European courts is to do to Google what the U.S. antitrust authorities did to Microsoft, bind it with people who will just say no.
NEW YORK (TheStreet) -- It was inevitable that as Google (GOOG) - Get Alphabet Inc. Class C Report gained unrivaled power in society, society would push back.
It has.
The "right to be forgotten" ruling in Europe heralds what will be an ongoing effort by government to rein in Google's power over us, and thus its ability to monetize what it knows about us.
The question for investors is whether that also means Google shares hit a long-term peak, in late February, of a postsplit $609.
For its part Google, like a politician caught in scandal, is doing all it can to change the subject.
It's buying Twitch, a video play-through site, for $1 billion. It's buying Divide, which separates corporate and personal information. It's making nice with Apple (AAPL) - Get Apple Inc. (AAPL) Report over patents. Google Fiber keeps moving forward to the approving nods of U.S. regulators. 
But will all this outweigh Europe's efforts to put an unscaleable wall of people against it? That's what the European Court of Justice ruling represents.
The "right to be forgotten" is East Coast Law, in Lawrence Lessig's phrase, that can't be encoded by West Coast Law. It's a bureaucratic jumble that can't be turned into a set of computer algorithms. It is, quite deliberately, a human process placed in front of the Google machine with the aim of reducing its utility.
Many observers, like Michael Wolff, think Google will simply ignore this ruling when it comes to the U.S.-based search engine, that this will only be an issue in its European-based operations. 
I question that. I don't think plaintiffs just want their links removed in Google.ES or Google.DE. I think the European court believes this can be enforced against Google.com as well, along with Bing.com, Yahoo! (YHOO) , Yandex (YNDX) - Get Yandex NV Class A Report and even Baidu (BIDU) - Get Baidu, Inc. Sponsored ADR Class A Report.
If this decision is limited to Europe, it will gradually make Europe a search engine backwater. But if it can be extended to the U.S., it could work just like the U.S. antitrust case did against Microsoft (MSFT) - Get Microsoft Corporation (MSFT) Report.
I have always believed the penalty from the antitrust case didn't come from the court, but from the case itself. It pushed Microsoft to hire lawyers and PR people, and to promote people who would say "no" rather than "yes." It made Microsoft insular, just as the European courts seek to make Google insular by putting a human process in front of its search engine.
The case did not ruin Microsoft all at once. The government launched its first investigation in 1991, Microsoft signed a consent decree in 1994, the case was filed in 1996 and Microsoft shares peaked in 2000, even before the case was decided.
So Google may still have room to rise. Its trading patterns have actually mimicked those of Microsoft, only on a rising trajectory, since it came public in 2004, diverging only this March. Since then Microsoft is up 5% while Google is down more than 10%.
Whether Google's move down is a blip or the start of a pattern is the key question before the markets today. What history teaches is that a tech company with the eyes of government on it has trouble. What the headlines say is that those eyes are now decisively off Microsoft and on Google.
How long can Google suffer that scrutiny and keep saying yes to deals like Twitch and Divide?
At the time of publication the author owned shares of GOOG and AAPL.
This article represents the opinion of a contributor and not necessarily that of TheStreet or its editorial staff.