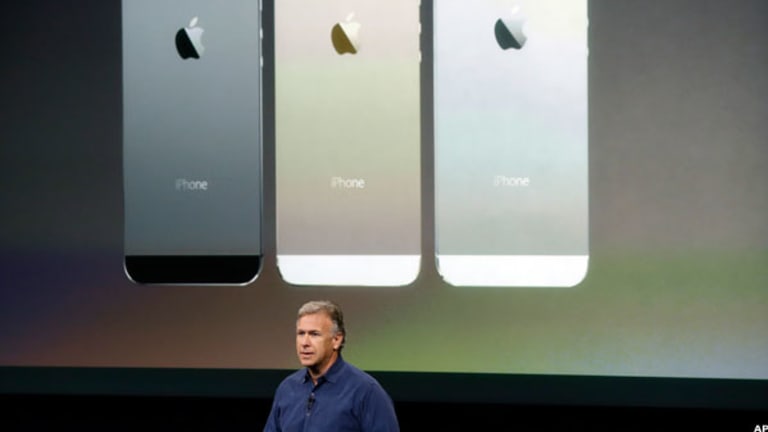 The Media Is Lying to You About Apple
An honest survey of Apple's competition, in a world with credible media outlets, would silence the latest dose of uninformed Apple hate.
NEW YORK (TheStreet) -- If you take a step back and consider what has happened in tech over the last several weeks, it's difficult to deny that there's a hate campaign, even if exists in some collective subconscious, against Apple (AAPL) - Get Apple Inc. Report.
I'll spare you too many links and YouTube videos; if you follow this stuff, you've seen or heard about everything I will mention. And, if not, trust me because I'm beholden to nobody or nothing . . . not overnight ratings, page views or a big or boutique Wall Street firm.
It's simply an exercise in funny to skim the outskirts of your memory and summarize the lunacy we ultimately dismiss in favor of the noise we can't ignore.
You have Microsoft (MSFT) - Get Microsoft Corporation Report CEO Steve Ballmer falling into a glass table, bloodying himself, during Nokia (NOK) - Get Nokia Oyj Report buyout discussions. The guy tripped and fell or whatever. We all do it from time to time. I'm glad he's okay. So it's not the specifics of the incident that make it worth mentioning; it's just a fitting metaphor for the complete and total ineptitude that has marked his watch over Microsoft's still-pending demise.
Here's a guy who writes down nearly a billion dollars' worth of Surface tablets after touting how well things were going. Where's the SEC when you need them? We'll skip the in-between and just get to his most recent botched experiment in competition -- that Apple-mocking spoof that was so bad Microsoft had to pull it.
But wait, there's more!
On Tuesday, Microsoft pulls a fresh buyback and increased dividend from its tired bag of tricks to pump its stock.
Now, to be fair and provide proper context, I must note that this is an annual occurrence for Microsoft, particularly the dividend hike. Lots of companies who pay dividends regularly raise them on schedule. In fact, the last time Microsoft didn't up the dividend was between FY 2009 and FY 2010. And the timing of this one isn't even suspect; it follows a predictable chronological pattern.
But, again, I -- and others -- chided Apple -- and rightfully so -- for resorting to a dividend and buyback. That plan has hardly worked. All it does is allow guys like David Einhorn to report a better-looking profit/loss column. We should chide Microsoft here for not doing the opposite. If it really wants to get real with investors, it could say, we're suspending these payments because, unlike Apple, we're focused on putting all of our resources toward not ending up like BlackBerryundefined.
But, whatever, Ballmer's family jewels appear to have left him at the same pace as his hair.
Then there's the Microsoft/Nokia response to the Apple iPhone 5S/5C event.
It's akin to the Toronto Maple Leafs taking out a full-page ad in the Boston Globe ahead of their next game against the Bruins boasting something like You want some more?
If Microsoft and Nokia want to blow their cash on promoted Tweets, they ought to do a search for "iOS 7" on Twitter and promote one of the many that goes like this:
Do you see anything anywhere near the level of excitement that surrounds an Apple software (or hardware) release for an Android update? It's not even close. And you're lying to yourself and the rest of us if you think otherwise. Cutesy Kit Kat statues notwithstanding.
Along similar lines, Samsung introduced a smartwatch last week (or was it the week before) and read me: Nobody cares!
I could go on and on. We could put together a killer comedy routine comprised of the antics and non-events from Apple's competition.
Then there's the media. They're willing to let all of the above and more exit the news flow in less than 24 hours in favor of the, at worst, lie and, at best, context-less puddle of drivel that Apple is losing market share.
In Harshest Critics Don't Understand Apple, I expose the bold-faced fib. iOS is the only smartphone operating system that gained market share in the most recent reporting period. In terms of hardware market share, Apple, without a new phone in approximately a year, still gained ground. Samsung grew just 0.9% points faster than Apple with myriad devices aimed at low-hanging fruit.
I'm as concerned about Apple's long-term future as much as the next guy. I don't have confidence that Tim Cook can doing anything that even resembles a repeat of Steve Jobs' magic. But I don't let this interfere with my ability to interpret and honestly report present reality.
There's no producer of technology who creates more of a buzz, captures more mindshare and, most importantly, generates massive margins and profit on a it will stand the test of time ecosystem than Apple. Not one.
This media hysteria we're seeing results from laziness, unoriginality, group psychology, jealously, a toxic Wall Street environment that few are willing to challenge and spoiled brat syndrome. Apple spoiled us. We assign ourselves Steve Jobs-level genius and then hammer Apple for not showing it to us at every turn.
--Written by Rocco Pendola in Santa Monica, Calif.
Rocco Pendola is a columnist and
TheStreet's
Director of Social Media. Pendola makes frequent appearances on national television networks such as
CNN
and
CNBC
as well as
TheStreet TV
. Whenever possible, Pendola uses hockey, Springsteen or Southern California references in his work. He lives in Santa Monica.