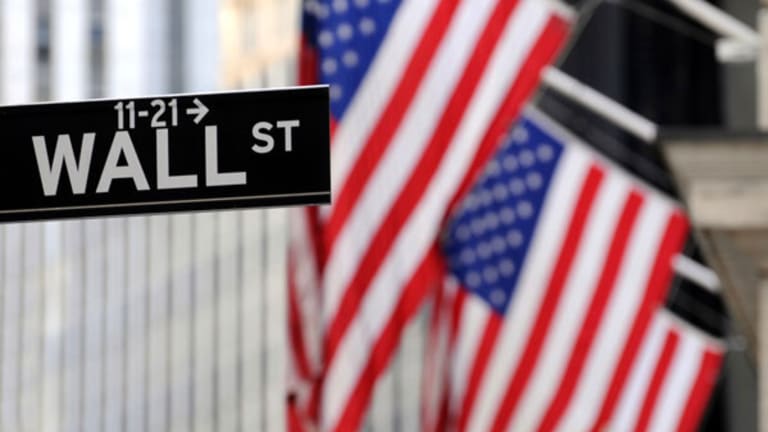 NEW YORK (TheStreet) -- The string of consecutive days the S&P 500, the Nasdaq and the Russell 2000 indexes were up was broken at six.
All the indexes finished trading Wednesday lower. The Nasdaq had the worst day, down 0.83%, or 34.49 points, finishing at 4126.97. The DJIA finished down 12.72 points to close at 16501.65 and the S&P 500 closed at 1875.39, down 4.16. The Russell 2000 closed down 8.53, or 0.74%, at 1147.08.
With all the bullish talk from the Wall Street gurus and pundits, I think it is appropriate to call attention to the fact that the Nasdaq is down 5.3% from its year-to-date high while the Russell 2000 is down 5.1% from its year-to-date high for the same period. The DJIA and the S&P 500 are both flat now compared to their YTD highs.
So from that perspective we have two different markets. I will tell you that this stock market is not as healthy as most would want you to believe.
In addition, I must address my concern, once again, that the volume today was absolutely pathetic. It was lower than Monday's volume day in the S&P 500 Trust ETF (SPY) - Get SPDR S&P 500 ETF Trust Report. It now has the distinction of being the second-lowest volume day in 2014. It grabbed that distinction from the volume on Monday.
How can this possibly be viewed as a bullish stock market scenario? When you have prices up with accelerating volume, that is bullish. When you have prices down with volume accelerating volume, that is bearish. When you have prices up with down volume or no volume to speak of, that is bad, especially when the DJIA and the S&P 500 are near their all-time highs.
I urge all you traders out there to pay attention to this fact. It will become more and more important as this market comes to terms with the fact that we do not have a healthy environment.
This stock market in 2014 has become very difficult to trade on a daily basis. The whipsaw action continues as the Nasdaq and Russell 2000 indexes have slipped back into Trend Bearish territory after one day of being into Trend Bullish territory. That does not happen very often. Trends are three months or longer time frames.
That risk management process I have written about on occasion is needed more than ever to navigate around in this market on a day to day basis. If you have such a process, you know of what I am speaking. If you do not have such a process, you need to get one in a hurry.
All the indexes are nearing overbought territory on my algorithm scale. With two more green days we will be there. I am looking for a selloff to occur shortly in all the indexes.
I purchased a position on Tuesday in the ProShares Ultra VIX Short Term Futures ETF (UVXY) - Get ProShares Ultra VIX Short-Term Futures ETF Report. I sold that position on Wednesday for a profit of better than 1%.
At the time of publication, the author held no positions in any of the stocks mentioned.
This article represents the opinion of a contributor and not necessarily that of TheStreet or its editorial staff.