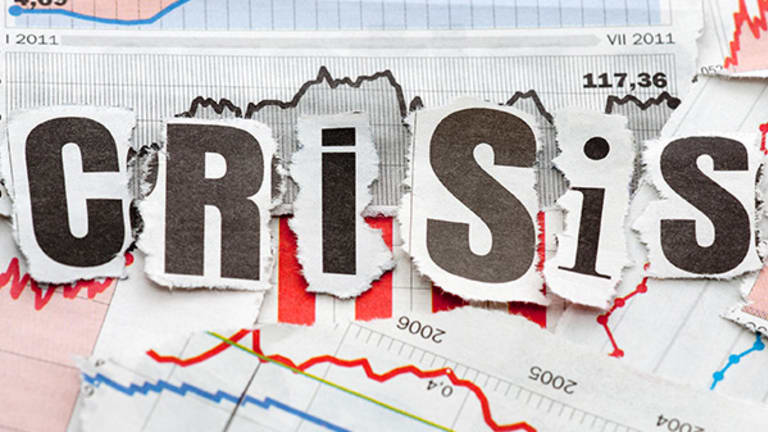 The Markets Crashed My First Day as a Stockbroker and Here's What I Did Next
Investment lessons the crash of 1987 taught us, especially if Friday, October 16 was your first day on the job.
Editors' pick: Originally published May 19.
It was Friday, Oct. 16, 1987, and I had just passed my Series 7. I was given my certificate of training and a telephone book. The market fell a record 108 points that day. The following Monday, it plunged 508 points, a heart-pounding 22.6% drop. I still have my copy of the Tuesday Wall Street Journal about the stock market carnage that has come to be known as "Black Monday." 
That second day on the job was by far the most interesting of my 15-year career. 
My first employer was R. Rowland & Co. in St. Louis. Mr. Rowland was the former chairman of the board of Ralston Purina. I worked there and for two other firms, retiring from Edward Jones in 2001. I opened the first Hawaii office on the big island for Edward Jones, moving there by myself in 1991 after selling my bioavailability laboratory that I owned with my husband. He joined me six months later after finishing up a stint at Schering Plough, which in 2009 became part of Merck.
But it was a while before all that happened. Back to my first day on the job: On Monday, October 19, the market dropped 200 points in the first 45 minutes. After we all recovered from the shock, trembling brokers called their clients. I didn't have any clients. I did have a list of  about 200 friends, relatives and acquaintances. Many brokers were afraid to make their phone calls, but I saw my blank slate as an advantage.
The first person I called was my worst enemy. His name was Dr. Ed Khalil and I hated him. He was vice president of KV Pharmaceutical Company in St. Louis. As the sole salesperson for our bioavailablity lab and a fierce negotiator having learned his skills bartering in Egypt, we were constantly at each other's throats. But we still respected each other. Long before I started as a broker, I called him to tell him that I was quitting our business to sell stocks. There was a long pause. He quietly said, "You will make a great stock broker."
So I called him on Black Monday and said, "Ed, you need to give me all your money and put it in the stock market right now." And he did. I remember some of the laundry list of stocks we bought that day: 500 shares of Avon, 500 shares of TWA, 500 shares of Kodak, 500 shares of Sterling Drug- - and a few others I don't remember. I think Genentech was in there. He bought the stocks on margin. Kodak bought Sterling, so he got the takeover play as well.
Meanwhile, our branch manager Bernie Feinstein, was in his office and not doing well. Later in the day he walked by my desk, white as a sheet. I thought he was going to have a heart attack. Bernie stopped, looked down at my cubicle and said, "Those are pink tickets." He stared a while and said, "Those are buy tickets." (In those days, pink tickets meant clients were buying stocks.) I thought I was in trouble. He gazed at me, shook his head, and muttered as he walked away, "A rookie and she's on the right side of the market."
What could have happened is that Dr. Khalil and all the other pink ticket people could have lost their shirts. But I didn't think they would. While waiting for my Series 7 results, I read Warren Buffet's biography and Peter Lynch's book, One Up on Wall Street. Buffet said in his biography, "As far as I am concerned, the market doesn't exist. Buy companies, not stocks. I'm glad I live in Omaha." My Lynch said in his book, "When should you buy stocks? When everyone is in a panic selling." I heeded the advice of both genius investors and never looked back. 
Needless to say, the investments did very well. Here's how Avon did from immediately prior to the crash to near its peak in 2004:
I would not advise buying $500,000 worth of stocks on margin during a crash unless you have $5 million more and can afford the risk. Black Monday was the most exciting day I ever experienced as a broker. And I learned something very important that day: I stock-piled client money after placing 25% of their proceeds immediately and then told them to be ready for my call when it was time to invest another 25% or 50%. I sat like a pit viper, sometimes for months, working in bonds, waiting for a market drop. When it did, I hammered out orders all day long. I was a binge investor. That's how I learned how to beat the mutual fund managers making money for clients by placing them in The American Funds, the most boring fund group out there. I also took some tremendous stock positions employing the same strategy. To be sure, I had my share of "oops" moments as well.     
I don't hate Ed anymore. He was one of the great teachers in my life. He sharpened my sword and taught me how to be a ruthless negotiator. And I helped him make so much money, he probably never had to work again. I made "Rookie of the Year" and got to go to the Cardinals 1987 World Series with Mr. Rowland. We sat in the seats of baseball great Keith Hernandez. 
This article is commentary by an independent contributor.