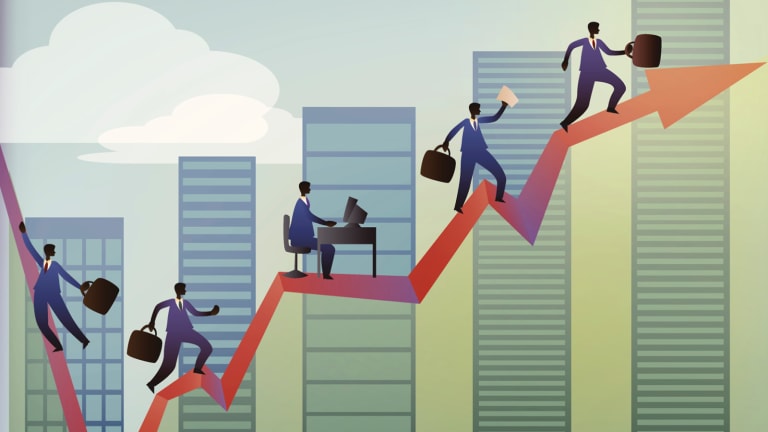 The Market May Be Nuts, but the Economy Is Fine
The worries driving the volatility don't matter much -- retail investors can outsmart hedge funds that are outsmarting themselves.
NEW YORK (TheStreet) -- Wall Street is pulling another of its temper tantrums this morning, but the economy is fine. The gyrations are less a reminder of why we're all doomed than of why most professional investors and hedge funds fail consistently to do something as seemingly straightforward as beat the overall market's returns.
Both the S&P 500 and the Dow Jones Industrial Averagedropped 1% early in Monday's trading, and each has retraced some of those gains, consistent with what we've been seeing in the last two weeks of August.
The usual suspects are to blame. Some investors' jitters come from fears of higher interest rates coming as soon as next month, or worries about lower oil prices (gasoline in my neck of the woods pierced $2 a gallon this weekend). Some are worried about China's slower growth or are afraid that recent volatility heralds a new U.S. recession -- all are part of the babble.
And yes, the correct word for all of this is babble.
The newest economic news Monday is an indifferent report from the Chicago Purchasing Managers Index, which showed slightly slower growth in August than July -- but at a reading of 54.4, with anything over 50 pointing to expansion, the number is hardly anything to panic about.
"It was pretty much steady as she goes," said Philip Uglow, chief economist of MNI Indicators, which compiles the report.
And that really has been the story pretty consistently from recent data. Housing has been meeting or beating forecasts in both existing and new-home markets, July durable goods orders were better than expected, second-quarter gross domestic product was revised upward much more strongly than expected, and consumer inflation was lower than forecast. As for valuation, the S&P 500 is trading at 15 times next year's expected profits, according to S&P Capital IQ -- hardly an elevated number. Accounting for expected growth, sectors like technology and consumer-discretionary stocks look quite cheap.
For all the fuss about whether the Federal Reserve will raise interest rates in a month or in three months -- or even five -- we basically understand the economy investors are trying to make money in. The data is consistent enough that for U.S. stocks and bonds, the picture changes only incrementally.
I've said some of this before, but there are really a few things people are forgetting that are plainly relevant to making money now.
1. Stocks do fine in rising rate environments, because rates rise when the economy is strong. To judge from daily trading, many hedge funds may not get this. More likely, they are trying to milk the volatility in the short term. But that's usually a mug's game for them -- let alone for ordinary investors. Retail should buy the dips when the weight of the economic numbers are this solid. It'll pay off soon enough.
2. Cheap oil is good for nations and sectors that are net  energy consumers. And for all the hoopla about shale, which is nearly all accurate, the U.S. is still a net energy consumer. The profits lost at Exxon Mobil (XOM) - Get Exxon Mobil Corporation Report will turn up as lower costs at big natural-gas users like Dow Chemical (DOW) - Get Dow, Inc. Report or DuPont (DD) - Get DuPont de Nemours, Inc. Report , and at financial companies like JPMorgan Chase (JPM) - Get JPMorgan Chase & Co. (JPM) Report and retailers from Wal-Mart Stores (WMT) - Get Walmart Inc. Report to Nordstrom (JWN) - Get Nordstrom, Inc. (JWN) Report that capture the extra $1,000 or more in after-tax income the average household has to spend because petroleum is so cheap. (The government early this year put the savings at $750, but that oil remained near $60 a barrel, rather than today's $45).
3.  Millennials are getting jobs and forming households, finally. That's why housing starts are finally moving, albeit more in rental housing than single-family homes in most months. But with rents at record highs, look for that to shift more toward home buying, which has already begun. It may take several years to fully normalize, but its direction isn't changing now.
4. Stocks are relatively cheap, especially given that interest rates are going to stay very low even when they do budge from zero.
5.  Exports to China are 0.7% of the U.S. economy. They'd have to fall by half to have any material impact on earnings of more than a handful of U.S. companies -- and even some of those companies (notably Apple (AAPL) - Get Apple Inc. (AAPL) Report, Boeing (BA) - Get Boeing Company Report and General Motors (GM) - Get General Motors Company (GM) Report) are sending signals that business in China is fine.
I'm not taking sides in the argument over whether the Fed should raise rates in September -- we'll need Friday's jobs report to handicap that intelligently. Doves would argue that the economy still has very low inflation, sluggish wage growth and an excess 2 million people working part time who want full-time jobs. Hawks point to the aberrant nature of today's near-zero rates, and fret that waiting longer will make it harder for the Fed to normalize rates without unintended consequences.
But for investors with longer attention spans, it really doesn't matter much when the Fed moves. Nothing in the headlines now is likely to have much effect on the 2016 earnings forecasts, since nothing in the macro data points to a U.S. slowdown that would hurt Main Street America.
This article is commentary by an independent contributor. At the time of publication, the author held no positions in the stocks mentioned.