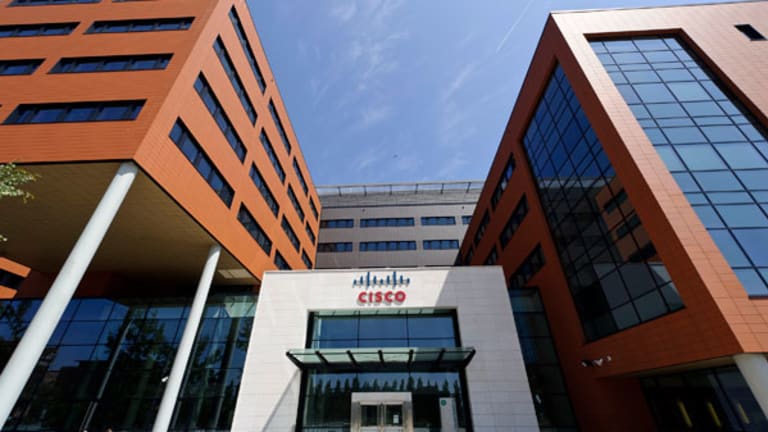 The Market Is Waking Up to Cisco
The case can be made that Cisco shares have a fair market value of about $35.
NEW YORK (
) -- For more than a year now, I've sung
Cisco's
(CSCO)
praises to anyone who cared to listen.
On more than one occasion I've been told how wrong and misguided I've been and that "Cisco was dead."
But while the market has been taking a "wait and see" attitude and demanding more proof, Cisco has been delivering.
This time, after the company's ninth consecutive earnings beat, it seems that the Street is ready to embrace Cisco back into bellwether status. But Cisco never really left. And I don't believe that the market is saying anything new -- at least not anything that I haven't already told investors here on
TheStreet
a million times.
Also see: Cisco Analysts Blow It >>
On Thursday, Cisco shares got an extra boost from (among others) analyst Kevin Dennean of
Citigroup
(C)
, who reiterated his "buy" rating on the stock, while setting a price target of $26.
Dennean also said that he sees a case where Cisco can reach $30 per share, citing potential upside in Cisco's dominant core routing and switching businesses. Dennean also when on to write the following:
"Taking a detailed look at Cisco's router and switch businesses, the direct relationship between revenue growth and OECD growth is clear with both segments exhibiting correlation >0.75. An improving macro backdrop bodes well for revenue acceleration in Cisco's router and switch segments."
Also see: Looking at Cisco for Your Portfolio >>
While I agree with Dennean's take regarding Cisco's stock price, I don't think he fully understands Cisco's strategy. He's complimenting Cisco's routing and switching business, while management has been working hard to transition the company out of its legacy hardware mindset. Essentially, Cisco wants to become more of a "software company."
This is why management has spent a good portion of the company's $47 billion in cash on acquisitions for the likes of
Meraki
,
Cariden
and
BroadHop
. In other words, management is not as excited about its hardware business as some Street analysts seems to be. But that's no slight, either.
That's not to say that the routing and switching businesses aren't bringing in the cash. But management also understands that hardware is no longer a part of Cisco's future growth strategy. In fact, these businesses have shown signs of erosion. Yet, they still power more than half of the Internet.
Also see: Nasdaq Trades Its First-Ever Senior Loan ETF >>
Meanwhile, the company's growth and investments in software-defined-networking (SDN) have become the main driver of the stock. Cisco's new outlook has also caught the attention of analyst Simon Leopold at Raymond James, who recently said that these shares were undervalued by 30%, while applying a $25 price target. In a research note to investors, Leopold said:
"We expect Cisco to outline its strategic vision to become a broader IT supplier with a greater software bias, which aids margin. We expect Cisco maintains its 5-7% long term growth target while offering cautious commentary on the near term."
Leopold's mention of margins was also noteworthy, which suggests increased profitability while Cisco endeavors to build its SDN business. Leopold was proven right as Cisco just posted a solid first-quarter gross margin of 61.4%, which indicates the company's strong competitive leverage against the likes of
F5 Networks
(FFIV)
and
Juniper
(JNPR)
remains steady.
Elsewhere, revenue surged 5.4% to $12.2 billion, which led to a non-GAAP net income of $2.7 billion, which represents year-over-year growth of 4.7%, or 51 cents per share -- topping Street estimates of 49 cents. John Chambers, Cisco's CEO said that the company managed to execute "in a slow, but steady economic environment."
In other words, amid such periods of turbulence with weak carrier spending and soft enterprise IT environment that has not fully rebounded to more robust levels, Cisco still managed to outperform its rivals and exceed expectations. This is while amassing cash levels of more than $47 billion.
In fact, while analysts still model the stock for $25 to $30 per share, when applying a modest 4% to 5% free-cash-flow growth, the stock still supports a fair market value of about $35. (Shares were recently trading at about $23.50.) Cisco remains a strong buy. But if you've been reading me for a while, you would have already known this -- even though the Street is just now waking up to this idea.
At the time of publication, the author held no position in any of the stocks mentioned
.
Follow @saintssense
This article is commentary by an independent contributor, separate from TheStreet's regular news coverage.
Richard Saintvilus is a private investor with an information technology and engineering background and the founder and producer of the investor Web site
. He has been investing and trading for over 15 years. He employs conservative strategies in assessing equities and appraising value while minimizing downside risk. His decisions are based in part on management, growth prospects, return on equity and price-to-earnings as well as macroeconomic factors. He is an investor who seeks opportunities whether on the long or short side and believes in changing positions as information changes.