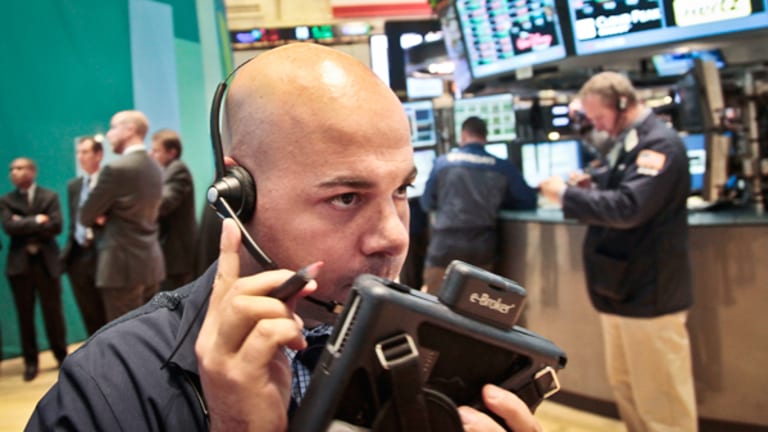 NEW YORK (TheStreet) -- Last week, Jim Cramer wrote an excellent article for TheStreet's Real Money about the Clinton-era bull market.
Other than reaffirming to "Dow deniers" that the move from 3,200 to 11,000 between 1992 and 2000 did indeed happen, this is my favorite part of that piece:
... the greatest thing about the bull market of the 1990s was how little Washington mattered at all. For all of the griping about the havoc that Democrats wreak on business, it was simply a benign time with a White House that was deeply wired to creating jobs and allowing the private sector to blossom.
Right on. Jim goes on to point out that, "Tax rates just weren't much of a factor in decision making, certainly not as much as the certainty of knowing what they were and what they would be ..."
For a repeat of the Clinton-era bull market, Cramer believes we need an environment where companies are comfortable spending and reinvesting without political overhang.
That's all good. And logical. And let's hope whatever needs to happen in Washington happens so corporate spending accelerates.
As I noted in
Why Are So Many Big CEOs Complete Losers
however, "fiscal cliff"-related uncertainty doesn't keep Jeff Bezos from spending at
Amazon.com
(AMZN) - Get Amazon.com, Inc. Report
. And, on the other end of the spectrum, it doesn't stop entrepreneurs with families from paying for their own health care while they launch fresh startups.
It comes down to mindset right now. In large swaths of corporate America, you have companies sitting on cash and using gridlock in Washington as the reason. In many cases, I call it an excuse. At the same time, I understand and can respect the notion that you need to know the rules before you aggressively play the game.
There needs to be some context here, though.
I follow almost everything, but I most closely cover tech, Internet and media companies across sub-spaces. Behaviors in these sectors differ considerably from, say, what goes on in the industrials or at particularly blue chip firms.
If you're in tech, Internet, old guard media, new media or social media, there's no excuse for not spending. If you cannot find opportunity, there's something wrong.
Even though
I fully admit to missing badly in the near-term on Sirius XM (SIRI) - Get Sirius XM Holdings, Inc. Report
, comments outgoing CEO Mel Karmazin made a few months ago -- at least once to Cramer on
Mad Money
-- rub me the wrong way.
When asked about what to do with his company's cash, Mel said that because he did not see attractive acquisition candidates, there's no option other than to return capital to shareholders. While SIRI might have more life left in it -- after hitting $3.00 intraday Tuesday -- I still cannot get bullish long-term. I want to see what
Liberty Media
(LMCA)
plans on making of satellite radio.
Will the company treat it as a singular space, doing things like streaming radio for the same lame reason --
everybody else is doing it!
-- Meg Whitman gives for
eventually building a smartphone at Hewlett Packard (HPQ) - Get HP Inc. (HPQ) Report
? Or will Liberty raise the stakes, making moves that draw the attention of media companies that act more like tech companies? If the latter comes to, $3.50 might be a conservative price target for SIRI.
Over the long haul -- I'm talking in Amazon years -- it's that second mindset that wins out, where companies go bold and disrupt large and multiple industries the way Amazon has. CEOs such as Bezos and Marissa Mayer at
Yahoo!
(YHOO)
set that tone.
We don't care what's happening in Washington. We can't afford to waste a minute. There's too much work to do!
.
Forget special dividend payments, stock buybacks and comfort with the status quo. If you do them, they should be secondary to growth. They might work in the short-term, but they crush souls and create
Microsofts
(MSFT) - Get Microsoft Corporation (MSFT) Report
and
Best Buys
(BBY) - Get Best Buy Co., Inc. Report
in due time.
Once they no longer have the fiscal cliff as an excuse, I expect the best companies in tech, Internet and media to join the ranks of Bezos and Amazon and Mayer and Yahoo! They'll remove the conservative shackles and attack. Those who do not will get bought out if there's value or be left behind.
Don't be fooled:
As I predicted
weeks ago,
a fiscal cliff deal will get done
before the end of the year.
That will provide the market sustained energy. Solid earnings led by Amazon and
Apple
(AAPL) - Get Apple Inc. (AAPL) Report
, along with some surprises and strong 2013 outlooks across spaces will propel equities even higher.
Once a deal gets done -- especially if it's a halfway decent one -- there's really no reason for a rally not to happen. No more excuses. There's opportunity out there -- tons of it -- and more than a handful of companies must exist who not only see it, but are prepared to leverage it.
--Written by Rocco Pendola in Santa Monica, Calif.
Rocco Pendola is
TheStreet's
Director of Social Media. Pendola's daily contributions to
TheStreet
frequently appear on
CNBC
and at various top online properties, such as
Forbes
.