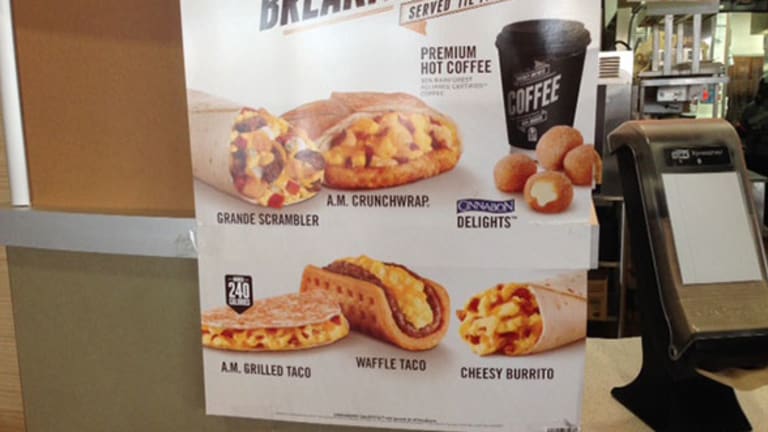 The Latest Fast Food Battle Isn't Over Burgers or Coffee
Fast-food companies may be having trouble selling burgers and cheap coffee in the U.S., but not breakfast sandwiches.
NEW YORK (TheStreet) -- Breakfast sandwiches and wraps suddenly are some the hottest-selling items on the U.S. menus of fast-food giants McDonald's (MCD) - Get McDonald's Corporation (MCD) Report , Yum Brands (YUM) - Get Yum! Brands, Inc. (YUM) Report -owned Taco Bell and Dunkin' Brands (DNKN) - Get Dunkin' Brands Group, Inc. Report . That's welcome news for investors in light of rampant price discounting for burgers and brewed coffee.
There are several factors fueling consumers' appetite for breakfast sandwiches.
For starters, fast food's biggest names have reformulated their breakfast sandwich lineups to feature healthier ingredients. Dunkin' Donuts now sells a multigrain egg-white flatbread and Starbucks (SBUX) - Get Starbucks Corporation Report offers a spinach-feta-egg white multigrain wrap. A health-conscious consumer on the run now knows a trip to the local fast-food drive-thru at 7 a.m. won't necessarily yield a greasy, high-calorie breakfast sandwich.
Fast-food companies have also gotten creative with their higher-calorie, portable breakfast sandwiches. One notable: Taco Bell's 650-calorie A.M. Steak Crunchwrap, which boasts a fried hash brown, sauce-drenched steak, gooey cheese and scrambled eggs.
The barrage of breakfast sandwiches and wraps also gives the old guard fast-food chains an advantage over Chipotle (CMG) - Get Chipotle Mexican Grill, Inc. Report , which has been eating their, well, lunch, at other mealtimes. Red-hot Chipotle has repeatedly shot down talk of venturing into breakfast for numerous reasons. One is the prep time needed by workers to hand-chop fresh meat and vegetables for lunch and dinner, a process that usually begins at 11:00 a.m. Another is the layout of Chipotle's kitchens, which unlike McDonald's and Dunkin' Donuts, are devoid of warming cabinets and quick-bake ovens.
Breakfast sandwiches cater to customers in a hurry. But the economics behind breakfast sandwiches appeal to fast food companies. Oftentimes the sandwiches are made with one egg, a piece of bread, and a slice of cheese -- as opposed to the more complex McDonald's Big Mac or Dunkin' Donuts tuna salad sandwich.
And fast-food players are spurring major growth in the breakfast category. According to market research firm Technomic, breakfast sales at fast-food chains rose by 4.8% annually from 2007 to 2012, outpacing sales growth during lunch and dinner. The research firm estimates that breakfast sales gained about 3.5% in 2014.
TheStreet takes a look at how breakfast sandwiches have helped boost the results of the major fast-food operators, and what lies ahead for breakfast on the run.
1. McDonald's is doing well with breakfast despite no innovation.
About 25% of McDonald's U.S. sales are derived from consumers buying Egg McMuffins, pancakes and other breakfast foods. But outside of testing pastries in select California markets last March, the Golden Arches has lagged its competitors in bringing new items to its breakfast menu.
The company's marketing muscle is consistently thrown behind the Egg McMuffin, a product first released in 1971. A recent TV campaign shows the origin of McDonald's eggs, and it looks to be working wonders for sales.
"Our breakfast sales were positive last year in the U.S., and was our strongest daypart," said McDonald's spokeswoman Becca Hary via email. In January, McDonald's U.S. recorded a 0.4% same-restaurant sales increase in large part due to breakfast. Hary pointed out that in January, there was "national marketing support focused on the Egg McMuffin."
Breakfast is a bright spot for McDonald's, but its U.S. business is still trying to streamline the menu and connect with health-conscious customers.
The company's new CEO Steve Easterbrook could green-light tests of several promising breakfast sandwich options this year.  Any new breakfast sandwich from McDonald's would need to emphasize portability, on par with Taco Bell's unique A.M. Crunchwrap and the more traditional wraps and flatbreads being served at Starbucks and Dunkin' Donuts.
2. Taco Bell stole the show with breakfast sandwiches in 2014, and more innovation is ahead.
On March 27, 2014, Taco Bell made its long-awaited entry into breakfast nationwide. The breakfast menu consisted of several sandwich options. The Waffle Taco, a folded waffle with sausage or bacon in the middle, received the most attention for its visually odd pairing.
Taco Bell also debuted the A.M. Crunchwrap, a folded, toasted tortilla filled with a hash browns, eggs, meat and cheese. Mess is kept at a minimum, perfect for a drive to work. The menu was rounded out by a host of breakfast burritos stuffed with meats, cheeses, potatoes and other combinations.
Thus far, the sandwiches have fed Taco Bell's ambitions to rule breakfast in America.
"The breakfast launch last spring was a success, and we continue to record strong margins," said Yum Brands CEO Greg Creed on a Feb. 5 earnings call. Breakfast sales now represent 6% of Taco Bell's business and produce hearty 21% operating margins. 
Taco Bell's next step in breakfast could be of the healthier variety. A nationwide expansion of the Cantina Power Menu breakfast platform, which Taco Bell piloted at one of its locations in Omaha, Neb., in early August could be in the cards this year. The Cantina Power breakfast menu consists of a chicken bowl, steak or chicken burrito and Greek yogurt. In partnership with the Three Happy Cows dairy brand, Taco Bell's Greek yogurt comes in a vanilla flavor and is topped with granola.
3. Dunkin' Donuts is on a breakfast sandwich mission.
Dunkin' Donuts introduced a staggering 40 new items to its menu in 2014, including breakfast sandwiches. Eggs were tucked into a multigrain flatbread. Steak was added to more traditional-looking wraps and sandwiches. An apple-flavored chicken sausage sandwich was sold for a limited time.
The bevy of pricier breakfast sandwich options has helped Dunkin' Donuts to counteract sales pressure from free-coffee giveaways by McDonald's and others that want a piece of the chain's lucrative morning coffee business.
"The breakfast sandwich category continues to deliver solid results with growth in core sandwiches and positive results from adding Hash Browns to many of our breakfast sandwich combos," said Dunkin' Donuts CEO Nigel Travis on its Oct. 23 third-quarter earnings call.
Travis added, "The category also benefited from the return of the breakfast burrito and spicy smoked sausage breakfast sandwich and the launch of Chicken Biscuit in several markets."
Solid demand for breakfast sandwiches persisted in the fourth quarter.
The pace of innovation in breakfast sandwiches is unlikely to slow at Dunkin' Donuts this year. Dunkin' Donuts CFO Paul Carbone told TheStreet in a Feb. 5 interview that steak could be expanded from wraps to bagels, burritos or a "Steak Big and Toasted," a sandwich with steak stuffed between buttery Texas toast.
4. Starbucks sells breakfast sandwiches, too.
Alongside pastries, cake pops and bagels at Starbucks are three breakfast sandwiches -- an egg-white spinach-feta wrap; a ham, egg and cheese on a croissant; and an Egg McMuffin-type sandwich. Priced at $3.50 to $4.50, depending on location, Starbucks' breakfast sandwiches have made the coffeehouse a place to stop before work to grab a java and a meal.
And that credibility is propelling sales in the company's overall breakfast category.
"Food contributed 2% to comparable-store sales growth (Americas), including the excellent performance by our breakfast sandwiches, with net sales growing 29% in the first quarter vs. the prior year," said Starbucks CFO Scott Maw on a Jan. 22 earnings call.
The first-quarter sales growth in sandwiches continued a trend seen throughout most of 2014, where gains in breakfast sandwiches touched as high as 50% following the slow rollout of La Boulange-branded products, starting with Starbucks' acquisition of La Boulange in 2012.
Starbucks spokeswoman Maggie Jantzen said in an email the company wasn't "testing any new breakfast items, however, we are launching a new breakfast sandwich next week on Feb. 17, a Double Smoked Bacon and Cheddar Breakfast Sandwich."
This article is commentary by an independent contributor. At the time of publication, the author held no positions in the stocks mentioned.