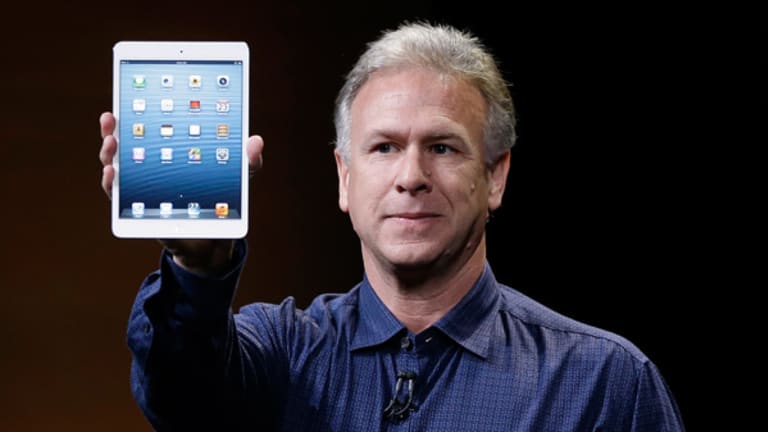 Apple's "iPad Many"
Apple's iPad mini gives low-end consumers a new entry point, but should also appeal to businesses.
Apple's iPad mini gives low-end consumers a new entry point, but should also appeal to businesses.
NEW YORK (
) - A
of
Apple's
(AAPL) - Get Report
iPad is definitively trying to reach a new point for low-end consumers, but companies will also see this as a 2-for-1 sale for certain business operations. With nearly all Fortune 500 companies using or testing the iPad, a lower cost version of the technology is the icing on the cake.
If a company is trying to reduce costs or increase exposure to iOS devices this lower priced tablet does the trick. And that's why I called this article 'the iPad many."
The real genius of the release of the iPad mini is its timing. As iOS 6 makes the iPad 1 obsolete, there are undoubtedly numerous requests for new iPads coming in from corporate users. Apple has provided a low-cost upgrade for those corporate consumers of technology that need their users to have an iPad. Certainly, budgets have already been placed for regular iPads and now a few more users will be getting one on their desks.
I know there was some disappointment about the iPad mini's higher-than-expected price, but let's not forget the iPod touch. If anything, the new mini will cannibalize iPod sales. If the price was any lower, why would anyone buy the touch product? Apple has never really tried to sell a loss leader product before, so there's no reason to start now. With an estimated build cost of $195, it seems that the juicy Apple margin is still intact.
Apple's betting that consumers and companies are going spend for an actual tablet, not just a stretched-out smartphone. Keep in mind that the iPod was the gateway to all of Apple's other products, including their Mac line. I myself was brought into this world by the simple allure of an iPod, which eventually lead to the replacement of all PC-based products in the house. To actually develop for the iPad, you need Mac products. To extrapolate from iPad mini to Mac sales is certainly not a significant stretch.
While the iPad mini certainly isn't for everyone, remember that Apple offerings have never really been the "everyone" product. The vision that makes Apple so profitable is style and quality at an implicit premium, and at first glance it seems the company has created such a product without compromising any of the core Apple values. Time will be the judge, but given their track record I'm willing to give Apple the benefit of the doubt.
--Written by Scott Jenkins.
The author is long Apple.