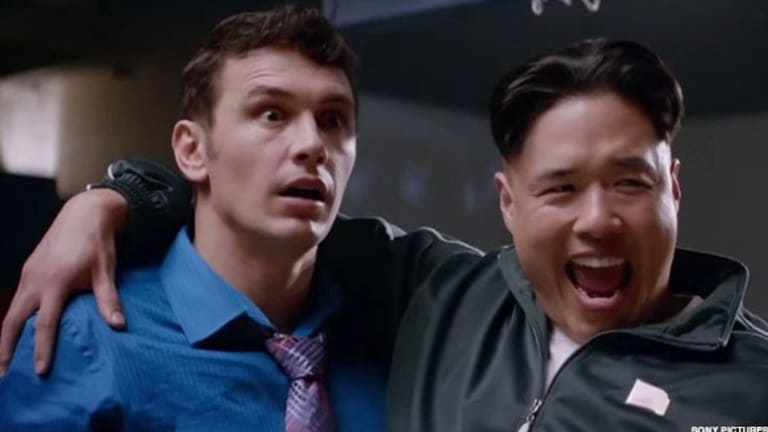 NEW YORK (TheStreet) -- Sony's (SNE) - Get SONY GROUP CORPORATION SPONSORED ADR ReportThe Interview is perhaps the only bro-comedy to ever spark an international kerfuffle over cyber security and freedom of expression -- but that's not what makes it unique.
The spoof about an attempted assassination of North Korea's leader is also one of the only big-budget movies ever released simultaneously in theaters and on video-on-demand, and generated the majority of its revenue through the latter.
Sony announced that The Interview made more than $15 million from online rentals and downloads over the first four days of its release. Though the film has expanded to 581 theaters since a limited opening on Christmas Day, its total theatrical take since then stands just shy of $5 million.
Nonetheless, The Interview became Sony's highest-grossing VOD release ever, despite the 11th-hour nature of its release. After five major U.S. theater chains declined to show the film, Sony briefly pulled it before pivoting to a majority-online rollout through Google's (GOOG) - Get Alphabet Inc. Class C Report YouTube and Google Play, Microsoft's (MSFT) - Get Microsoft Corporation (MSFT) Report XBox and its own Web site. It later expanded to Apple's (AAPL) - Get Apple Inc. (AAPL) Report Tunes and and pay-TV providers.
The Interview is the latest of a small number of films that have found relative VOD success with so-called day-and-date release, when a film is released digitally and in theaters simultaneously. Others to pull it off successfully include The Weinstein Co.'s Bachelorette ($8.2 million), Snowpiercer ($8.2 million) from Weinstein's Radius division, and Lionsgate's (LGF) Arbitrage ($14 million).
Despite these few successes and the rise of digital entertainment, it's unlikely that you'll be able to catch the latest flicks at home, said Paul Dergarabedian, senior media analyst for Rentrak (RENT) . The major studios, he said, depend on theatrical releases to recoup a significant portion of the costs of production and marketing, and then typically see a second bump in sales when films are released on VOD in part because of buzz generated by their theatrical run. 
"I don't think we're going to see a sudden shift because of this one-off, anomalous situation," Dergarabedian said.
Phil Contrino, vice president and chief analyst at Boxoffice.com, added that VOD sales have yet to become large enough to forego the near certainty of a theatrical run.
"A theatrical release is still way more lucrative than what happens on VOD," Contrino said. 
Given that 2015 is rife with big-budget franchises, from James Bond to The Avengers to Fifty Shades of Grey, it seems unlikely that studios would choose a day-and-date release format.
Dergarabedian acknowledged that the strategy might be viable for smaller independent films, but couldn't fathom a way that it could benefit large studios with marketing budgets to burn.
"For smaller films though, I think it's a fantastic option," he said. "You wouldn't have a marketing budget to market a film like that around the world, but at least online you can get the word out and get your movie seen by many more people."
As for The Interview, it's unclear if the film will be a financial success for Sony. The film cost an estimated $44 million to produce, and another $30 million to market. Sony media representatives didn't immediately return a request for comment.
"I think Sony ultimately delivered the movie to the audience in the best way they could given the crazy situation," said Dergarabedian. "They made the best case scenario out of what was the worst case scenario."