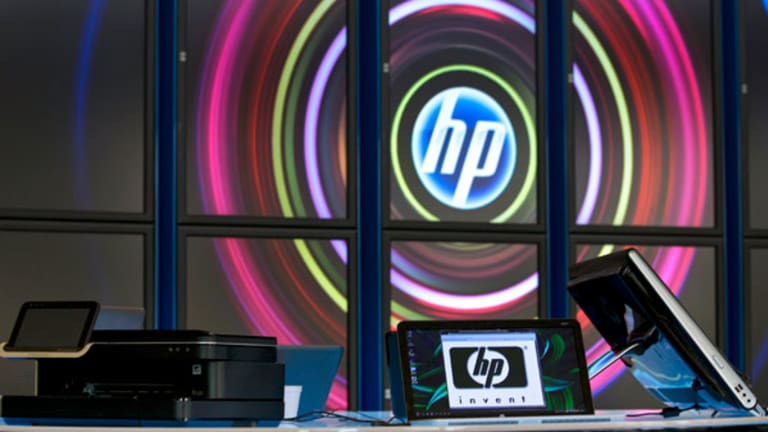 The HP Chromebook: RIP Microsoft
Chrome is unstoppable. It saved Acer. Maybe it can save HP.
NEW YORK (TheStreet) -- Among PC hardware manufacturers, Microsoft (MSFT) - Get Microsoft Corporation Report is becoming about aspopular as living in Eastern Europe under USSR occupation in November1989. One by one, the dominoes are starting to fall.
First, it was
Samsung
. It's got the $249 Chromebook which looks likea copy of a MacBook Air.
Second, it was
Acer
. It's got the $199 Chromebook that looks like acopy of a regular Windows laptop.
Third, it was
Lenovo
. It's got a ThinkPad Chromebook that is sold tothe education market.
And now, HP
. Perhaps this is Meg Whitman's turnaround plan?
According to
this document on HP's Web site
, HP is set tolaunch its first Chromebook on Feb. 17. It's a 14-inch laptop,price yet to be set, but something close to $299 to $349 soundsreasonable.
Why would HP want to stick its knife in the back of Microsoft thisway? Perhaps it has seen how Chromebooks saved Acer from posting evenworse results than it did anyway. In a
, Acer's CEO stated Chromebooks quickly (one quarter) became 5% to 10%of the total for Acer.
Five percent to 10%, even if it's a quick one-time jolt for a quarter, isn't goingto change the trajectory of mankind. But it could help fill a hole inthe income statement. And Lord knows, HP has some holes to fill,partially thanks to the poor performance of Windows 8 so far.
Whitman and HP do not need to hold any ideological love for
Google
(GOOG) - Get Alphabet Inc. Class C Report
and Chrome OS. All they need to see is that it has saved Acer, andperhaps in 2013 it will save Lenovo as well. So why can't HP useGoogle's Chrome OS to save HP too?
Windows 8 -- and perhaps Windows 9 too, some day -- looks to become along, hard slog. The leakage to
Apple's
(AAPL) - Get Apple Inc. Report
Mac and iOS and Google's Android was alreadytough enough. With Samsung, Acer and Lenovo now feasting on thedramatic and sudden sales increases of Chromebooks and Chromeboxes, HPwould have looked like a stubborn stalwart continuing to pin its hopeson a declining market -- Windows PCs.
HP had already embraced the cloud internally with the switch to
Salesforce.com
(CRM) - Get salesforce.com, inc. Report
in what may have been Salesforce's largest deal ever.It was one of Meg Whitman's first acts as CEO.
Having embraced the cloud for CRM and related services, why notembrace the cloud for the next-generation PC architecture as well?This was probably what Meg figured out, ditching Redmond in favor ofits corporate neighbor in Silicon Valley, Google.
Ask yourself the question: How many people do you know in the lastfew years who got a new
Hotmail
address instead of a Gmail address?
None, of course.
Then, once people get a Gmail address, they start using GoogleDocs, which is a free competitor to Microsoft Office. It requires nocomplicated installs, configuration, and everything is savedautomatically across all devices.
Microsoft Office can cost everything from $100 or so, to $400-plus.Google Docs is free.
With Microsoft Office also comes a service plan for that PC. Somepeople pay $250-plus for a 3-year "premium" service plan for a new Windows-- or for that matter Mac -- PC.
Meg Whitman probably saw that -- just like switching to Salesforce.comover some complicated Oracle system that required an army-like on-sitestaff and eternal expenses like a minor Mediterranean country -- theChromebook also has its benefits in terms of dramatically lowerlifetime cost. People tend to like it when a product costs less moneyup front, starts and works a lot faster, and then costs perhaps asmuch as 90% less to operate over the next 3 years.
After Samsung, Acer, Lenovo and now soon HP, who will be next? Idon't know, but I can imagine that the major PC makers are now seeingthe light.
Asus
,
Sony
,
Vizio
-- they will all likely join theChromebook bandwagon within months as well.
Is there any PC company that will
not
make Chromebooks or Chromeboxes? Possibly. There are always those one or two North Koreas or Cubas atthe end of the rope, refusing to let go.
In the meantime, Acer says 5% to 10% of their volume is now Chromebooks.That's after launching the model in November. Surely that counts asone of the fastest product ramps in this industry.
What is needed now for Chromebooks and Chromeboxes is a little likewhat's needed for (wholly or partially) electrified cars: More models,and more distribution. The average consumer for the most part hasnever heard about the existence of a Google PC, let alone tried one.Most stores and other retail outlets don't carry them. This hasimproved over the last six months, but we are still in the embryonicstages, distribution-wise.
More Chrome OS models will need to include all display sizes, allbattery sizes, and more premium models with excellent screens, pixelresolutions and first-class keyboards. This should not be thatdifficult or take too long. The new HP model is one small, butimportant step, in that journey.
Most people are still pooh-poohing Chromebooks. They are written off asjokes by geeks who are gaming fanatics, and by the same people whosaid BlackBerry could never be replaced in the enterprise market. Nomatter, this is the other side of the coin of Microsoft hurting.
Google is in ascendancy. And it's Chrome OS just as much as Android,leading the way.
At the time of publication, the author was long AAPL andGOOG and short MSFT.
This article was written by an independent contributor, separate from TheStreet's regular news coverage.
This contributor reads:
On Twitter, this contributor follows: