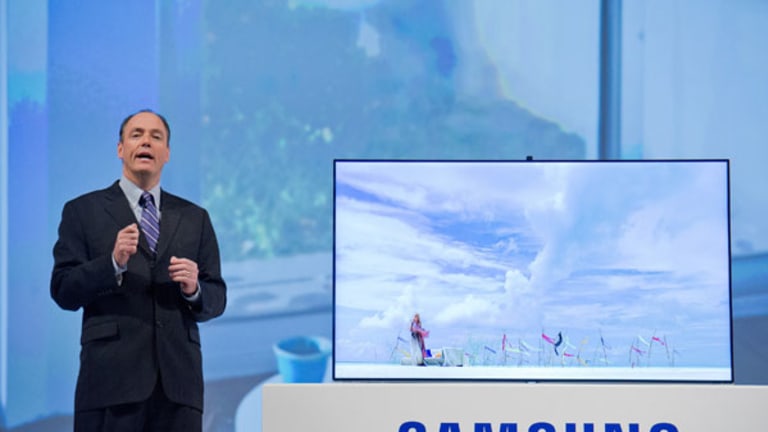 The Hottest Five Things in the Newest TVs
Ultra high-def, curved screens and the ability to watch two shows at the same time on the same set are just some of the latest temptations.
NEW YORK (
) -- Whether you watch a lot of TV or not, you are probably among the 78% of U.S. households that own a flat-panel TV. And you probably bought your first one last decade, when the TV world went digital and high-definition sets went mainstream.
This decade, however, TV sales have slumped. Consumers said ho-hum to 3D TVs and Smart TVs. But business may be picking up as new technologies finally hit the market and prices continue to decline. If you're ready for an upgrade or just interested in what's next, here are the top five trends in TVs right now:
Ultra-High Definition --
If you thought HDTV was an improvement over standard definition, ultra-high definition is astounding. The technology is also called 4k TVs, referring to its resolution, at 3840×2160. That is double the number of vertical and horizontal lines and four-times the pixels of current HDTVs, which are up to 1920x1080p.
One of the first UHD sets showed up last year from
LG
(LGEAF)
, which sold an 84-inch set for $22,000.
The good news is that prices have come down and, for some, in size, as well.
Sony's
55-inch XBR 4K Ultra HD TV is currently $3,999.99.
The bad news: 4k video content is rare. No one is broadcasting it, although companies are working on it.
Netflix
(NFLX) - Get Netflix Inc. Report
hopes to begin streaming 4k content within two years.
Curved OLED --
Another flat-panel technology called OLED, short for organic light-emitting diode, promises better picture quality, lower energy use and a curved display to make viewing more immersive. The first sets showed up this year in the U.S.
Samsung's
(SSNLF)
55-inch KN55S9C has just shipped to specialty retailers nationwide and will set you back $8,999.99.
Two-in-one viewing --
Samsung calls it Multi-View. Sony calls it SimulView. The point of dual-screen viewing is that two or more people can stare at the same big-screen TV and watch different shows. (Samsung also offers a 75-inch set with the capacity for four people to watch four different shows simultaneously.) Of course, users must wear special glasses, which are also equipped with surround sound.
The feature isn't totally new but it's now showing up in more TVs. Sony offers it on its UHD TV; Samsung added the feature to its new curved OLED TV. While it may be cheaper to just buy two separate TVs, two main benefactors are parents with children who want to watch separate shows in the same room, or competing gamers who want to see their own game play in full-screen mode and not split screen.
Second Screens --
Consumers created their own second screen by using
Twitter
and
Facebook
(FB) - Get Meta Platforms Inc. Report
on their laptops or smartphones while watching TV. Now there's a plethora of mobile apps to supplement TV watching with content that responds to the TV screen. And TV show producers are getting in on it too. Last year,
AMC
(AMCX) - Get AMC Networks Inc. Report
debuted Story Sync for its "Breaking Bad" and "The Walking Dead" shows. Viewers could get extra information about scenes and characters and interact with other viewers.
$100 32-inch LCD TV --
While we saw some rare $100 LCD TVs last Black Friday, there are some who predict prices for 32-inch LCD TVs to hit closer to the $100 mark this holiday. There are many good reasons for this: Flat-TVs are considered a mature technology, so little needs to change for manufacturing purposes.
And in the past year, there was an overproduction of LCD glass panels, which means prices are dropping in order to clear out inventory. Sweta Dash, an analyst with IHS
iSuppli
, is more conservative about low prices and expects 32-inch LCD TV prices to hit around $133 this holiday season.
This article is commentary by an independent contributor, separate from TheStreet's regular news coverage.
Tamara Chuang is an outside contributor to TheStreet. Her opinions are her own. Email her at
and follow her on Twitter
.
Tamara Chuang is an outside contributor to TheStreet. Her opinions are her own.