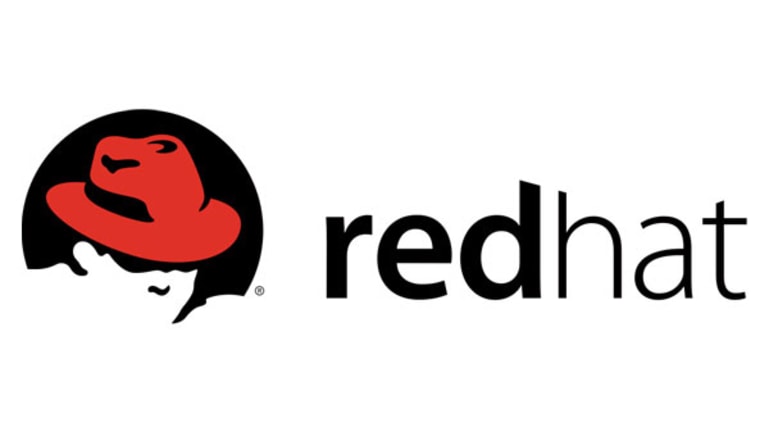 The Holidays Come Early for Red Hat Investors
From a technical analysis review, Red Hat stock is set to continue higher.
NEW YORK (TheStreet) -- Red Hat (RHT) - Get Red Hat, Inc. Report shareholders started this year's holiday celebrations early after the $9 billion Internet software company released spectacular third-quarter results.
Shares rocketed over 14% by early pre-market trading on Friday as a result of investor enthusiasm created when the bottom line income increased over 40% from the same period last year. RHT is currently up about 19% to over $58.
Oracle (ORCL) - Get Oracle Corporation Report may have opened the window curtain slightly and provided Wall Street with an idea of what to expect. After the database delivered impressive results, shares of Red Hat climbed and breached the 200-day moving average. After Friday, Red Hat is once again in a bullish trend that may provide you profits, but let's look at the numbers.
Red Hat generated 27 cents per share ($52 million) income, an increase of 9 cents per share or $17 million compared to 18 cents, or $35 million, a year ago. Revenue was $396.5 million, an increase of 15%.
According to CEO James Whitehurst during the conference call, European corporate and U.S. government sales were significant catalysts for sales and income growth. Whitehurst highlighted Red Hat currently has a server operating system market share of 10% based on revenue and believes they are positioned to capture more.
The company said 55% of bookings come from North and South America, a decline of 5% last year. Asia was also slightly lower with 16% of bookings, a decline of 1%. Europe and Africa were the big gainers with a combined 29%, up from 23%. Africa's overall economic growth is something to pay attention to.
Red Hat's sales mix consisted of 35% direct sales, with 65% of sales coming from reseller channels. Services continues to grow and increased 10% year over year. Red Hat's model of creating enterprise solutions from relatively free Linux demonstrates how competitive Red Hat is.
I am bullish with Microsoft (MSFT) - Get Microsoft Corporation Report also, but from a technical analysis review, Red Hat is set to continue higher. The clear break above the widely followed moving averages places the chart into a bullish trend once again. I wouldn't try to chase it, however. A pullback into the $52 to $54 range will give you a much better risk-to-reward ratio in my opinion.
The company doesn't pay a dividend, so consider selling a put option as your vehicle of entry. You will have less risk, and if the shares don't appreciate from the current levels you still have an opportunity to profit. I like the March expiration $50 strike put options before the end of the year if I can sell them for $1.25 or higher during a retracement after today.
I also like the January $60 calls for $1.20 or higher as a covered call for current shareholders. There isn't a lot of time until expiration, and if the stock continues to appreciate your effective sale price is $61.20.
I think the time decay outweighs the potential to miss out on continued gains in such a short time period.
At the time of publication, the author had no positions in securities mentioned.
This article is commentary by an independent contributor, separate from TheStreet's regular news coverage.