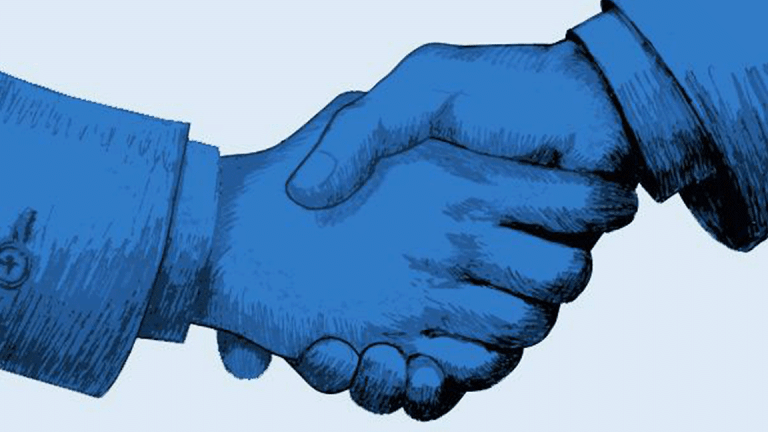 The Hartford, Aetna Ink Tie-Up; All Eyes on Peanut Allergies -- ICYMI
Here's what you need to know now for Monday, Oct. 23.
Third-quarter earnings season is about to kick into high gear this week and investors are on edge wondering if this round of corporate updates can drive the markets to new highs.
But the earnings onslaught is clouding what has been a blockbuster few weeks for M&A, specifically in the financial services industry, where everything from insurance to fintech to bitcoin has been the subject of deal chatter.
Monday was no different as the Hartford Financial Services Group Inc. (HIG) - Get Report  agreed to pay $1.45 billion to health insurer Aetna Inc. (AET)  for a unit that provides life, disability income and other insurance products to employers' benefits programs in the U.S. The acquisition marks another step in the Hartford's turnaround since the 2008-2009 financial crisis and helps expand the company's non-property-casualty insurance business.
Meanwhile bitcoin startup Abra completed a $16 million Series B round led by manufacturing giant Foxconn Group. Other participants in the round include new investors Silver8 Capital and Ignia, as well as previous Abra backers Arbor Ventures, American Express Co. (AXP) - Get Report  , Jungle Ventures, Lehrer Hippeau and RRE.
On the services front, online brokerage E*Trade Financial Corp. (ETFC) - Get Report  last week agreed to acquire Trust Company of America for $275 million, as it seeks to compete with rivals TD Ameritrade Holding Corp. (AMTD) - Get Report  and Charles Schwab Corp. (SCHW) - Get Report  in the business of providing services to registered investment advisors. Denver-based TCA has about $17 billion in institutional assets under custody and more than 180 active RIAs on its platform as of September 2017.
For those of you who aren't tuned into the world of biotech, something is brewing in the world of peanut allergies... yes, it's a niche.
Keep an eye on Aimmune Therapeutics Inc. (AIMT) - Get Report  , a Brisbane, Calif.-based biotech developing a treatment for peanut allergies. The company got some good news on Monday as its competitor, Montrouge, France-based DBV Technologies SA (DBVT) - Get Report , revealed discouraging results for its drug. DBVT shares lost nearly half of their value on Monday while Aimmune saw its shares pop about 10%. Aimmune on Oct. 16 unveiled a clinical collaboration with Regeneron Pharmaceuticals Inc. (REGN) - Get Report  and its strategic alliance collaborator Sanofi SA (SNY) - Get Report  to evaluate AR101 with adjunctive dupilumab in peanut-allergic patients in a Phase 2 study.
This is an excerpt from "In Case You Missed It," a daily newsletter brought to you by TheStreet. Sign up here.

Photo of the day: Birthday greetings to "Weird Al"
Alfred Matthew "Weird Al" Yankovic turned 58 today. Weird Al is perhaps the best-selling parody artist in history, selling more than 12 million in album sales over his 35-plus-year-career. Weird Al got his start in the early '80s and has remained an icon in the music and comedy industries ever since. During his long career, Weird Al has witnessed a massive change in the music industry. From vinyl to compact disc to mp3 to streaming, and from live performances to music videos, Weird Al has seen the music business change first-hand. The changing face of music is in focus today more than ever as streaming music company Spotify gears up for its initial public offering. On Monday one Wall Street firm suggested Spotify could ultimately be worth $100 billion, which would make it one the most valuable stocks in the world.
Read more from "In Case You Missed It." Sign up here.
More of What's Trending on TheStreet: