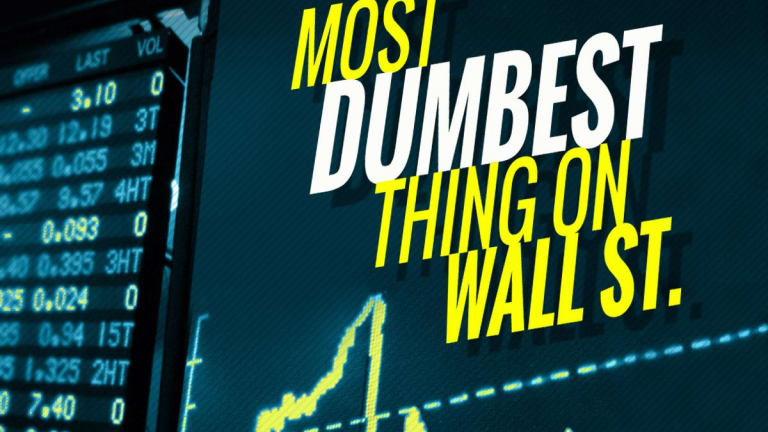 The Good, the Bad, and the Unknowns of AI and Apple Watches
Advancements in technology—from the new Apple Watch to autonomous driving—are fantastic. But can the rest of the world catch up?
"Progress is impossible without change, and those who cannot change their minds cannot change anything," wrote George Bernard Shaw.
With the advancements in tech, there should be a question weighing on investors' minds: Is tech going too far, too fast?
"I think we need to drive technology forward as fast as possible," said Ryan Duguid, an executive at Nintex whose title is Chief Evangelist.
Mitchell Mandell, a partner at Herrick Feinstein's litigation practice, share a similar sentiment. "I actually don't think it's too fast for a number of reasons...advancements in technology throughout history are disruptive. It moves forward. If there's an obstacle, people need to take a step back and re-calibrate, then they'll take two steps forward."
"Frankly, I don't think [technology is being developed] fast enough," said Linda Pissott Reig, co-chair of Buchanan, Ingersoll and Rooney's FDA Section.
"Without taking steps outside of the comfort zone, we can't progress," Peter Levy, chair of Mandelbaum Salsburg's Emerging Technologies Practice, told TheStreet.
Autonomous driving may seem like it pales in comparison to any other technological advance in the past 100 years or so. But remember advances such as the Model T and airplanes. Both technological advances made a serious effect on the world, but both were created without regulation at first. And neither had serious predecessors.
Companies such as Alphabet's (GOOG) - Get Alphabet Inc. Class C Report (GOOGL) - Get Alphabet Inc. Class A Report Waymo, Tesla Inc. (TSLA) - Get Tesla Inc Report , Uber and General Motors (GM) - Get General Motors Company (GM) Report  have all invested heavily in autonomous driving technologies and have also begun rolling out vehicles on the streets.
"Eventually, autonomous vehicles will be a safer way to have a safer society," said Mark Raffman, partner at Goodwin Procter.
"People are [beginning] to see driving as a secondary activity," said Duguid. "We're standing at the edge of a world where I wish 90% of people weren't driving their cars."
So, how should consumers and investors view this technology?
"Human agency is the default cause of accidents," Raffman said. He added that he believes there will be "fewer accidents" thanks to the rise of autonomous cars. 
But there will, inevitably, be hiccups along the way to the tech takeover. According to legal experts, the missteps may help to pave out the otherwise bumpy road.
This isn't the first time that technology has been created without regulations, said Levy.
"The first thing to keep in mind is that, while we think these technologies are cutting edge, every generation has a technology that was cutting edge," said Levy. And, he added, "each one of these technologies launched before the regulation was there."
Okay, so Elon Musk, CEO of Tesla, may just have his dream of self-driving cars come true, but what about other technologies? Apple's (AAPL) - Get Apple Inc. (AAPL) Report newest technological advance: the Apple Watch offers a series of medical tests, including an electrocardiogram (EKG), detect atrial fibrillation and even tell you if your heart rate is too low. 
That sounds good and dandy until you think about the negative possibilities. But should the possible negative outcomes get outweighed by the positive outcomes?
"I think the Apple Watch news...is encouraging," said Reig. "The era of doctor-knows-best is dissolving."
"There are some hiccups that are naturally there," Reig responds when asked about negative effects. But the good outweighs the bad, she thinks.
"I think there's going to be a greater knowledge and expertise that each individual healthcare provider can offer" thanks to this technology, she said.
All right, so technological advances may not be the bane of everyone's existences, but will there be repercussions from the hiccups or missteps that tech makes on its way to perfection? 
"You don't want to be the first one to move into the space," said Levy. "There's something to be said about being the second player [in the space]...there's an advantage." 
"From day one, the company will do everything it can to ease the risk by having disclosures, waivers, etc. on the technology," said Levy.
But, when a hiccup occurs--such as someone having a heart attack while wearing the Apple Watch--"people will become aware of the limitations."
The same can be said about autonomous driving. 
"People will want someone to blame," Duguid said about autonomous vehicle car crashes. "But one of the [sacrifices] of technological [advances] is that people will have to move past that."
Duguid continued, "that's the challenge. As we get more dependent on tech, we want it to do what we want it to do." And that's not always going to be the case, just as people won't always do what you want them to do. 
But it's not all doom and gloom. "If the technology is seen as essential, the regulators will step in," said Levy. So, hopefully, that'll be enough to cover our bases.