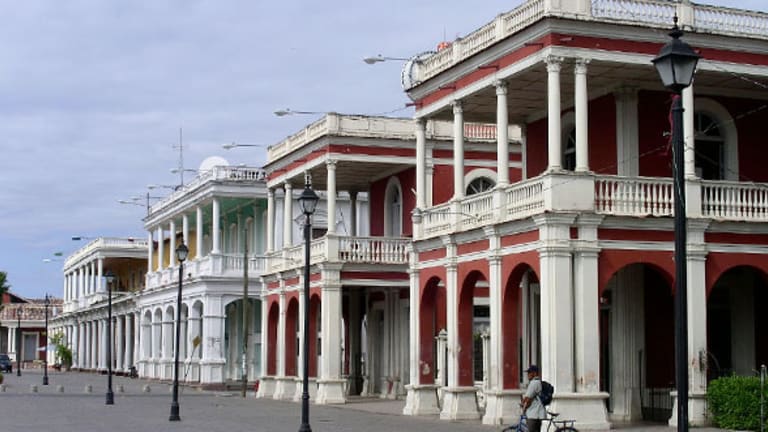 The Good and the Bad About Moving to Nicaragua
Nicaragua has changed, and is definitely worth consideration as a place to live for North American expatriates.
NEW YORK (TheStreet) -- Over the last several years, Nicaragua has become increasingly popular as a vacation spot, as well as a place for expatriates from North America and other countries to move. Should you consider it as well?
The Web site Best Places In The World To Retire has more than 500 answers to the questions most often asked about moving to and living in Nicaragua, provided by more than 100 expats already there. Here's what they told us.
Cost of Living
In Nicaragua, the cost to hire someone for housekeeping, gardening or even fixing your car will be, by North American standards, extremely cheap. For example, the cost for a gardener is about $15 a day. Anything produced within Nicaragua will also be very cheap. Several bags with a total of 20 to 30 pounds of fresh, organic produce cost less than $10.
Quality health care in Nicaragua can be significantly less than half of what you would pay in the U.S. One expat said he paid $300 for a colonoscopy, without insurance.
American products that have to be imported will cost about the same as in the U.S. or a bit more. Housing will be somewhere in the middle.
Comparing apples to apples, you can dramatically lower your cost of living by moving to Nicaragua.
Safety
When asked about safety in Nicaragua, about half of the Nicaraguan expats immediately respond that Nicaragua is the second safest country in Latin America, as reported by the UN. 
The best comment about safety there came from John-Marc Gallagher, who moved from the U.S. to Granada, Nicaragua 13 years ago. Gallagher said, "The best measure would be how we feel. We feel safe, we feel free to walk around and enjoy the outdoor bars and restaurants, and we feel safe in our homes and businesses."
Gallagher said his second measure of safety was how people acted: "Older, single women would not be retiring here, building homes, starting businesses and hanging out at the outdoor establishments if it wasn't safe."
Places to Live and Lifestyle
Nicaragua offers quite a few different expat lifestyle options:
Colonial. Granada is a true colonial city, with 400-year-old buildings, horse-drawn carriages, colonial architecture and a layout that includes a historic center with a cathedral. The more expensive homes tend to be closer to the center, and if you buy an existing home and want to remodel it, you will have to adhere to strict architectural codes that maintain the colonial character of the area. Granada has a lively, fun entertainment area, and plenty of expats live there.
Carlos Gutierrez is a developer who is planning to provide even more affordable housing for expats and others in an area about two miles from the historic center of Granada. Gutierrez just broke ground on the first phase of 72 homes and tells us that a 1,400-square foot model will sell for about $85,000.
Surf's Up, Dude! Located toward the southern end of Nicaragua on the Pacific coast, San Juan del Sur used to be a sleepy fishing village. Now it's a rapidly growing tourist destination with a 1940s California surf town vibe, a small town center and multiple developments radiating outward that can range in price from what someone living only on Social Security could afford, to multimillion-dollar mansions. If you like surfing and/or the beach lifestyle, you should investigate San Juan del Sur.
Gate-Guarded Beachfront/1950s Americana. Along the Pacific Coast from San Juan del Sur and stretching 80 miles or so to the north are several gate guarded, beachfront communities. Some are extremely high end, while others are more budget-conscious. To varying degrees, each strives to reduce or eliminate the inconveniences of living in a Third World Country (such as not having reliable high-speed Internet, electricity, etc.) by providing their own, while still offering the benefits of living in Nicaragua, including beautiful beaches, low cost of living, lots of sunshine, etc.
Among the most visionary developments is Gran Pacifica, conceived by a team headed by Mike Cobb. What Cobb says he offers is a complete, self-contained community with a feel akin to 1950s Americana that he says is now lacking in North America, only much cheaper, with all the modern conveniences, and right on the ocean, golf course included.
Health Care
Nicaragua has one hospital accredited by the Joint Commission International, Hospital Metropolitano Vivian Pellas, located in Managua. Expats tell us that the care in this facility is up to big-city U.S. standards (sometimes better) and that the costs are extremely low. It even has an entire department for medical tourism headed by manager Arlen Perez.
Outside of this hospital, there is some good primary care in places such as Granada and scattered about Nicaragua, but not much. Most expat areas, however, are located fairly close to Managua. Granada is 25 away, some of the Pacific beach developments are one hour to 90 minutes away, and even San Juan del Sur is only a bit more than 80 miles away. However, if you have a serious health condition that would require you to be very close to a hospital, you would need to live close to Managua.
How Nicaraguans Feel About Americans and Other Expats
Given the history of animosity between the U.S. Nicaraguan governments, you might expect that Nicaraguans would resent or otherwise not like Americans. Frank Martinez, a native-born Nicaraguan who lived and worked in the U.S. for many years and is now back in Nicaragua told us that, in the 1980s, many Nicaraguans went to live in the U.S. and had children there, and "that changed the whole perspective of 'Gringo, go home' into 'Welcome home, Gringo.'"
Martinez also gave a practical reason why Americans are welcomed: "We welcome all these American businesses because they are investors, so they are helping Nicaragua, and we appreciate that." 
This article is commentary by an independent contributor. At the time of publication, the author held no positions in the stocks mentioned.