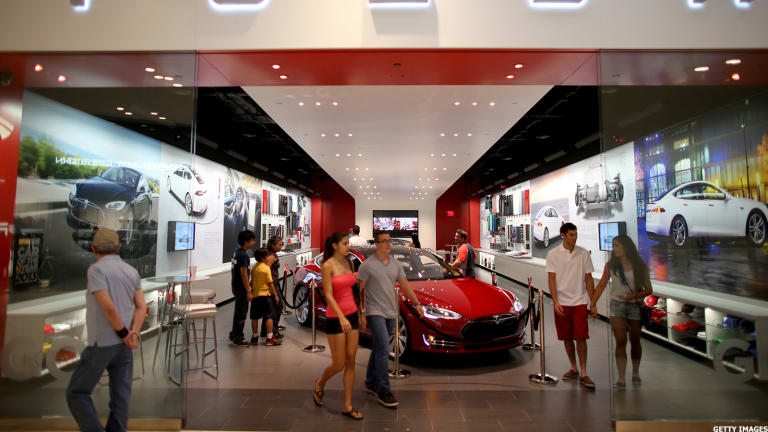 Publish date:
The Game-Changing Model 3 Will Drive Tesla to New Heights
Tesla's stock has endured its share of punishment lately, but its latest model should boost the company.
Tesla's stock has endured its share of punishment lately, but its latest model should boost the company.
Editors' Pick: Originally published Feb. 24.
The bears have a grip on this stock. Premium electric vehicle pioneer Tesla Motors' (TSLA) - Get Report shares have slumped 30%, underperforming the S&P 500.
While 2015, during which it gained 8%, wasn't a bad year for the auto manufacturer, 2016 looks bleak and dismal. Investors keen on investing in technology are looking at other promising companies with "game-changing" products.
Do investors really need to worry or should they wait for a rebound, especially with the Model X gaining significant fanfare and the Model 3 promising to be a winner? The latter will enable Tesla to compete for a wider range of consumers.  
Is it prudent to pay $175 a pop for a company that has $4 billion in sales but no profits to date and widening losses? Perhaps there are better opportunities.
However, consider that the company has doubled its sales in two years. The premier maker of electric cars is dishing out huge sums of money on research and development to deliver cutting-edge technology. Despite this spending, there is no significant concern of ballooning debt, with $1.2 billion in cash versus $2.7 billion in debt. 
Elon Musk has suggested that by the fourth quarter Tesla would make its first net profit, apart from adding capacity and opening more show rooms.
But perhaps the biggest plus for Teslas is that electric cars haven't hit the mainstream. They are considered oddities in a market where the overwhelming majority of vehicles are gas-powered. In addition, Tesla has only offered its vehicles at luxury prices. The current Model S sedan is available for $75,000 before incentives and the Model X SUV starts at $80,000 before incentives.
However, at $35,000, the Model 3 will appeal to those who want a more affordable, mid-sized car.  Tesla will unveil the car on March 31 and deliver the first models in late 2017.

TSLA data by YCharts

At this price, Tesla will compete more comfortably with Audi, Daimler(Mercedes-Benz) and BMW, which sell cars within the $30,000 to $35,000 price bracket. The Model 3 could be a high-volume car that also appeals to buyers who are seeking an upgrade from the $20,000 to $25,000 range.  It bears mentioning that the Model S is poised to become the top-selling luxury car in 2015 ahead of the Mercedes-Benz S-Class.  
To ensure that Tesla can stick to its $35,000 promise, Tesla pumped over a billion dollars in capital spending into production and operations in 2014, and added to that last year. Tesla's positive guidance supports such robust spending.
Tesla is counting on profitability on a non-GAAP basis and positive cash flow for 2016, a GAAP profitability in the fourth quarter of the year, and production rates of the Model X reaching 1,000 cars a week by the end of the second quarter.
Analysts are also largely convinced of the Tesla story, with a median forecast of $230 a share for the next 12 months, representing an upside of 36.4% from current levels.
After a rough year so far, Tesla seems headed for better times. 
We've found a small-cap biotech "rocket stock" that's about to take off. UCLA researchers are stunned by a Nobel Prize-winning cancer breakthrough that's proven in clinical trials to eliminate lethal forms of cancer with a single dose. One small company owns the patent to this life-saving treatment. Now trading at about $5 a share, the stock of this innovative company is projected to surge 2,700% on an imminent FDA announcement. To download the full report, click here.
This article is commentary by an independent contributor. At the time of publication, the author held no positions in the stocks mentioned.