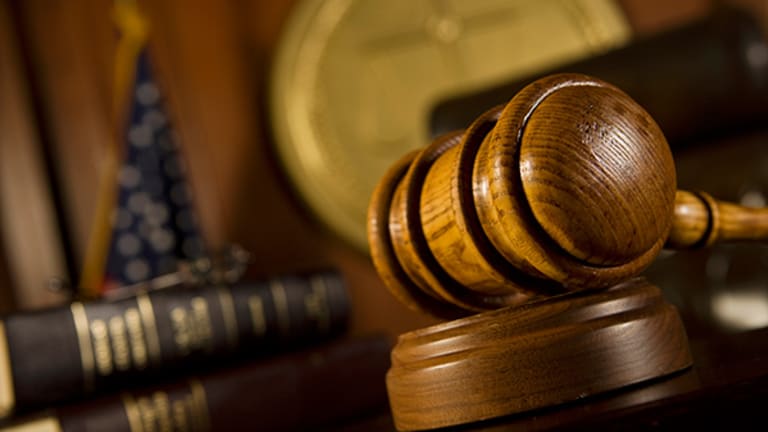 The Fix for Biased Wall Street Arbitration? Make It More Like Court or Get Rid of It
Wall Street's mandatory arbitration system is a disgrace, and Finra says it's looking to make it better. Meanwhile, beware the snoozing arbitrator and don't expect a jury of your peers.
Wall Street's mandatory arbitration system is a disgrace, and Finra says it's looking to make it better. Meanwhile, beware the snoozing arbitrator and don't expect a jury of your peers.
NEW YORK (TheStreet) -- Did you hear the one about the guy who got on a Finra arbitration panel even though he'd pled no-contest after being indicted for practicing law without a license?
How about the time Finra sent a list of potential panelists to the litigants only to hear back that two of the arbitrators were dead?
Or surely you've caught wind of the tales of elderly panelists who paused for a snooze even as testimony was under way?
If you have ever been fleeced by a broker and tried to get your money back, you already know that your day in court is by a secret tribunal run by Finra, a self-regulatory organization that's funded by the people it polices. You signed away your right to sue your broker in court the day you opened your account, and Finra arbitration is what you get instead.
Finra takes a lot of flack for its arbitration debacles. In fairness, it has successfully fixed some problems. A rule change in 2011 that gave investors the option of having a panel that doesn't include anyone from Wall Street was among several welcome reforms.
But it's still enough of a mess that the keepers of Wall Street's private justice system are launching a new effort to solicit input from all corners of Investment Land as to how they might improve the operation known as Finra Dispute Resolution.
The exercise, which is to last 15 months, begins officially on Oct. 10 when the newly formed Finra Dispute Resolution Task Force of 13 regulators, lawyers, industry types and academics meets in New York City.
As luck would have it, a group of lawyers who represent investors in arbitrations has released a fresh trove of data that makes Finra arbitration look even worse than it already did, just in time for the group's maiden assembly.
The Public Investors Arbitration Bar Association said Tuesday it analyzed the profiles of 5,375 people in Finra's current and past arbitrator pool only to learn that it's a demographically lopsided group. The pool "consists primarily of elderly men who have a socioeconomic status that put them out of touch with the average investor," according to the Piaba report.
Eighty percent of the arbitrators that Piaba looked at are men with an average age of 68, the group said. People over 80 make up 17% of the pool. Michelle Ong, a Finra spokeswoman, said in an emailed statement that "the notion that individuals 70 and older are unable to and unfit to serve as effective arbitrators is insulting and borders on age discrimination," and that retirees are able to commit to being arbitrators because they have more time available.
Along with skewed numbers on age and gender, the Piaba study said arbitrators' educational histories are a problem.
Finra requires arbitrators to have five years of business or professional experience and at least two years of college-level credits, although Finra can waive that. Piaba said in the report that those rules have led to a homogeneous group that tends to exclude "individual investors or other capable arbitrators." The requirement for two years of college-level credits began in 2003.
Nothing wrong with having a good education, but you're leaving out a lot of socioeconomic groups if the bar is too high. Indeed, the Securities and Exchange Commission warned the U.S. Government Accountability Office in 1992 that setting initial qualification standards for degrees or a minimum number of years in certain professions "could foreclose investor choice in panel composition, and exclude individuals who manage family finances and have developed expertise as individual investors."
Piaba said that 75% of Finra's so-called "public" arbitrators -- people who supposedly have no Wall Street connection -- have advanced degrees, with a high concentration of those being in law. (Only 25% of industry arbitrators have advanced degrees). Investors are increasingly taking Finra up on the option to have all-public panels, which means they're frequently exposed to the worldview of people who have a degree beyond bachelor's level. "When you're being judged by 75-year-old men who are wealthy or retired lawyers from defense firms, investors are going to say 'I don't think they understood my issue,' " said Jason Doss, Piaba's president.
Ong said Finra thinks the educational and experience requirements are necessary, and that people in its pool are trained "to respond to what are very often complex issues."
As Finra has upped the business and academic requirements for arbitrators over the years, investors' ability to win an award has declined, according to the report. In a 1992 study, the U.S. Government Accountability Office said 60% of investors in industry-sponsored arbitration got an award. Only 37% of investors got an award in 2007. Last year, 42% did. While you might take the view that perhaps better-educated arbitrators simply make better decisions, Piaba is concerned that arbitrators are increasingly being drawn from groups that don't relate to the average investor.
"It goes to the perception of fairness," said Doss.
In the Finra statement, Ong said win rates "increase or decrease depending upon the controversy involved, market events and counsel."
Finra has asked that new task force to suggest strategies "to enhance the transparency, impartiality and efficiency" of the arbitration system. I'm not sure we need 15 months to figure that out. Here are some solutions:
Real transparency would mean a grievance system that welcomes the public and the press, and that freely shares copies of the accusations of disgraceful behavior that are made by customers. Piaba could ask members to submit copies of their complaints and the firms' answers, and publish them on the group's website. And Finra could open arbitrations to one "public seat," in which a member of the press or the public could watch the proceeding, first-come, first-served.
Arbitrators get repeat business. Jurors don't. You can't get around the fact that while an investor is highly unlikely to come to Finra for a second arbitration, brokerage firms are repeat users who will shun an arbitrator known for giving generous awards. It's a problem with only one solution: make arbitration optional, allowing investors to choose between the courts and Finra. The Securities and Exchange Commission got the authority to study and potentially end mandatory arbitration in the 2010 Dodd Frank Act. They should use it.
Finra's forum is already too efficient. In the interest of accommodating Wall Street's obsession with keeping complaints under wraps, Finra has stripped investors of the rights they had before a Supreme Court decision 27 years ago that let brokers require a private judicial forum. Under the guise of efficiency -- no public documents, no requirement that arbitrators explain awards -- Wall Street has been able to dodge public accountability for its abuses of customers for more than a quarter-century.
That new task force will spend a lot of time mulling over the question "Is arbitration fair?" There's an easy way to know if we've reached that point: If you ever hear official Wall Street saying it's time to allow investors access to the courts again, you'll know that Finra's system finally has become a just one. It's really that simple.
Susan Antilla is an award-winning journalist and the Founding Fellow of TheStreet Foundation, a nonprofit organization with the goal of supporting and expanding financial literacy for consumers through investigative journalism and custom research on high-impact financial topics. She has been a financial journalist for 30 years, writing for The New York Times, USA Today and Bloomberg View, among others. Antilla is author of Tales From the Boom-Boom Room, the 2002 book that exposed a culture of sexual harassment at financial companies. She received a bachelor of arts degree from Manhattanville College and a master of arts in journalism degree from New York University. Antilla is an adjunct professor of journalism at Fairfield University.