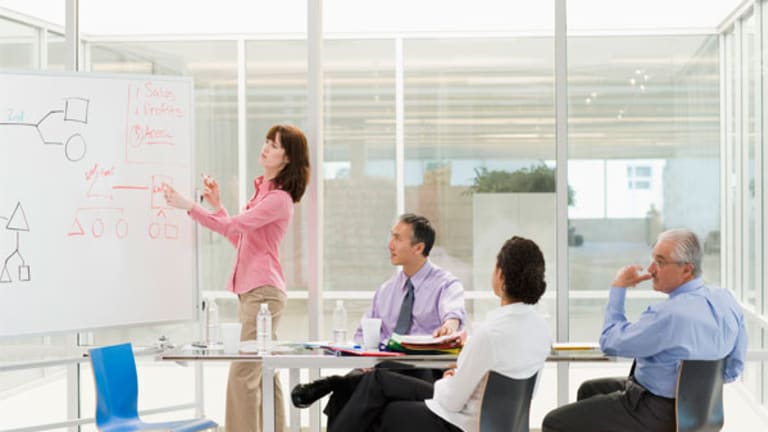 The Five Dumbest Things on Wall Street This Week: March 1
Martha Stewart, Live Nation and Vivus - among others - make this week's list of the biggest business bloopers.
5.) Avid Cuts Out
For a company that designs products to help editors,
Avid Technology
(AVID) - Get Avid Technology, Inc. Report
sure is having a tough time cutting the crap.
Shares of Avid got eviscerated Monday, falling almost 9%, after the company postponed its fourth quarter earnings announcement originally scheduled for Tuesday due to accounting questions. Avid said it was investigating current and historical accounting treatment "related to bug fixes, upgrades and enhancements to certain products which the company has provided to certain customers."
Avid added that its need to reopen its books arose during the company's "normal review" of its financial results for the fourth quarter and full year 2012. Prior to Avid's indefinite earnings deferral, analysts expected the company to post fourth-quarter earnings of 12 cents per share.
Um, excuse us guys, but is that the same quote unquote
normal review
which led to the sudden resignation of your former CEO, chairman and president Gary Greenfield last month? We honestly couldn't tell from the
SEC
filing.
Well, to be precise, Greenfield is not so much quitting the company as opposed to kicking himself upstairs where he will get paid the same ridiculous $1 million salary for doing even less work. Shares of Avid now trade below $7 a share, or about a quarter of what they were when Greenfield joined the company in December 2007.
Still, we were wondering at the time why Gary gave up his position without a decent explanation, so perhaps now we know.
Or perhaps we don't. We have no idea what to believe from these folks. And we can only imagine that the "certain customers" Avid refers to in its press release have even more questions than us.
That said, to be fair, there are announcements that we can trust from Avid without reservation. Check out the sheer drops in the company's stock nearly every quarter last year and you'll see what they are.
Yep. Negative earnings pre-announcements.
4.) Live Nation's Hangover
Seriously
Live Nation
(LYV) - Get Live Nation Entertainment, Inc. Report
. Did you really think you were going to do business with Mike Tyson and not wind up in front of a judge?
The former heavyweight champion sued a financial services firm owned by Live Nation last Wednesday, asserting that one of its advisers embezzled more than $300,000 from the pugilist turned
Hangover
thespian. Tyson is seeking $5 million in damages for breach of fiduciary duty, negligent hiring, unjust enrichment and a host of other financial injuries conjured up by the legal team in his corner. The suit claims that Live Nation and its company SFX Financial Advisory Management Enterprises returned a portion of the stolen money from Tyson and his wife, yet wanted the couple to sign a nondisclosure agreement, which they refused, before giving back the rest.
"Defendants did not secure, protect, safeguard and appropriately apply the Tysons' finances for their intended purposes, but instead misappropriated said funds for the benefit and enrichment of SFX/Live Nation," stated Tyson's case.
Unfortunately for fight fans like us, Live Nation reported fourth quarter earnings this past Tuesday without commenting on its battle with Tyson. The world's biggest concert promoter and ticket retailer posted a wider fourth-quarter loss of $159.7 million, or 85 cents a share. The loss was primarily due to $68.2 million in expenses tied to its artist-management unit, as well as the exit of its former chairman Irving Azoff.
Aw shucks! We really were hoping to see Live Nation publicly counter Tyson's legal jabs this week, but apparently the company is opting to play rope-a-dope instead.
Of course, an evasion strategy is better than getting your ears bitten off, a la Evander Holyfield. And judging at least from Tyson's side of the story, it does seem like Tyson could have Live Nation on the ropes. The company apparently admitted at least some wrongdoing when it returned a chunk of the Champ's money, and Tyson's formerly trusted financial advisor has not-so-mysteriously left SFX (Watch your ears dude!).
Then again, no case is ever cut and dry when Tyson is involved. In fact, Tyson by now has probably spent more time in the witness box giving his side of the story than the squared circle doling out punishment. And we're not just talking about the case that led to his spending three years in an Indiana prison for the 1991 rape of a Miss Black America pageant contestant.
In 2003, for example, he faced a bankruptcy judge for debts totaling $27 million, despite earning over $300 million in the ring. The following year Tyson reached a settlement with another once-trusted adviser - famed fight promoter Don King - by agreeing to drop a $100 million suit in exchange for a $14 million payment. Tyson's next legal decision came in the spring of 2006 when he reached an out of court agreement worth $275,000 with a man he allegedly bit during a motorway road rage incident.
Heck, even when he isn't directly involved in a lawsuit, Tyson still gets dragged into the fight. In 2011,
Warner Bros.
settled a copyright infringement lawsuit brought by the tattoo artist who inked Tyson's face so it could release
The Hangover Part II
.
Put it all together, and Tyson's legal headaches make an open-and-shut case that a senseless Live Nation is now paying the price for not steering clear of Iron Mike from the opening bell.
3.) Vivus Marketing Mess
The sales and marketing folks at
Vivus
(VVUS) - Get VIVUS, Inc. Report
better start pulling their weight soon, or the company's market cap is going to slim down in a hurry.
Or should we say, slim down even more!
Shares of the biotech shriveled 12.5% Tuesday after it said sales of the highly anticipated weight loss drug Qsymia totaled $2 million in the latest quarter, a sum that was $1 million short of downgraded analyst consensus. Last fall, in case you forgot, analysts on average were looking for more than $24 million in Qsymia sales during the December quarter.
On the whole, Vivus said it lost $56.7 million, or 56 cents per share, during the fourth quarter compared with a loss of $11.5 million, or 13 cents, last year. Wall Street's pencil-pushers expected a loss of 25 cents per share and $3 million in revenue. For all of 2012, Vivus lost $139.9 million, or $1.42 per share, wider than its net loss of $46.1 million, or 55 cents, in 2011.
Yeah, it was a pretty big miss by any stretch of the imagination both by the company itself, as well as Wall Street's so-called experts. And what makes it all the more painful for everybody involved - except merry-old us of course - is the amount the company spent to ring up that measly sales result.
Vivus shelled out more than $50 million in SG&A to generate those lousy $2 million in Qsymia sales in the fourth quarter. Add in R&D costs and Vivus' total operating expenses topped $58 million.
Holy cow guys! We know there is limited insurance coverage and high copays for this drug. Furthermore, we are well aware the drug is only available through mail order. Nevertheless, that ROI is miniscule given the push Vivus has given this product in the form of free trials and other PR shenanigans.
And according to TheStreet's biotech ax Adam Feuerstein, if Vivus doesn't get more bang for its marketing bucks, the company could wither away by this time next year.
"Vivus ended last year with $213 million in the piggy bank and refused to offer any spending guidance for 2013 except to acknowledge that marketing expenses for Qsymia will remain high. Even if Qsymia sales pick up, Vivus' current and expected rate of spending means there's less than a year's cash remaining," wrote Feuerstein.
If that's the case, Vivus employees better shrink their marketing budget to fit their actual sales figures in a hurry.
Either that or start fattening up their resumes even quicker.
2.) Martha's Devilish Deal
Martha Stewart was back in court this week. Need we say more Dumbest fans?
Okay. We'll say a little bit more. It's simply too tough for us not to comment on a case this monumentally idiotic.
Macy's
Chief Executive Terry Lundgren testified on Monday that he was so disgusted after Stewart informed him of her deal to sell her wares at rival
J.C. Penney
(JCP) - Get J. C. Penney Company, Inc. Report
back in December 2011 that he hung up the phone and has not exchanged words with the domestic diva since. Macy's, which signed its deal with Stewart following her release from prison in 2005, sued
Martha Stewart Living Omnimedia
(MSO)
in January 2012 for breach of contract, claiming it has the exclusive right to sell her products in product categories like cookware and bedding. Macy's later sued J.C. Penney as well, and the two cases were consolidated in this week's non-jury trial in Manhattan.
J.C. Penney announced on December 7, 2011 - Pearl Harbor Day mind you - its plan to launch Martha Stewart boutiques in more than 700 of its stores in 2013 as a part of CEO Ron Johnson's grand turnaround strategy. As a kicker to the deal, Penney's purchased 17% of Martha Stewart Living Omnimedia for $38.5 million.
"I was completely shocked and blown away," said Lundgren Monday. "I was literally sick to my stomach."
And you rightfully should have been Terry. You singlehandedly rehabilitated Martha's brand following her obstruction of justice conviction, and this is how she pays you back?
Heck, she might as well have taken a homemade shiv to your back big guy. That's probably what she would have done when she was a guest of the government in Alderson West Virginia anyway.
A stone-cold Stewart told Lundgren that the J.C. Penney deal would be good for Macy's, according to Lundgren's testimony. And that's when he hung up on her.
"The thought this was going to be good for Macy's was so far from anything I could comprehend," said Lundgren.
If it's any consolation to you, we can't fathom it either Terry old boy. Then again, the ultimate judge - that stock market that is - seems to be on your side in the wake of Martha and Ron's Faustian bargain. A quick look at this week's earnings results clearly illustrates the downside of their devilish deal.
Macy's reported a fourth-quarter profit that beat Wall Street expectations Tuesday, sending its shares up 3%. Meanwhile, MSO stock sank over 5% on that same day after it reported a 74% drop in 4th quarter net income as a result of weak ad sales. The conclusion of "The Martha Stewart Show" in mid-2012 certainly wasn't "a good thing" for its broadcast division either.
As for Penney's, well, Ron Johnson's demolition project reported another massively ugly quarter Wednesday with an adjusted net loss of $427 million, or $1.95 per share. On the top-line, the once-iconic retailer posted 30% plunge in revenue, proving once and for all that Martha hitched her wagon to the wrong star.
Looking back a little further, shares of Macy's have risen 7% over the past year compared with a 57% drop in Penney's shares and a 40% tumble in MSO stock.
Sometimes karma can be a real kick in the ass. Can't it Martha?
1.) Accretive's Idiocy
File this under ironic. Or moronic. Whatever suits you.
Shares of
Accretive Health
(AH)
sank over 20% percent Wednesday, after the company said it will delay the release of its fourth-quarter and 2012 results because it needs to review the way it records revenue. Accretive yanked its annual guidance, which called for adjusted net income of 23 to 27 cents per share and net service revenue of $948 million to $980 million. Wall Street analysts forecasted net income of 25 cents and $950.8 million in revenue for the year and earnings of 9 cents and $237.3 million in revenue for the fourth quarter.
Oh, in case you were unfamiliar with Accretive Health, take a guess as to what they do for customers.
Don't know? No worries. We'll just borrow the company's own description of its business from its press release.
"Accretive Health partners with healthcare providers to help them more effectively manage their revenue cycles, strengthen their financial stability, and improve the quality of care they provide while reducing overall healthcare costs."
Yes friends, the company that helps its clients manage their revenue cycles can't manage its own. And no, it doesn't get any dumber than that.
Well, actually it could get dumber if they are forced to restate prior financial statements. And according to the company's release, that's a very real possibility.
And on that note, we would also advise the company to restate the advertising slogan on its Web site.
Sticking with the current catchphrase "Results Providers Trust" is just too laughable. Or sad.
You know. Whatever suits you.
Disclosure: TheStreet's editorial policy prohibits staff editors and reporters from holding positions in any individual stocks.