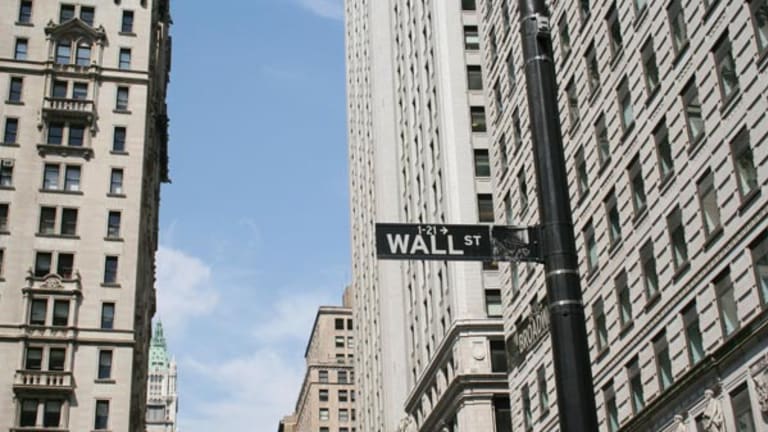 The Five Dumbest Things on Wall Street This Week: June 22
This week's rundown ponders the nightmare that is J.C. Penney's so-called Dream Team and other absurdities.
5. Body's Repeat Performance
Like the TV networks, Wall Street is filling the summer void by programming reruns. And we're not simply talking about European bailouts and broken internet IPOs perpetually popping up on trading screens either.
Take
Body Central's
(BODY)
ridiculous repeat performance for example.
The women's apparel retailer slashed its second-quarter outlook Monday as a result of weak sales trends and a bloated inventory, causing its stock to collapse by 49% to $8.66. Body Central cut its second-quarter earnings forecast to 19 to 21 cents per share from a range of 26 to 28 cents, and says it now expects second-quarter net revenue of $77 million to $79 million, down from $80 million to $82 million.
"We continue to diligently manage inventory and to take aggressive markdowns on slow moving items," said CEO Allen Weinstein in a statement.
Wait a second there Weinstein! Didn't we see this same exact episode not too long ago?
Oh yeah! That's right. Just last month Body Central lowered its profit and sales guidance, surprising the Street and causing its shares to sink 49% in the process.
Here's what Weinstein said back in May when the stock took its last shellacking: "We are closely monitoring our inventory levels and content."
Here's what we said at the time: "Seriously, not since Rocky broke Apollo Creed's rib have we seen a crowd favorite suffer such a massive gut-shot."
Another month, another body blow for Body Central. Time to change the channel folks because, quite sadly, we've seen this show before.
4. Johnson's Bad Dream Team
For a guy who is supposed to be the Michael Jordan of retail,
J.C. Penney
(JCP)
CEO Ron Johnson sure is having a tough time keeping his "dream team" together.
Johnson bid goodbye to Michael Francis, the retailer's president, on Tuesday, sending shares of the stumbling chain down 9%. Johnson lured Francis and chief operating officer Michael Kramer to Penney's last year from
Target
(TGT)
and
Apple
(AAPL)
respectively in order to create what Johnson once called his retail "dream team."
"We've all been lucky and have only had winning experiences," said Johnson in January about the all-star squad he assembled in what ironically is the 20th anniversary of the formation of the original "Dream Team" which won basketball gold in the 1992 Olympic games.
One curious thing about this new dream team though. We don't remember the losses piling up for the American hoopsters in Barcelona like they currently are for this Penney's crew.
Michael Jordan and company won by an average of 44 points per game en route to world domination. The Penney's players, however, suffered a worse-than-expected 18.9% drop in same-store sales last quarter. That's in addition to the loss of customers, stores, market capitalization and confidence at the 110-year old company.
Oh yeah, we also don't remember Michael Jordan throwing fellow Dream Teamer Charles Barkley under the bus for his own mistakes. And that's what Johnson appears to be doing to Francis as J.C. Penney's Olympic-sized flame-out continues.
3. Coke's Unwise War
Come on
Coca Cola
(KO)
. What on earth did you think was going to happen when a corporate Goliath like yourself picks a fight with a scrappy little David like
SodaStream
(SODA)
?
Exactly. It gets slung back in your face.
As first spotted by
Forbes
this Monday, the soda giant (market cap $171 billion) sent a cease-and-desist letter to the Israel-based DIY soda-maker (a pint-sized $710 million) over its outdoor marketing promotion called "the cage." Essentially the cage is a giant crate filled with empty cans and bottles which SodaStream publicly displays to illustrate the refuse created by a family of soda buyers over the course of three to five years.
SodaStream has exhibited its pile of garbage - let's call it what it is - around the globe to prove its environmental point and - to be honest again - take a poke at beverage behemoths like Coke and
Pepsi
. The particular cage in question is located in South Africa's O.R. Tambo International Airport.
"Your use of our client's trade marks in a manner intended to disparage them, while competing with our client's products identified by the said trade marks is also
contra bonos mores
(translation: against good morals) and, as such, your conduct amounts to unlawful competition under the common law," wrote Coke's South African lawyers.
Give us a break with the Latin you legal losers. You're picking a fight over a pile of trash! And worst of all, you are referring to "said" trash as "our client's products"! Did you not think that Sodastream CEO Daniel Birnbaum would jump all over your ridiculous response?
"If they claim to have rights to their garbage, then they should truly own their garbage, and clean it up. Instead of getting a thank you for cleaning up, we're getting a lawyer's letter," Birnbaum told Forbes.
No Dan, you didn't receive a mere lawyer's letter. Let's be truthful one final time and call it what it is: A slingshot full of ammo placed right in David's palm.
2. Ballmer Scratches the Surface
Seriously Mr. Softee, we've heard of soft launches, but what the heck was that?
In the annals of
Microsoft
(MSFT)
miscues, Monday's Surface tablet rollout was surely not on par with that of the hapless Zune. No, that flop was in a remedial class by itself.
Furthermore, there is certainly a lot to like about the Surface, including the snappy hardware, clever keyboard cover and especially the kickstand. Hey, what third grade bike-pedaler or jet-setting business traveler doesn't relish a kickstand? It's just too cool for school - and now apparently B-school as well!
All those encouraging words aside, that was the softest hardware introduction we have ever seen! For a supposedly hard-charging guy, Microsoft CEO Steve Ballmer was positively flaccid up there during what was supposed to be a jazzy event. Clearly they held the Surface's coming out party in Los Angeles as opposed to Redmond for a reason. Well, if that reason was to generate buzz among attendees, then they would have been more successful holding it back near Seattle where the coffee is stronger.
Look, we're not saying that Ballmer should have come out in a black turtleneck and done his best Steve Jobs impersonation. You don't have to ask Siri to know that's a dumb idea.
Nevertheless, Ballmer left so many questions unanswered that it's hard to get enthused about what is allegedly his company's answer to
Apple's
(AAPL)
iPad.
What will the pricing be? When will it ship? How will it connect with Xbox? Come on guys, inquiring gamers want to know!
And what about Skype Steve? Do you remember buying that little video chat company not too long ago? Well, is this part of your plan to make good on that investment? If so, don't you think Monday's event would have been the perfect time to prove that you actually did have a strategy in mind before paying $8.5 billion for it?
Honestly Steve, if you're going to beat Apple then you have to do more. Go deeper. You literally introduced the Surface this week, but figuratively speaking, you barely scratched it.
1. Say Goodnight Gupta
The jury has spoken and, in case you missed it, here's what it said: Rajat Gupta is the biggest moron in the universe.
Well, it didn't use those exact words, but that was essentially the message.
After two days of deliberations in the highly watched insider trading case, a jury convicted Gupta, the former head of consulting firm
McKinsey & Co.
and board director of
Goldman Sachs
(GS)
and
Procter & Gamble
(PG)
, on four felony counts last Friday. Gupta was convicted on three counts of securities fraud regarding tips made about Goldman Sachs and one count of conspiracy in an insider trading scheme run by hedge fund manager Raj Rajaratnam.
The former corporate titan turned disgraced tipster will remain free on bail until his sentencing on Oct. 1, after which he could spend a maximum of 25 years behind bars.
Once again for those still in disbelief that the government whiffed on Rogers Clemens perjury rap Monday: Gupta is going from the Goldman Sachs board room to prison.
Seriously, how dumb can a supposedly smart person be? Gupta's fall from grace is nearly unfathomable. In fact, had we not lived through the monster known as Bernie Madoff and the equally atrocious Allen Stanford, we never would have believed it to be possible for an individual to attain such heights only to fall even further.
And all because he wanted to show his buddy Raj Rajaratnam what a big shot he was.
"Having fallen from respected insider to convicted inside trader, Mr. Gupta has now exchanged the lofty board room for the prospect of a lowly jail cell," said Preet Bharara, U.S. Attorney for Manhattan, in a statement. "Almost two years ago, we said that insider trading is rampant, and today's conviction puts that claim into stark relief."
Hey, let's not get cocky Preet. There's still way too much evidence of monkey business among Wall Street's elite to hang a
Mission Accomplished
sign over the New York Stock Exchange.
But like the Hall of Fame hurler Clemens, maybe this victory will give you a temporary shot in the arm.
--Written by Gregg Greenberg in New York
.
Disclosure: TheStreet's editorial policy prohibits staff editors and reporters from holding positions in any individual stocks.