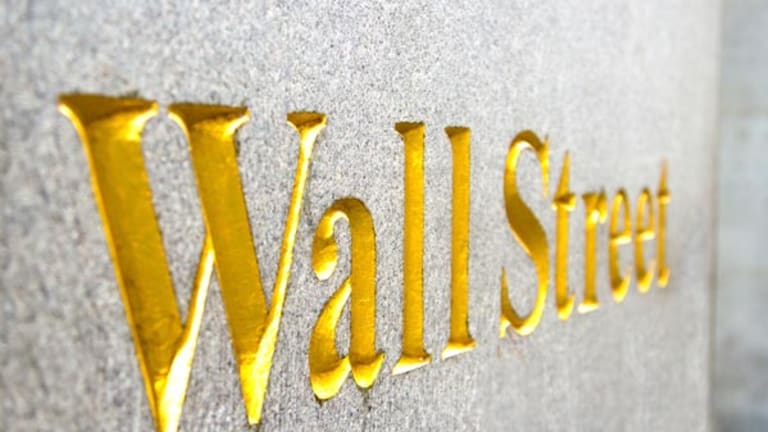 Publish date:
The Five Dumbest Things on Wall Street This Week: June 18
Not-so Smart Balance; AT&T's latest lulu; farewell, Fannie and Freddie; General Mills' PR Ills.
Not-so Smart Balance; AT&T's latest lulu; farewell, Fannie and Freddie; General Mills' PR Ills.
Not-So Smart Balance
Somebody should sue butterlike spread-maker
Smart Balance
(SMBL)
for false advertising. Not only is the company's management proving itself to be anything but smart, but the imbalance of sell vs. buy orders is causing its stock to topple.
Shares of Smart Balance got
schmeared
Tuesday, falling 24% to $3.91 after the company cut its 2010 sales outlook due to a soft economy. Smart Balance management says it now expects sales to rise between 2% and 4%, down from prior guidance of growth in the mid-teens.
Ouch! That's quite a forecast reduction. No wonder why traders cut through the company's share price like a hot knife through a butter substitute.
In a statement, Chairman and CEO Stephen Hughes laid it on thick, saying, "The past two months have been particularly challenging, as consumer price sensitivity and very aggressive promotional activity in the spreads category have put pressure on our results." Hughes added that the company is enjoying success with its new milk products.
The announcement caught Wall Street traders off guard because the company previously gave no hint of such a dramatic slowdown. The stunning revelation caused Key Banc Capital Markets analyst Akshay Jagdale to remark that Smart Balance may be "spread too thin."
We could not have said it better ourselves.
Dumb-o-meter score: 75 -- We think Hughes is milking the downturn excuse to hide the fact that competitors are eating away at his spread business.
AT&T's Latest Lulu
Another week, another
AT&T
(T) - Get Report
screw-up.
Yep, everybody's favorite iPhone carrier is back on the Dumbest list this week after AT&T customers reported seeing account information of other subscribers while trying to buy the new iPhone 4. A rash of technical errors on the company's Web site also prevented some customers from ordering the latest, greatest version of
Apple's
(AAPL) - Get Report
smartphone, leading to lines of irate customers outside AT&T stores so that real-life employees could manually process their orders.
Boy, you know things have gone wrong when ordering a gadget online turns into Justin Bieber concertlike pandemonium.
In case you missed it, last week
were inflamed after their personal information was exposed due to a network security flaw, and now this week its iPhone users getting the shaft due to more AT&T bungling. It's getting to the point that if you put a lower case
i
in front of any Apple product then AT&T will drop the ball, or more appropriately, the call.
"Because of the incredible interest in iPhone 4, today was the busiest online sales day in AT&T history," the company said in a statement, begging customers for their patience.
On the bright side, AT&T will never have a day like this again, but not because it learned something from its latest calamity. We just can't see Apple sticking with them as the sole network provider for iPhone 5, iPad 2, or whatever sequel they roll out next.
Dumb-o-meter score: 80 -- Only AT&T could make Apple fans this sour.
Farewell, Fannie and Freddie
Make way everybody! The trillion-dollar gorillas are leaving the room.
The Federal Housing Finance Agency said Wednesday that
Fannie Mae
and
Freddie Mac
, now trading for well under a $1, from the
New York Stock Exchange
(NYX)
. The FHA, which regulates the two government-sponsored mortgage purchasers, said it expects Fannie and Freddie to trade on the Over-the-Counter Bulletin Board, an electronic quotation service, beginning next month.
The move to the minor leagues was not altogether unexpected. NYSE rules require a company to take action or delist if its shares languish below a buck for 30 trading days.
Still, it's quite shocking to see companies that together own or guarantee almost 31 million home loans worth about $5.5 trillion get the boot. Or, to put it another way, you know things are bad when mega-losers like
AIG
(AIG) - Get Report
and
Citigroup
(C) - Get Report
are still hanging around while the two companies that control nearly half of all U.S. mortgages get escorted from the building.
Then again, at least AIG and Citigroup are operating under the pretense that they will repay Uncle Sam. That's certainly not the case with Fannie and Freddie, which have already sucked up nearly $150 billion in taxpayer funds and will likely request more bailout dollars down the road.
Come to think of it, it's almost poetic. They loosened their lending standards during the housing bubble and as a result are being forced from their home.
Dumb-o-meter score: 85 -- The NYSE foreclosed on Fannie and Freddie. How trippy is that?
General Mills' PR Ills
Somebody find Ashton Kutcher,
General Mills
(GIS) - Get Report
got
Punk'd
.
The cereal-maker said on Wednesday that it was the subject of a prank press release that said President Obama had ordered a probe into the company's supply chain following recent recalls. The release was sent overnight on
PR Newswire
, a main distributor of corporate press announcements, and was picked up by some major news outlets including
Reuters
and
Dow Jones
before the hoax was revealed.
General Mills said it was investigating the matter and that "law enforcement is involved." PR Newswire - ironically lacking any PR skills whatsoever - issued a statement saying the release came from an unauthorized sender and offered no further comment. Also silent on the matter was Allen Funt, the former host of
Candid Camera
, who passed away over a decade ago.
The unnerving part of the story is that any of the news organizations fooled by the phony release would have quickly deemed it a sham had they done the smallest amount of digging. Aside from misspelling the word "yogurt", the release reportedly carried a New York dateline even though General Mills is based in Minneapolis. Furthermore, it has a contact phone number located in New Zealand and lists the contact person as former CEO Steve Sanger.
In the end, General Mills shares did not tank, if that was the prankster's intention. But we are quite sure that nobody involved in this whole sorry episode will earn a spot on a Wheaties box.
Dumb-o-meter score: 90 -- Did anybody check the bogus press release for Tony the Tiger's paw prints?
BP's Latest Blunder
We finally figured out what
BP
(BP) - Get Report
stands for, and it's not "British Petroleum," "Blunder Prone" or "Big Polluters." No, according to the oil company's chairman himself, those letters represent the words: "Big People."
BP Chairman Carl-Henric Svanberg
You see, BP Chairman Carl-Henric Svanberg, who is Swedish, raised the ire of Gulf Coast residents even higher on Wednesday -- and you thought that was impossible -- when he told reporters in Washington that his company cares "about the small people." The remark, which was intended as a play for sympathy, boomeranged on Svanberg, forcing the company to once again beg for forgiveness.
When pressed about Svanberg's statement, BP spokesman Toby Odone told
The Associated Press
in an email that "it is clear that what he means is that he cares about local businesses and local people. This was a slip in translation."
Of course it was! We understand entirely. Just like we understood when his
slipped up when he said he "wants his life back."
Hopefully, the $20 billion BP agreed to place in an escrow account to cover damage claims from the spill this week will teach them not just to watch their rigs, but their words as well.
We'll just call that $20 billion "the small people's BP," as in "Big Payback."
Dumb-o-meter score: 95 -- We've found yet another BP hole worth plugging -- it's the chairman's mouth.
Before joining TheStreet.com, Gregg Greenberg was a writer and segment producer for CNBC's Closing Bell. He previously worked at FleetBoston and Lehman Brothers in their Private Client Services divisions, covering high net-worth individuals and midsize hedge funds. Greenberg attended New York University's School of Business and Economic Reporting. He also has an M.B.A. from Cornell University's Johnson School of Business, and a B.A. in history from Amherst College.