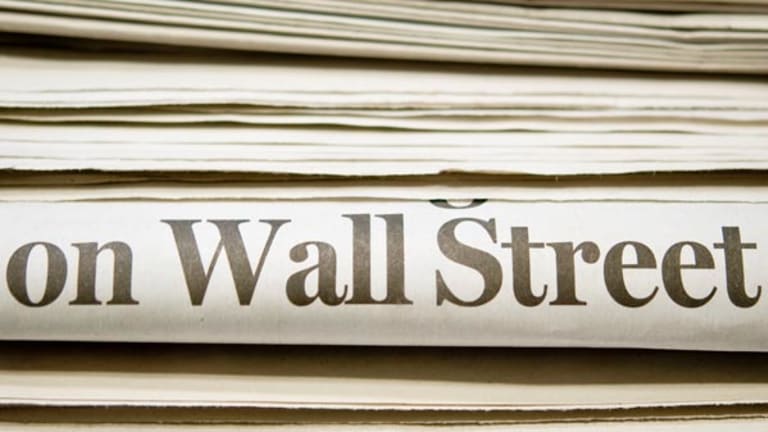 5. EnteroMedics Gets Zapped
If only
EnteroMedics'
(ETRM)
diet device could slim obese patients as well as it did the company's stock price, then the company's shareholders would be in a much weightier position.
Shares of EnteroMedics plummeted 56% to $1.26 last Friday, after it reported disappointing clinical trial results for its Maestro System, which uses electrical charges to block the primary nerve regulating digestion. Unlike pacemakers, patients power the surgically implanted device on and off with a control belt worn around the waist.
Top-line results from the 233 person phase III study known as ReCharge showed that patients implanted with an active Maestro device lost just 8.5% more "excess weight" than those implanted with a dummy device. In order for the study to be successful, Maestro needed to hit a 10% statistical superiority margin over the sham device, according to
TheStreet's
biotech ax Adam Feuerstein.
In other words, for all its pumped-up publicity, EnteroMedics' fat zapper turned out to be nothing more than a pulsing placebo.
Nevertheless, the less-than-impressive ReCharge results are still not stopping the company from filing for marketing clearance with the
Food and Drug Administration
during the second quarter.
"Based on these compelling results, and the totality of our clinical experience with the Maestro System, which now includes more than 600 patients worldwide, we believe EnteroMedics is well-positioned to deliver this novel therapy to people with obesity in the U.S.," said the company's CEO, Dr. Mark B. Knudson.
No way, Knudson. No matter how you try and spin it, those results were anything but "compelling." And even in the unlikely case that the FDA approves your device despite two failed phase III studies, why would anybody shock themselves svelte when they will soon be able to simply pop a diet pill from the likes of
Arena
(ARNA) - Get Arena Pharmaceuticals, Inc. Report
,
Vivus
(VVUS) - Get VIVUS, Inc. Report
or
Orexigen
(OREX)
?
Like it or not, that's the real skinny on EnteroMedics.
4. Carnival's Crisis
Go ahead,
Carnival Corp.
(CCL) - Get Carnival Corporation Report
. Set your cruise ships adrift in the Gulf of Mexico. Stranding them at sea is absolutely the smartest move you can make.
We're not kidding. It may tick off your passengers, but your shareholders will absolutely love the ride.
Here's what happened: An engine-room fire caused the company's Triumph cruise ship, which was bound for port at Galveston, Texas, to lose power 150 miles off southern Mexico's Yucatan peninsula on Sunday. None of the 3,143 guests nor 1,086 crew members on board were injured, according to the cruise line operator. That said, inoperable toilets and a lack of air conditioning reportedly made the tug-boat-aided trip to Mobile, Ala., far less than luxurious. Shares of the company's stock fell just under 1% on the news.
The cruise line canceled the next two Triumph departures to fix the problem. It also offered full refunds and vouchers to the travelers whose vacations were ruined.
We here at the
5 Dumbest Lab
, however, maintain they should do nothing of the sort. In fact, we think Carnival should screw up people's dream getaways more often. You see, based on last year's
annus horribilus
, Carnival's stock can do no wrong when the cruise company can do no right.
Think about it: Carnival's stock finished up over 17% in 2012 despite more mishaps at sea than
McHale's Navy
and
Gilligan's Island
combined.
Let's review.
Last January, the Costa Concordia capsized and sank off the Tuscan island of Giglio in Italy, killing 32 people. That tragedy was followed by Carnival's Crown Princess cutting a cruise short in early February after a norovirus outbreak. Later that month, 22 passengers from the Splendor were robbed at gunpoint while on a Carnival-sponsored shore excursion in Puerto Vallarta, Mexico. Not long after, the company's Costa Allegra had a fire break out in its generator room, causing the ship to lose power and drift aimlessly.
Finally, barely two weeks after the Allegra's electricity outage, the Caribbean Princess faced propulsion problems in mid-March and had to return to San Juan four days early. The following Princess cruises were canceled so repairs could be made to the ship.
Imagine that. Three solid months of seaborne stupidity and Carnival's shares still beat the
S&P
last year.
Hey, if that's what it takes, then damn the torpedoes, it's full dumbness ahead!
3. Musk Cries Wolf
While we admire Elon's elan, we do believe Mr. Musk better cool it when it comes to defending his electric cars before he says something really stupid.
Tesla's
CEO took the
New York Times
to task this week after one of its reporters slammed the company's Model S sedan, saying it ran out of power sooner than promised during a frigid winter test drive. In the Feb. 8 article,
NYT
reporter John Broder said his Tesla electric car did not travel as far as expected during his drive from Washington, D.C., to Connecticut, and he ultimately needed to have the vehicle towed to a charging station.
"If this is Tesla's vision of long-distance travel in America's future, I thought, and the solution to what the company calls the 'road-trip problem,' it needs some work," Broder wrote of his less-than-easy ride up the East Coast. Shares of the company's stock fell 4% Monday as a result of the blistering review.
Broder's brutal evaluation caused the Tesla CEO to go ballistic, which would be fine if the issue was Musk's other transportation company, SpaceX. Unfortunately, the
Times
reporter was talking about Tesla's terrestrial troubles.
"NYTimes article about Tesla range in cold is fake. Vehicle logs tell true story that he didn't actually charge to max & took a long detour," tweeted Musk, before talking to
CNBC
,
Bloomberg
and elsewhere to mount his defense.
Not to be outmuscled by Musk, the
Times
quickly shot back, saying Broder's account was "completely factual, describing the trip in detail exactly as it occurred. Any suggestion that the account was 'fake' is, of course, flatly untrue."
Frankly, it's hard not for us to side with the
Times
in its tussle with Tesla. And not, mind you, because we feel the need to stand up for fellow scribblers. Not in the least.
It's because Musk has been down this messy road before.
In case you were unaware, Musk tried the same bullying tactics last year when the
BBC
program
Top Gear
offered a similarly negative view of one of his cars. Musk retaliated by calling
Top Gear
"completely phony" and sued the
BBC
for libel and malicious falsehoods.
In the end, an English court dismissed Musk's suit against the Beeb for the silliness that is was. Nevertheless, instead of learning from that experience, the petulant CEO has decided to once again take aim at the messenger rather than fix his car's mileage problems.
"Wow, no surprise that Broder wrote a hit piece on Tesla. I guess we were pretty dumb to agree to an article by this guy," Musk tweeted Monday.
Yes, you were, Elon. And you were even dumber when you took it the extra mile, when neither you, nor your car, were ready to go that far.
2. Cook Heats Up
Is David Einhorn's heat finally getting to
Apple
(AAPL) - Get Apple Inc. (AAPL) Report
CEO Tim Cook?
Lord, we hope so. It may be bad for business, but it sure is good for ours.
Speaking at the
Goldman Sachs Technology and Internet Conference
in San Francisco on Tuesday, the normally unflappable Cook was quizzed on the hedge fund manager's decision to sue Apple in order to return some of its $137 billion in cash to shareholders. The
Greenlight Capital
president wants his fellow shareholders to vote against Apple's proposal to do away with preferred stock, which he says restricts "the board's ability to unlock the value on Apple's balance sheet."
Cook, however, wanted nothing to do with Einhorn at the Goldman shindig. Steve Jobs' successor dismissed the lawsuit as "a silly sideshow" and a "distraction" during his presentation. Shares of Apple sank 2.5% to $468 after Cook's cocksure performance.
"I find it bizarre we would find ourselves being sued for doing something that's good for shareholders," Cook said. "I think it would be a lot better use of funds to donate that time and money to a worthy cause."
Hold on a darn minute, Timmy boy! We think this fight is an incredibly worthy cause. Think about all of us overeducated, underpaid ink-stained wretches whose very livelihoods depend on covering silly sideshows like yours, would ya? Stupid feuds between billionaires like you and Einhorn may bore you, but they sustain us.
And, thankfully for us, the story took a turn for the sillier even before Cook left the building.
Not missing a beat, a spokesman for Greenlight responded to Cook's charge, saying: "If Apple thinks the lawsuit is a waste of resources, it could simply end the matter by complying with existing law" by unbundling the proposed changes.
Check to you, Tim. And while we wait for your next move in this burgeoning grudge match, we can only pray that activist investor Carl Icahn chooses a side and jumps into the fray.
These Dumbest pages don't write themselves, you know.
1. Dell's Dissidents
Dude, your
Dell
(DELL) - Get Dell Technologies Inc Class C Report
deal is getting deluged by dissidents.
Mutual fund powerhouse
T. Rowe Price
(TROW) - Get T. Rowe Price Group Report
became the latest large Dell shareholder to oppose the PC maker's $13.65-a-share leveraged buyout offer from founder Michael Dell and private equity shop Silver Lake Partners. T. Rowe controlled 4.4% of Dell shares as of Sept. 30. The company joined Southeastern Asset Management, which holds an 8.5% stake, in its opposition to the deal.
"We believe the proposed buyout does not reflect the value of Dell, and we do not intend to support the offer as put forward," T. Rowe Chief Investment Officer Brian Rogers said in a statement.
You ain't lyin', Brian! So far, shareholders with an estimated chunk of 14% of Dell are planning to vote against the deal. And as a result of this growing wave of owner unrest, Dell stock rose above the buyout price to almost $14 Tuesday.
In a regulatory filing last Friday, Southeastern valued Dell at about $24 a share, while also indicating that the company has multiple options at creating value for shareholders, who have suffered from the company's 20%-plus one-year share loss.
Oh, man. If only they showed such feistiness prior to Michael's LBO maneuver, then maybe he wouldn't be trying to steal the company out from under them in the first place.
Wait! We take that back. That was unfair of us.
It's not right for us to insinuate that Michael and his private equity comrades are pulling a fast one on Dell's long-suffering shareholders. They did tell the world in a regulatory filing Monday that "the go-shop process provides stockholders an opportunity to determine if there are alternatives that are superior to the present offer."
In other words, Dell is telling malcontent stockholders like T. Rowe to find a better buyer if they don't like the price. And the PC -- personal computer -- maker is being anything but PC -- politically correct -- about it.
Disclosure: TheStreet's editorial policy prohibits staff editors and reporters from holding positions in any individual stocks.