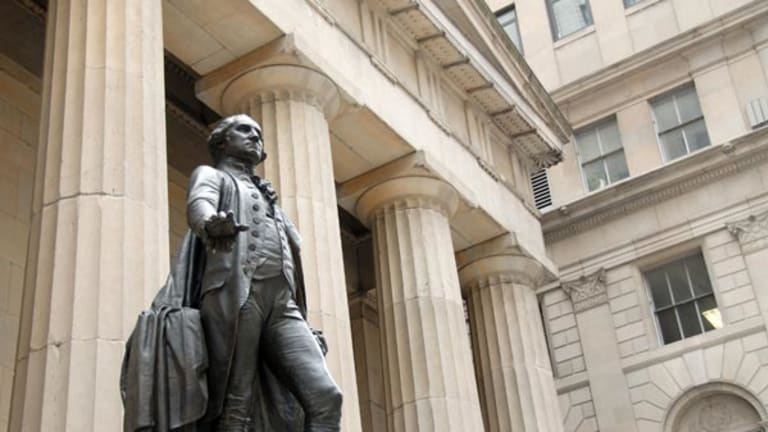 The Five Dumbest Things on Wall Street This Week
Apple's pie-eyed pumpers; Schumer's double identity, Lampert doubles down; Fed frolics; Verizon's open-field flip-flop.
1. Apple's Pie-Eyed Pumpers
Thanks to the intrepid research team at Piper Jaffray, there's now a scientific explanation why consumers claim they're helpless to resist the allure of
Apple's
(AAPL) - Get Apple Inc. Report
iPods, iPhones, iMacs or Steve Jobs' signature eyeblack mock turtlenecks.
Piper's mall-based research over the Thanksgiving holiday weekend indicates that Apple stores exert a "gravitational pull" on shoppers, or so declared Piper senior research analysts Gene Munster and Michael Olson. For fans of the statistical analysis, this magnetic force can be quantified.
"There is a 27% chance that a shopper walking within 25 feet of an Apple store entrance would actually enter the store," according to Munster and Olson's calculations.
To believe the analysts is to believe that the implications of these findings match those of the discovery of the Rosetta Stone, or maybe King Tut's tomb. "This gravitational pull highlights that consumers' future buying intentions could be shifting to Apple from PCs," the analysts wrote -- with no apparent sense of sarcasm. "If materialized, this shift should benefit Apple in 2008 and 2009."
But lest would-be Apple shareholders and consumers feel enabled by Munster and Olson's research conclusions, a few caveats must be noted.
First, the Piper analysts observe that "only a fraction of shoppers actually purchased anything from the Apple stores." This discovery suggests Apple's engineers have yet to complete the second stage of their diabolical plan for total control over the hearts and minds of consumers.
Second, this is the first year Piper's analytical team has done on-site research at Apple retail outlets. "We do not have comparative traffic data," Munster and Olson concede.
In other words, some analysts will use just about any excuse to reiterate a "buy" rating and justify a street-high $250 price target.
Dumb-o-meter score: 95. Munster and Olson are "senior" research analysts, raising the question of what the "junior" folks are up to at Piper Jaffray.
2. Schumer's Subprime Bombshell
Sen. Charles "Chuck" Schumer (D., N.Y.) is an unquestionably skilled politician. Indeed, so great are Schumer's talents that his recent actions evoked the grand tradition of not one, but two New York political giants: the late Daniel Patrick Moynihan and Alfonse D'Amato.
Strange bedfellows, indeed.
On his good days, Schumer embodies Moynihan's commitment to social justice and determination to stand up for society's underprivileged and powerless. These days, few constituencies are more underprivileged and powerless than borrowers facing foreclosure after being tricked (either by themselves or their lenders) into subprime mortgages and/or teaser rates. Embodying Moynihan's spirit, Schumer has been at the vanguard of congressional efforts to relieve their pain.
"The time to act is now while we still have a chance to save these homes and strengthen our floundering housing market," Schumer declared on the floor of the U.S. Senate on Nov. 15 as he passionately advocated two bills designed to help subprime borrowers refinance and avoid foreclosure.
The first bill, The FHA Modernization Act, will "give FHA greater flexibility to assist subprime borrowers with critical refinancing alternatives that will allow them to prevent foreclosure," according to a press release from the senator's office.
The second bill, The Promise Act, would provide
Fannie Mae
undefined
and
Freddie Mac
undefined
a temporary six-month increase in their portfolio caps, with "85% of the increase to be dedicated to assisting in the refinancing of subprime mortgages at risk of foreclosure."
Like most Democrats, Schumer believes Freddie and Fannie can be a bigger part of a subprime solution and has chastised the Bush administration for acting "like an ostrich with its head in the sand" as the crisis unfolds. "Why? Why don't they see what everyone else sees?" Schumer rhetoricized. "The reason is quite simple, Mr. President. We have ideologues that run this Administration. Their view is government should never be involved. Let the homeowner pay the price. Let the economy pay the price. Because to get the government involved is bad."
Like most Democrats, Schumer believes getting the government involved is good, and proudly touted these "urgently necessary" bills as being "designed to use the tools of the Federal Government to assist in helping the two million subprime borrowers facing foreclosure."
But Schumer's desire for urgent action using the tools of the federal government apparently doesn't extend to the Federal Home Loan Bank (FHLB).
On Monday, Schumer sent shudders through the markets by asking regulators to examine stepped-up lending by the Atlanta branch of the FHLB to
Countrywide Financial
(CFC)
. The struggling mortgage lender has used the FHLB "like its personal ATM," Schumer declared.
Given that the Federal Home Loan Bank system was set up in 1932 for the
very purpose
of aiding failing banks and to support mortgage lending, and that Countrywide sure could use a helping hand, Schumer's broadside evoked former Sen. D'Amato, a Republican best remembered for his strange, occasionally offensive and often perplexing filibusters.
Dumb-o-meter score: 88. Countrywide of course has "ample liquidity to fund our growth and operational needs" and the firm will "say it until we turn blue in the face," says investor relations managing director David Bigelow. He might turn bluer if the $50-plus billion FHLB borrowing gorilla in the room takes all the air.
3. Where America Doesn't Shop
Say you're running a struggling retailer. Say your earnings fell off a cliff in the third quarter to a mere penny per share from $1.27 a year earlier (that's 99% if you're keeping score at home), and wildly short of analysts estimates of 50 cents a share. Now, say your stock tumbled on the news and is nearly 50% below its spring highs.
And say you "do not expect any significant near-term improvement in the overall retail environment," as
Sears Holdings
(SHLD)
declared on announcing the aforementioned dismal earnings.
What would you do? Close underperforming stores? Announce massive layoffs? Use your dwindling cash position to buy back shares and shore up the stock?
Not if you're Eddie Lampert!
Instead of doing any of those things, and with cost-cutting initiatives apparently unable to mask declining sales any longer, Lampert is leading Sears deeper into the retail morass. His solution to the company's struggle in the home-goods department appears to be trying to acquire another struggling home-goods retailer,
Restoration Hardware
(RSTO)
.
In other words, Lampert is effectively doubling down on what looks like a losing hand.
This could be a fatal error if Credit Suisse analyst Gary Balter is right. "It should be clear to investors that if Sears continues to try to make it as a retailer, it will likely not happen," he writes.
Balter, a longtime Sears bull, pulls no punches in his assessment of the quarter, declaring "visits to the stores show very little evidence that Mr. Lampert has figured out the magic sauce that makes good retailers profitable and we doubt that we will see that in the near and medium term."
The analyst does, however, toss Lampert and crew a bone by noting "home-related goods are a large bulk of sales," meaning Sears is "exposed to the worst current trends."
True 'nuff.
Dumb-o-meter score: 85. Lampert is a hero in value-investing circles, hailed as "the next Warren Buffett." But Lampert has failed to unlock the presumed "hidden value" after the Sears-Kmart merger two and a half years ago. We doubt the Oracle of Omaha would have made a similar gaffe.
4. Unreserved Fed Heads
The bulls reasserted themselves midweek, but the wheels appeared to be coming off the proverbial bus early in the week. Headliners included
Citigroup
(C) - Get Citigroup Inc. Report
going hat-in-hand to Abu Dhabi, Freddie Mac slashing its dividend, and
MBIA
and
HSBC
(HBC)
taking SIV-related hits.
Treasury yields plummeted in a flight-to-safety trade Monday as major stock proxies tumbled into full-blown "correction" territory for the first time in over four years. Adding to the early-week anxiety was a worse-than-expected consumer confidence report, presaging a slew of punk data.
But "weaker numbers will not lead me to revise my outlook," Philadelphia Fed President Charles Plosser deadpanned Tuesday, adding that "the Fed must be very vigilant" against inflationary pressures. "In the current environment, providing insurance through a reduction in the fed funds rate creates its own set of additional risks."
On the same day at a different venue, Chicago Fed President Charles Evans said, "I feel that the stance of monetary policy is consistent with achieving our dual mandate objectives and will help promote well-functioning financial markets."
Not to be outdone, the next day Dallas Fed President Richard Fisher said he's "very concerned" about inflation. Fisher also had the temerity to say "we have been enjoying a robust economy" -- the same day economists fretted over dismal reports on durable goods and existing homes, as well as the Fed's own beige book survey.
Curiously, Fisher did say "the Fed will take into account the signals that we're getting from markets,"
Bloomberg
reported, although the news service didn't specify if that included a two-year Treasury note yielding more than 125 basis points below the 4.50% fed funds rate -- an unusually wide spread that suggests the market is screaming for a rate cut (or three).
Best known for erroneously declaring in June 2005 that the Fed was in the "eighth inning" of what proved be an extra-inning tightening cycle, Fisher's would-be bombshells were snuffed out by Fed Vice Chairman Donald Kohn's
more accommodating commentary and the market's renewed fervor.
The comments from Plosser, Evans and Fisher, a.k.a. "the tougher-than-thou vs. inflation trio," were also inconsistent with the Fed's action this week; they made liquidity injections via repurchase agreements of both longer-than-normal duration and specifically targeted mortgage-backed securities. If nothing else, this week's Fedspeak helps explain the ongoing popularity of Ron Paul's candidacy.
Dumb-o-meter score: 79: Speaking on Tuesday's The Real Story podcast, Miller Tabak's Tony Crescenzi said the Fed's apparent mixed messages are designed to help the central bank maintain flexibility and the element of surprise. Maybe so, but the machinations are enough to make a person jump up and down and scream like a madman.
5. Open Field Flip-Flop
Imagine a world in which you could buy any phone you like and then turn around and use it on any network that suits your fancy. Sounds incredible, right? Until now, such a fantastical place could only be found in exotic locales known as "Europe" and "Asia," or more precisely, "Anywhere but America," where GSM is the standard and issues like compatibility aren't so formidable.
The telecom industry's complete and total control over what phones Americans can and can't use has been one of the more perplexing features of a nation whose consumers typically have an astounding array of choices for just about everything else.
In America, "Freedom of Choice" isn't just a Devo album. Heck,
AT&T
was broken up in 1984, the beginning of the end of Ma Bell's long-distance monopoly, and people have been able to choose their local phone provider for nearly a decade.
Starting next year, choice -- or at least the appearance thereof -- is going to come to America's long-suffering cell-phone users, too, thanks to that great American telecom company
Verizon
(VZ) - Get Verizon Communications Inc. Report
.
After years of keeping its customers tightly fenced into its own walled (yet wireless) garden, Verizon announced Tuesday it is finally embracing the open-standards movement. By the end of 2008, Verizon plans to allow customers to use non-Verizon branded devices on its wireless network.
"This is a transformation point in the 20-year history of mass market wireless devices -- one which we believe will set the table for the next level of innovation and growth," Lowell McAdam, Verizon Wireless president and CEO said in a statement.
But as my colleagues Scott Moritz and Gary Krakow
detailed on the TheStreet.com TV , there's less here than meets the eye.
First, Verizon "is not changing our successful retail model," McAdam explains, "but rather adding an additional retail option for customers looking for a different wireless experience."
In other words, Verizon is "looking for new devices as ways to charge people who aren't on the network," as Moritz put it.
We're all for shameless capitalism, but Verizon is going to use a self-described "$20 million state-of-the-art testing lab" to test and approve any and all products designed to interface with its wireless network and "somebody has to pay for this," notes Krakow. Then there's the related questions of what Verizon will be charging those nutty people it describes as "'bring-your-own' customers."
Second, Verizon's motives aren't as pure as extending its "track record of listening to customers and transforming entrenched industry practices based on those customer needs," as McAdam's PR team would have folks believe. The firm is pretty clearly responding to
Google's
(GOOG) - Get Alphabet Inc. Report
success -- via a pledge to bid at least $4.6 billion -- in getting the Federal Communications Commission to guarantee open access so that the winners of the upcoming 700-megahertz radio wave auction can allow any devices on the new frequencies.
Verizon initially sued to stop Google's effort before relenting when it became clear that consumers really want choice -- or maybe it was when it seemed clear the FCC would rule against it.
Dumb-o-meter score: 61. Maybe Verizon is trying to glom onto the Apple iPhone phenomenon, but only after blowing the opportunity to be the exclusive provider.
Aaron L. Task is editor at large of TheStreet.com. In keeping with TSC's editorial policy, he doesn't own or short individual stocks, although he owns stock in TheStreet.com. He also doesn't invest in hedge funds or other private investment partnerships. He appreciates your feedback;
to send him an email.
In our
award-winning effort to enrich the reader experience, the Five Dumbest Things Lab now scores each item using our proprietary Dumb-o-Meter. This cutting-edge technology employs a finely calibrated, 100-point scale measuring sheer Dumbness, as calculated via a closely guarded secret formula.
Got your own idea for the dumbest thing of the week?
Want to get your Five Dumbest in the mail? It's easy. Just become a TSC member -- it's free -- and you'll receive the Five Dumbest in our Before the Bell email newsletter every Friday. The rest of the week, before each trading day, Before the Bell gives you a comprehensive look at the stocks expected to move the market, plus access to a sampling of our premium content from RealMoney. Click here to sign up for Before the Bell!