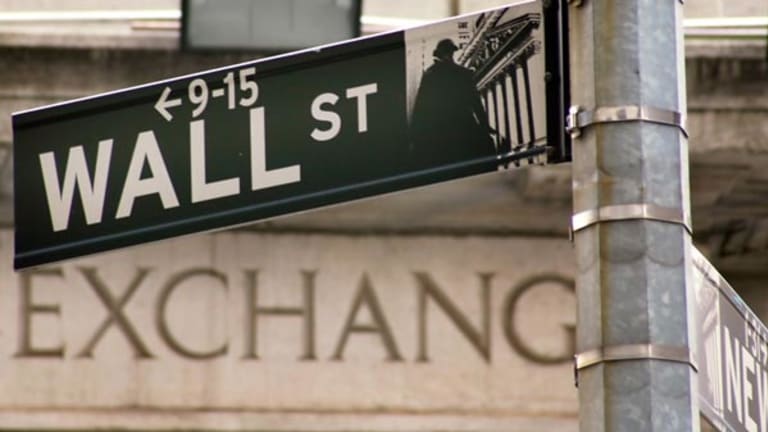 The Five Dumbest Things on Wall Street This Week
Bunglers' bonuses; the Lowe's down; Chase's credit candy store; Freddie's free fall; Amazon: Kindle or kindling?
1. Bonuses for Baddies
If this isn't an old joke, it should be: If it costs $50 to hear an atonal violinist serenade you at dinner, how much would it cost to keep him from playing? Well, you probably couldn't afford that.
And so we come to this week's announcement of Wall Street bonuses. To say the least, this has not been a banner year for Wall Street investment banks. See, they made these outlandish bets on some gruesome mortgages and -- well, you know the whole story. It starts with "look out" and ends with "we'll be taking a charge."
The math behind the bonuses might elude us here, but maybe if we adhere to the old violinist joke, we can make some sense of it.
Nearing the end of a year in which top Wall Street firms have seen around $75 billion in equity go poof in the night, the firms announced this week that they would be paying out $38 billion in bonuses.
For those of you keeping score at home, that nets out to an average of more than $200,000 a person ... or one dollar handed out to Wall Street bigwigs for every $2 of shareholder equity lost. Throwing away other people's money is good work, if you can get it.
Many officials from Wall Street firms and analysts spoke this week about the need to pay to retain talent, a word they must be using a bit loosely in 2007. After all, we can wade through the trading losses if we are willing to put on our hip-highs, but the other problem is, with the exception of
Goldman Sachs
(GS) - Get Goldman Sachs Group Inc. (The) Report
, these companies -- like
Merrill Lynch
(MER)
and
Citigroup
(C) - Get Citigroup Inc. Report
-- are financial supermarkets made of paper and glue. Who knows how long they can hold, or how much money they might need in reserve during these troubled times to camouflage the void that may be their entire existence.
Mother Merrill, by the way, has seen double-digit declines in revenue this year and, in staying with that double-digit theme, announced recently that bonuses as a percentage of that declining revenue would rise from 49% in last year's first nine months to 58% in this year's.
How much would it cost to pay these traders
not
to come to work and ruin a good company? Well, winding our way back to that atonal violinist, you probably couldn't afford that.
Dumb-O-Meter Score: 93. Charles Geisst, a finance professor and author of
100 Years of Wall Street
was quoted as saying that if one firm pleads poverty and doesn't hand out the bonuses, they'd lose people to other firms. Considering the pit of write-offs, with nothing resembling a defined bottom in sight, maybe losing a few of these crackerjack traders wouldn't be a bad thing. Put it to a public vote at a shareholder meeting, and perhaps the traders will, in lieu of bonuses, be dropped over insurgent targets in the Middle East.
2. Lowe's Lowered
Lowe's
(LOW) - Get Lowe's Companies Inc. Report
, the giant home-improvement retailer, must get a house discount on chain saws, because it took one to its earnings this week. Again.
Now, who can ever worry one's pretty little heads about how much money one has coming in and out? And chain saws are kind of fun to play with anyhow. And for a public company to tweak its earnings forecasts once or twice in less than a year is understandable, especially in a field (housing) that is flooded with losses.
Anyhow, in February, Lowe's cut earnings estimates. And that is where the trouble began. In a statement of either how fleeting it thought the housing trouble would be (only an adjustment!) or how infallible the company thought it was (our gypsum rocks!), Lowe's didn't cut nearly enough.
So as the housing market kept deteriorating, estimate cuts became a bit of a refrain. This week's cut was the (count 'em) fourth. Lowe's now guides full-year earnings to between $1.83 and 1.87 a share. Even as recently as September, this range was about 15 cents higher. It's a well-known tenet in finance that once you lose the ability to count your estimates on one hand, you might as well just start pulling numbers out of hats. A CFO keeping track of revisions with his toes is most undignified.
Dumb-o-Meter score: 95. "It's clear that the pressures on our industry and the home-improvement consumer are greater than we previously anticipated and are likely to last longer than we expected," said Robert Biblock, chairman and CEO of Lowe's, who now knows that fingers and toes do not mix well with chain saws.
3. Chase's Credit Candy Store
Banks can be such self-effacing creatures by nature that you pretty much know when they announce simpler credit card pricing, it means a dastardly new matrix that will force you to pay more.
But this time, at least for those with unwholesome credit scores, you won't.
JPMorgan Chase's
(JPM) - Get JP Morgan Chase & Co. Report
Chase Card Services announced the expansion of Chase Clear & Simple, which basically means that those with disfigured credit histories won't pay any more than the rest of us. Or, uh, the rest of you.
As of next March, the common practice of increasing interest rates for cardholders as their credit scores swoon will be kaput. The newly stipulated policy, while favorable for those with credit scores that look like batting averages, seems to be a little dicey for lenders, not a group known these days for good strategic decision-making.
The point, though, is that after unsavory lenders have taken so much advantage of those with bad credit, should the answer be to let them borrow with the same impunity as those with good credit?
Gordon Smith, CEO of Chase Card Services, prattled on about the new approach in a press release this week, saying it would "help us to build lasting, loyal, relationships between ourselves and our customers." Considering how low some of the credit scores can go, I'd be a bit careful what I wished for.
Dumb-o-meter Score: 79: A consumer advocate is quoted in the press release standing up for those with impeachable credit everywhere. This is a major step forward for consumers, he said, and -- might we add -- a hope that the step forward is not one taken off the lip of a cliff for lenders.
4. Freddie's Free Fall
The subprime mortgage mess -- remember, the one that wasn't supposed to be big but keeps KO'ing the giants of the brokerage and banking industries -- raised its lethal head again this week.
On Tuesday,
Freddie Mac
undefined
, the giant buyer and supposed guarantor of mortgages, posted a $2.03 billion crater for its third quarter.
Freddie's shares dropped 29%, or $10.76, to close at $26.74 Tuesday, and fell down to an even $26 on Wednesday.
As it turns out, Freddie's financial woes are so serious that it has had to sell some of its loans, and even with that, its troubles do not appear to be over.
Freddie told
The Wall Street Journal
that it may have to cut its fourth-quarter dividend by 50% to save capital.
While it's nothing new that a company having anything to do with mortgages is falling on hard times, Freddie's recent horror story has another familiar financial plot. Richard Syron, Freddie Mac's CEO and chairman, told the
Journal
: "We will make it through this."
Syron is certainly motivated to gut out Freddie's setback. The
Journal
reported that Freddie's third-quarter announcement came two weeks after the company extended Syron's contract through 2009 and raised his base salary by $200,000.
On top of that, Freddie Mac awarded Syron an extension bonus of $3.5 million.
Dumb-o-meter Score: 90: Good enough for government-sponsored enterprise work.
5. Kindle or Kindling?
TheSteet.com's
Vishesh Kumar witnessed one of the week's dumber things when he attended the launch of the quickest, biggest, possibly best high-speed wireless Internet device (see his
video take here. The Kindle is
Amazon's
(AMZN) - Get Amazon.com Inc. Report
new e-book, three years in the making and announced to considerable fanfare this week.
Did Amazon's Jeff Bezos, who could sell the Tappan Zee Bridge to a man he just sold the Brooklyn Bridge to (he'd package them as a matching set and waive the shipping charge) mess up the Kindle unveiling? Or are Vishesh and I the fools here?
The book business is increasingly grim, and the only thing that makes it look good is comparing its fate with that of electronic readers, who have fizzled faster than -- well, no comparison is apt. Does Bezos really think the winning plan here is to revive both books and electronic readers while peddling bestsellers for a few bucks?
Yet the Kindle, at this week's first glance, appeared in some respects to be a favorable alternative to the iPhone or Blackberry. But there was Bezos, talking it up as a book or blog reader. He showcased the Kindle as something that can carry hundreds of other books, as if you don't already have enough on your nightstand that you are never going to read. Is this some form of reverse bait-and-switch or
total stupidity?
Dumb-o-meter score: 82. Can you have your e-books and paper books and read them, too?
A journalist with a background on Wall Street, Marek Fuchs has written the County Lines column for The New York Times for the past five years. He also contributes regular breaking news and feature stories to many of the paper's other sections, including Metro, National and Sports. Fuchs was the editor-in-chief of Fertilemind.net, a financial Web site twice named "Best of the Web" by Forbes Magazine. He was also a stockbroker with Shearson Lehman Brothers in Manhattan and a money manager. He is currently writing a chapter for a book coming out in early 2007 on a really embarrassing subject. He lives in a loud house with three children. Fuchs appreciates your feedback;
to send him an email.
In our
award-winning effort to enrich the reader experience, the Five Dumbest Things Lab now scores each item using our proprietary Dumb-o-Meter. This cutting-edge technology employs a finely calibrated, 100-point scale measuring sheer Dumbness, as calculated via a closely guarded secret formula.
Got your own idea for the dumbest thing of the week?
Want to get your Five Dumbest in the mail? It's easy. Just become a TSC member -- it's free -- and you'll receive the Five Dumbest in our Before the Bell email newsletter every Friday. The rest of the week, before each trading day, Before the Bell gives you a comprehensive look at the stocks expected to move the market, plus access to a sampling of our premium content from RealMoney. Click here to sign up for Before the Bell!