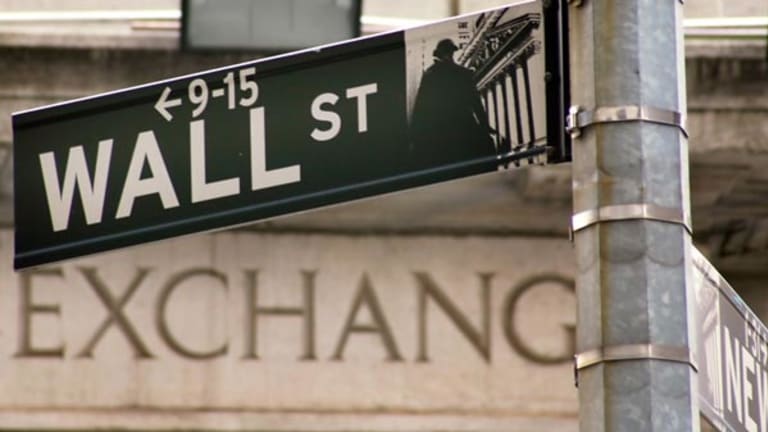 The Five Dumbest Things on Wall Street This Week
Merrill mess; WellCare's collapse; Cablevision clowns; BofA blunders; Level 3 throwdown.
1. Merrill Mishap
Merrill Lynch
( MER) stepped in the subprime mess.
The New York-based brokerage firm stunned investors Wednesday by reporting its biggest quarterly loss ever on a stunning 94% drop in revenue. CEO Stan O'Neal said the
culprit was the plunging value of the firm's holdings of mortgage-related securities.
"The bottom line is we got it wrong by being overexposed to subprime," O'Neal said on an earnings conference call, "and we suffered as a result of an unprecedented liquidity squeeze and deterioration in that market."
Also unprecedented was how Merrill's third-quarter numbers kept getting worse even after the quarter was over. Back on Oct. 5, a week after the quarter's end, the firm warned investors that it expected to lose as much as 50 cents a share for the period. Merrill said losses tied to subprime mortgage securities would result in an asset writedown of around $5 billion -- the biggest on Wall Street in years.
But three weeks later, when Merrill reported its finalized third-quarter results, the loss was actually $2.85 a share -- and the writedown was a staggering $8 billion.
Disconcertingly, Merrill declined to explain the sudden $3 billion change -- except to claim that the valuations behind the latest writedown "are conservative and appropriate," as finance chief Jeff Edwards said.
"Let me just say that what we have provided, again, what we think is an extraordinarily high level of disclosure
that should be sufficient," he sniffed in response to one question.
Merrill's
stonewalling led one analyst to observe that while the firm had indeed disclosed more than other brokerage firms, "your peers didn't take an $8 billion writedown." But O'Neal and Edwards continued their dance.
"I cannot tell you what the market trajectory might be from here," O'Neal replied, "but ... we are comfortable that we have marked these positions conservatively."
Sounds like Merrill's giving us more of the same old
bull.
Dumb-o-Meter score: 93. "No one -- no one -- is more disappointed than I am in that result," O'Neal said of Wednesday's $2.2 billion loss.
2. WellCare's Rave Reviews
Suddenly,
WellCare
(WCG)
isn't doing too well.
Shares of the Tampa, Fla., Medicare and Medicaid HMO plunged 63% Thursday after government agents
raided its headquarters. Neither the authorities nor the company provided any details on the raid, which took place as the company's board met on the premises.
But the
Tampa Tribune
reported that both the FBI and the Medicaid fraud unit for the state of Florida -- WellCare's largest market -- took part in the sweep. Analysts said the FBI's involvement suggests the company is the subject of a criminal probe -- a fact that could seriously damage WellCare's ability to win contracts with the government customers who account for all of its business.
CEO Todd Farha tried to calm investors with a Thursday morning statement promising WellCare would remain "committed to operating our business and serving our members." He added that "we are cooperating with the officials and intend to continue to do so."
The probe comes just months after WellCare and six other HMOs agreed to stop marketing some Medicare Advantage plans. That decision came after Congress held hearings to air supposed marketing abuses.
Right around the time of those hearings, WellCare announced plans to make sure its sales agents were complying with applicable laws and guidelines.
"We will tolerate nothing less than strict adherence to a code of conduct that appropriately educates and protects our members," Farha said in a press release May 10. "I am confident that with these new compliance enhancements, our overall compliance strategy will continue to be best-in-class."
The May 10 announcement went on to assert that "WellCare's Trust Program has been examined by internal and external auditors and by numerous regulatory agencies, and it has received consistently positive reviews."
Seems like that's about to change in a big way.
Dumb-o-Meter score: 90. "Those of you who know WellCare understand that we operate in a highly regulated industry," Farha said, "and that we are committed to full compliance."
3. Dolans Rejected
The third time definitely wasn't the charm for
Cablevision's
(CVC)
buyout-obsessed founding family.
This week, shareholders in the Long Island cable system operator shot down a $10.6 billion take-private bid from Chairman James Dolan and his CEO son Charles. The rejection, which came after some big investors said they didn't like the deal, sent Cablevision shares tumbling below $30 for the first time since March.
The Dolans had offered in May to buy out Cablevision's public shareholders for $36.26 a share. The Dolans, who own around 20% of the company, presented the deal as an opportunity to shield Cablevision from the unreasonable demands of the securities markets.
"The Dolan family founded Cablevision nearly 35 years ago, and we are very proud of the company's track record of delivering quality service and innovative products to our customers," the Dolans said in a May 2 statement issued by their lawyers. "We believe the best way to continue this tradition in today's increasingly competitive environment is as a privately held company."
Investors have their own take on Dolan family traditions, however. One long-established practice is for the Dolans to announce a buyout of Cablevision at a low-ball price that fails to win over key constituents.
This happened first in June 2005, when the Dolans floated a $7.9 billion buyout plan that was later sunk by the board. Unfazed, the Dolans went on to propose another deal in October 2006, at the same price. They even raised the ante on that bid by $1 billion before it too was shot down by the board in January.
But given the Dolans' upbeat take on this latest rejection, there's every reason to believe they won't be discouraged by Wednesday's no vote.
"While we are disappointed that shareholders did not approve the transaction," the Dolans said, "there is really nothing negative about today's outcome."
Nothing but that big selloff in the stock.
Dumb-o-Meter score: 88. "In fact," the Dolans continued, "in many ways, it is a very positive event."
4. Charlotte's Web
Crashing Wall Street's party hasn't worked out for
Bank of America
(BAC)
.
It set plans Wednesday to cut 3,000 jobs, mostly from its investment banking business. The Charlotte, N.C., bank also is starting a strategic review of the unit.
The firings mark an abrupt turnabout for CEO Ken Lewis, who had been spending furiously to make BofA a top player like
Goldman Sachs
(GS)
and
Morgan Stanley
(MS)
.
"The repositioning we are implementing will improve performance," Lewis said in a statement Wednesday evening. "We must have a platform that operates profitably for both our company and our clients."
Despite its impressive-sounding name -- Global Corporate and Investment Banking -- the unit hasn't been operating very profitably of late. A $1.33 billion decline in third-quarter investment banking profit left Bank of America well short of Wall Street's earnings estimates earlier this month, punishing its stock.
The shortfall prompted a telling comment from Lewis. Brushing off the prospect of further acquisitions, he told analysts last week, "I've had all the fun I can stand in investment banking at the moment."
Good riddance, party poopers.
Dumb-o-Meter score: 80. "You can't have business where you make money for five years and give it all back in one year," Lewis said last week.
5. Level Zero
Level 3
(LVLT)
is getting leveled.
Shares in the Broomfield, Colo., telco plunged 21% Tuesday after the company cut its cash flow forecast for 2007 and 2008. Level 3, which provides wholesale data transport to big telcos and cable companies, said customers didn't use its services as much as the company had expected.
"While the fundamental approach was sound, we made some implementation decisions that in retrospect made achieving our provisioning throughput targets more difficult," said operating chief Kevin O'Hara. "In particular, we took certain processes which had been centralized and split them up among our customer facing groups, which made identifying and fixing throughput issues more difficult."
Throughput issues are certainly crucial, though investors are starting to notice some other problems. One question to ask Level 3 is what's going on in the executive suite. Just a week before the company's earnings setback, Level 3 announced the departure of its longtime finance chief, Sunit Patel.
"As the company focuses on ensuring we take full advantage of the opportunities presented by our marketplace," CEO James Crowe said last week, "we believe we need a CFO with skills and experience which emphasize both operational and financial management."
That's understandable, though it's less clear why Level 3 would want to part ways with its CFO without first finding a replacement. In any case, the stock has now lost a third of its value in the two weeks since Patel announced his plans to step down. The stock now trades some 40% below its price on the day he joined Level 3 back in March 2003.
"I am proud of what my team has accomplished," he said back on Oct. 15, "and believe we have made significant contributions to the favorable position Level 3 now enjoys."
Let's not get carried away.
Dumb-o-Meter score: 75. "Sunit brings extensive telecommunications industry experience to this position," Crowe said back in March 2003 in Patel's hiring announcement.
In our
award-winning effort to enrich the reader experience, the Five Dumbest Things Lab now scores each item using our proprietary Dumb-o-Meter. This cutting-edge technology employs a finely calibrated, 100-point scale measuring sheer Dumbness, as calculated via a closely guarded secret formula.
Got your own idea for the dumbest thing of the week?
Want to get your Five Dumbest in the mail? It's easy. Just become a TSC member -- it's free -- and you'll receive the Five Dumbest in our Before the Bell email newsletter every Friday. The rest of the week, before each trading day, Before the Bell gives you a comprehensive look at the stocks expected to move the market, plus access to a sampling of our premium content from RealMoney. Click here to sign up for Before the Bell!