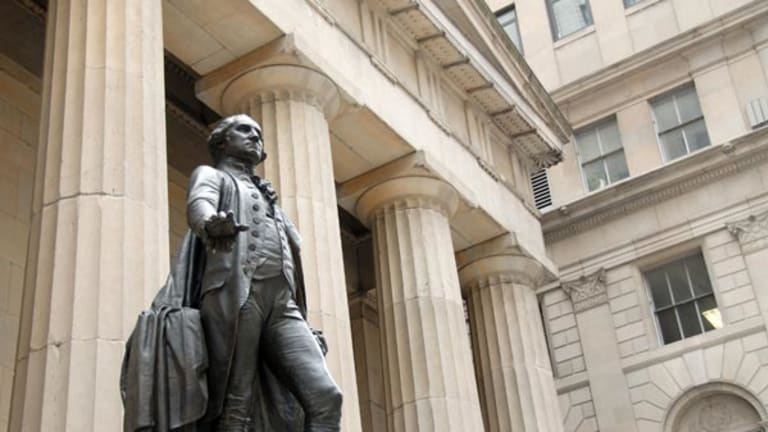 The Five Dumbest Things on Wall Street This Week
Citi sandwiched; WaMu whammy; Pfizer puffery; Hershey hurting; IMS' bad medicine.
1. Knuckle Sandwich
Citi's
(C)
chief Chuck Prince is in a real pickle.
The Prince-must-go camp was emboldened Monday after Citi reported a
57% drop in third-quarter profit. Two days later, rival
JPMorgan
(JPM)
made things worse for Prince by posting a
rise in its own third-quarter earnings. It seems that
debt-market problems took a much smaller chunk out of JPMorgan's hide.
Among Prince's loudest detractors has been Deutsche Bank analyst Mike Mayo. He downgraded the stock to sell last week after Prince again
rearranged the deck chairs in Citi's executive suite. This week's earnings debacle gave Mayo an opportunity to wonder aloud how long Prince can stay at the helm of this sinking ship.
"Chuck said this was the year of no excuses," Mayo said on Monday's conference call. "You guys say the results are disappointing. So what are the repercussions at the level of the office of the chairman?"
So far there are none, as Prince works furiously to save his own hide. He responded lamely to Mayo's fusillade Monday that "any fair-minded person would say that
the strategic plan is working," Citi's lagging stock price nothwithstanding.
Mayo pressed on, saying that "almost all the investors that I talk with feel like there needs to be more significant changes in terms of management." Struggling to shoehorn this diatribe into the question-and-answer format, he added, "So that is the data I am looking at. What are you looking at?"
Prince surely has lots of data to look at. But after Monday's exchange, he may well have found himself focusing on the ground rules for future conference calls. What might Prince's strategic plan be there?
Hold the Mayo.
Dumb-o-Meter score: 93. Citi shares surged Wednesday morning amid chatter that the board would oust Prince, only to fall back after Citi said there was nothing to the rumor.
2. WaMu Whammy
The credit crunch hasn't hurt
Washington Mutual's
(WM)
self-confidence.
The Seattle-based bank posted a
72% drop in third-quarter earnings Wednesday and said it expects to feel more pain over the next year. WaMu plans to add almost $3 billion to its loan-loss reserves this year as mortgages go bad by the bushel.
"We're disappointed with our third-quarter results," CEO Kerry Killinger said, "but they reflect the increasingly difficult market conditions that are challenging the banking industry."
By now, everyone agrees that the financial industry is facing
difficult market conditions. That's why banks from Citi and JPMorgan on down have been saddled with billion-dollar writeoffs of bad loans and faulty securities.
But WaMu couldn't leave it at that. Reviving an excuse last heard during the tech bubble, WaMu now claims it has limited visibility into future results.
"Let me just say that I have never seen housing credit conditions change so significantly over such a short period of time," finance chief Tom Casey said Wednesday on a conference call Wednesday. "Nor can I remember a period when there was less clarity about near-term housing and credit trends."
That's an odd claim, given that housing and credit trends could hardly be clearer. Housing prices have been flat or falling nationwide for the past year, after a long run-up that started in earnest earlier this decade. Credit trends appear similarly ominous, with defaults and delinquencies rising sharply.
Yet Killinger is ready to accept congratulations for his foresight.
"I'm very pleased with how we've managed the company through this period of stress," he said on the call. "Our management team has spent much of the last year diversifying our borrowing sources and proactively addressing the rapidly changing market conditions."
Proactive? No, this management team is just inept.
Dumb-o-Meter score: 90. The good news is that the weak earnings overshadowed the cease-and-desist order WaMu got from its regulator over alleged Bank Secrecy Act violations.
3. Waiting to Exhale
Pfizer
(PFE)
finally stopped huffing and puffing about inhalable insulin drug Exubera.
Six years after it began touting the supposedly revolutionary needle-free technology, Pfizer on Thursday took a $2.8 billion charge to
discontinue the drug.
"Despite our best efforts," CEO Jeffrey Kindler said Thursday in a press release Thursday, "Exubera has failed to gain the acceptance of patients and physicians."
That's an understatement. Pfizer paid
Sanofi-Aventis
(SNY)
$1.3 billion last year for full worldwide rights. Pfizer, which developed Exubera along with
Nektar
(NKTR)
, projected the drug would generate well over $1 billion in peak-year annual sales.
But Exubera never gained wide use. It posted a paltry $5 million in sales last year and similarly wan figures in the first three quarters of 2007.
Part of the problem was the design of the pump that delivers insulin to users' lungs. One
blogger deridied the pump as "an aesthetic nightmare, in the age of cool gadgetry." Others took to referring to Exubera as the
billion-dollar bong.
Yet Pfizer spent more than a year ignoring the drug's obvious failure. Execs promised in January that Pfizer's advertising staff would hit consumers in the second half of this year with a "full-court press" that would boost sales.
"We still believe in the potential for this innovative medicine," Kindler said on a conference call in April, "and we're taking significant steps to make it successful."
Success for Exubera? Don't hold your breath.
Dumb-o-Meter score: 88. Kindler called Exubera "a product for which we initially had high expectations."
4. Sugar Shock
Hershey
(HSY)
treated investors to another bittersweet performance this week.
The Hershey, Pa., chocolatier
missed third-quarter earnings targets and said it expects a soft year-end sales performance. The company cited high dairy costs and tough competition.
"Throughout 2007, our top priority has been to restore momentum within the U.S.," said CEO Richard H. Lenny. "Against a backdrop of severe commodity cost pressures and strong competitive activity, we're maintaining this focus."
That's another way of saying that despite all its efforts, Hershey has failed to improve its flagging sales growth. Though Lenny's favored "retail takeaway" metric showed a 6% rise in the U.S. chocolate market, total sales actually dropped 1% from a year ago as distributors cleared inventory.
It was this sort of underperformance that led Lenny to
step down earlier this month, amid grumbling from the charitable trust that owns a big chunk of the company's stock. But this being Hershey, his
successor is already showing talent in the overpromise, underdeliver department.
"In 2008, we'll build on recent marketplace momentum in core chocolate as we broaden our participation in the premium segment," said President David J. West, who will take over for Lenny Jan. 1. "Today we are pleased to announce the introduction of Hershey's Bliss. This product delivers a smooth, creamy and rich-tasting chocolate experience, satisfying consumers' desire for indulgence."
If only Hershey's top brass could satisfy investors' desire for competence.
Dumb-o-Meter score: 82. Hershey's named West its new CEO after conducting a "succession process" that lasted exactly one day.
5. Lose-Lose Scenario
IMS Health
(RX)
is looking sickly.
Shares in the Norwalk, Conn., healthcare information company plunged 21% Thursday after IMS posted a
weak third quarter and predicted a growth slowdown ahead. The company said changes in its customers -- led by the big pharmaceutical companies -- have led to longer sales cycles on client contracts.
"These agreements are structured as a 'win-win' scenario," CEO David Carlucci said on an earnings call Wednesday afternoon. "Unfortunately, the market environment has not improved our ability to close these sell-through opportunities as quickly as we had expected."
That doesn't sound like much of a win-win -- particularly for IMS investors, who saw their shares drop to a three-year low the day after the announcement. Equally mystifying was Carlucci's supposedly uplifting take on the company' future.
"Our clients' challenges present considerable opportunities for us," he said in Wednesday's press release. "We're focused on these opportunities, and remain well-positioned to help drive their continued success."
Driving IMS' own success is obviously another challenge altogether.
Dumb-o-Meter score: 75. "We were probably overly optimistic that we could turn this situation faster, and that the clients would respond in a more aggressive fashion to the changing environment," Carlucci said on the call.
In our
award-winning effort to enrich the reader experience, the Five Dumbest Things Lab now scores each item using our proprietary Dumb-o-Meter. This cutting-edge technology employs a finely calibrated, 100-point scale measuring sheer Dumbness, as calculated via a closely guarded secret formula.
Got your own idea for the dumbest thing of the week?
Want to get your Five Dumbest in the mail? It's easy. Just become a TSC member -- it's free -- and you'll receive the Five Dumbest in our Before the Bell email newsletter every Friday. The rest of the week, before each trading day, Before the Bell gives you a comprehensive look at the stocks expected to move the market, plus access to a sampling of our premium content from RealMoney. Click here to sign up for Before the Bell!