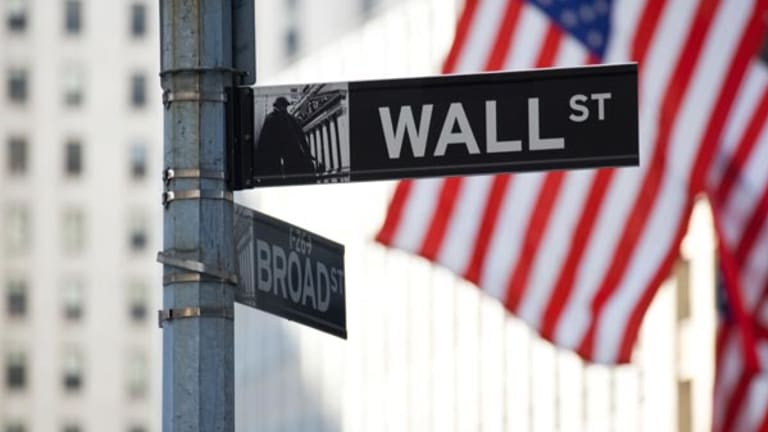 The Five Dumbest Things on Wall Street This Week
Prince pirouettes; Skype tripe; Bear bozos; NutriSystem knocked; Acxiom exodus.
1. Dancing Fool
Citi
(C)
showed off some fancy footwork this week.
The New York banking giant
warned Monday that third-quarter earnings will fall 60% from a year ago. Profit will be weighed down by rising credit costs and charges tied to this summer's credit crunch. Citi took writedowns exceeding $3 billion on its leveraged-buyout, subprime-mortgage and bond-trading positions.
"Our expected third-quarter results," CEO Chuck Prince said Monday, "are a clear disappointment."
Of course, disappointment has been a recurring theme at Citi since Prince took over four years ago. The stock has lagged behind that of the bank's peers, prompting investors to periodically
call for Prince's scalp. Prince has responded by repeatedly promising the bank's performance will improve -- a tack he tried again Monday.
"We see this quarter's overall poor trading performance as an aberration," Prince said. "While we cannot predict market conditions or other unforeseeable events that may affect our businesses, we expect to return to a normal earnings environment in the fourth quarter."
Not everyone shares Prince's rosy outlook, given sharp declines in the mortgage and leveraged-buyout markets that drove so much of the financial sector's recent profit growth. But Prince isn't one for caution. Back in July, as some observers were worrying about the overheated debt market, Prince cavalierly brushed off questions about Citi's bulging loan book.
"As long as the music is playing," Prince told the
Financial Times
, "you've got to get up and dance."
The music has stopped, but Chuck Prince is still doing the hustle.
Dumb-o-Meter score: 93. "When the music stops, in terms of liquidity, things will be complicated," Prince told the
FT
in a bit of eerie prescience.
2. The Skype Is Falling
eBay
(EBAY)
finally dropped the Skype hype.
The San Jose, Calif., online auction company admitted Monday that its high-priced Internet phone acquisition hasn't worked out as planned. eBay
shook up Skype's management, bidding adieu to CEO Niklas Zennstrom. It also took a $900 million charge to slash the value of the two-year-old investment.
The moves amount to a concession that eBay badly overpaid for Skype back in September 2005. The deal called for eBay to fork over $2.6 billion in stock and cash, plus as much as $1.7 billion more in earnout payments tied to user, revenue and profit targets.
That might seem like a steep price to pay for a company that had reported $7 million in revenue the previous year. But eBay promised the acquisition would create "significant new monetization opportunities for the company."
Monetizing cheap phone service is no easy feat, though. Last year, rivals
Yahoo!
(YHOO)
and
Google
(GOOG)
rolled out their own voice over Internet phone products. The onset of competition pushed Skype to make calls from the U.S. and Canada free for the second half of 2006 -- further compressing Skype's already razor-thin profit margins.
Monday's writedown suggests CEO Meg Whitman may have gotten a little carried away when discussing the virtues of Skype in a 2005 conference call.
"I don't think you can underestimate the strength of the brand," Whitman said. "When people are using your brand-name as a verb, that is remarkably powerful."
Unfortunately, it's not remarkably profitable.
Dumb-o-Meter score: 90. "It's really about turbocharging our growth," a Skype exec told
BusinessWeek
last year in reference to the free-call decision, "and solidifying our market position here before others catch on."
3. Bear Market
Bear Stearns
(BSC)
is firing away.
The New York-based brokerage firm eliminated 310 jobs Wednesday in its mortgage origination business. The firm said it would combine two units into Bear Stearns Residential Mortgage, or Bear Res.
"We have a powerful mortgage franchise, and this combination will allow our account executives better access to the full suite of products Bear Res can now offer," said Bear mortgage chief Tom Marano. "A hallmark of our franchise has been our ability to adapt to changes in the market environment and product demand."
One change in the market environment is that demand has dried up for the subprime mortgages that Bear and rivals such as
Lehman Brothers
undefined
once issued in great volume. Investors fled after defaults spiked this past spring.
Since then, mortgage issuers everywhere have been mostly limited to issuing mortgages that pass muster with government-sponsored investors such as
Fannie Mae
undefined
. Those loans are much less profitable for issuers than subprime mortgages were.
Leave it to Bear to paint the market's sharply diminished appetite for mortgage paper as a positive development, though.
"Looking ahead, we will soon be expanding our product menu to include Fannie Mae, Freddie Mac and FHA loans," Marano said. "These additions will increase our capabilities and further allow our brokers to select the products that best meet their customers' needs."
If only Bear had thought of that earlier.
Dumb-o-Meter score: 88. "The combination will allow the firm to right-size the business to current market conditions and increase efficiency," Bear says.
4. Starved for Attention
NutriSystem
(NTRI)
is on a crash diet.
The Horsham, Pa., nutrition company saw its shares lose a third of their value Thursday after a round of disappointing profit guidance. Late Wednesday, NutriSystem projected third-quarter earnings of 62 cents to 66 cents a share -- down from its July forecast of 77 cents to 82 cents a share.
NutriSystem appears to be losing customers to Alli, a diet drug launched in June by pharmaceuticals giant
GlaxoSmithKline
(GSK)
. New customers in NutriSystem's direct sales business fell 7% from a year ago in the third quarter to 218,000 -- a decline that set off alarm bells with investors who have been buying NutriSystem for its fast growth.
"We continue to be satisfied with our success in reactivating former customers," CEO Michael Hagan said, "but our performance with new customers, we believe, was affected by shorter-term competitive pressures which caused our marketing dollars to become less efficient."
The company predicts Alli's gains won't stand, given the poor record of weight-loss programs that depend on drugs alone. Nevertheless, Thursday's selling left the stock at levels last seen at the end of 2005. The sharp drop suggests investors don't share NutriSystem's confidence in a rebound.
"Though mindful of the heightened competitive factors surrounding our business," Hagan said in rolling out a $100 million stock buyback, "the combination of a solid financial platform and upcoming catalysts for growth in fiscal 2008 gives us confidence that the company's future remains strong."
Too bad no one else seems to share that view.
Dumb-o-Meter score: 78. An analyst at Canaccord Adams says Alli's gains suggest NutriSystem's business model is "broken."
5. Acxiom Exodus
Acxiom
undefined
got the ax this week.
Private-equity firms Silver Lake and ValueAct Partners pulled the plug on their $2.25 billion purchase of Acxiom. Monday's decision ended ValueAct's two-year-long pursuit of the Little Rock, Ark., marketing company.
The firms agreed in May to pay $27.10 a share for Acxiom, after big shareholder ValueAct won a board seat by threatening a proxy fight. The dispute wasn't always pretty, with ValueAct saying back in October 2005 that it wanted to take control of Acxiom so it could "correct the 'fool's gold' strategy that current management has continued to pursue."
But Acxiom's weak earnings, combined with a tougher financing environment for leveraged buyouts, seem to have scared the buyers away. The private-equity firms agreed Monday to pay Acxiom $65 million to drop the deal -- far less than the $110 million fee the company was due under the original buyout pact. Shares plunged to a 52-week low below $15.
Silver Lake and ValueAct aren't the only ones walking away from Acxiom. So is the company's longtime leader, Charles Morgan. He had intended to stay on till the merger closed, but now he has decided he'll leave once the company finds a successor.
"Charles Morgan is an outstanding leader," lead director William Dillard said. "We are all very appreciative of his enormous contributions to the success of Acxiom."
Pity the poor sap who inherits this mess.
Dumb-o-Meter score: 72. "I had been considering stepping down as the leader of Acxiom and thought the completion of our going-private transaction would be the natural time to begin an orderly transition," Morgan said Monday. "As Acxiom will now remain public it is the right time for a change."
In our
award-winning effort to enrich the reader experience, the Five Dumbest Things Lab now scores each item using our proprietary Dumb-o-Meter. This cutting-edge technology employs a finely calibrated, 100-point scale measuring sheer Dumbness, as calculated via a closely guarded secret formula.
Got your own idea for the dumbest thing of the week?
Want to get your Five Dumbest in the mail? It's easy. Just become a TSC member -- it's free -- and you'll receive the Five Dumbest in our Before the Bell email newsletter every Friday. The rest of the week, before each trading day, Before the Bell gives you a comprehensive look at the stocks expected to move the market, plus access to a sampling of our premium content from RealMoney. Click here to sign up for Before the Bell!