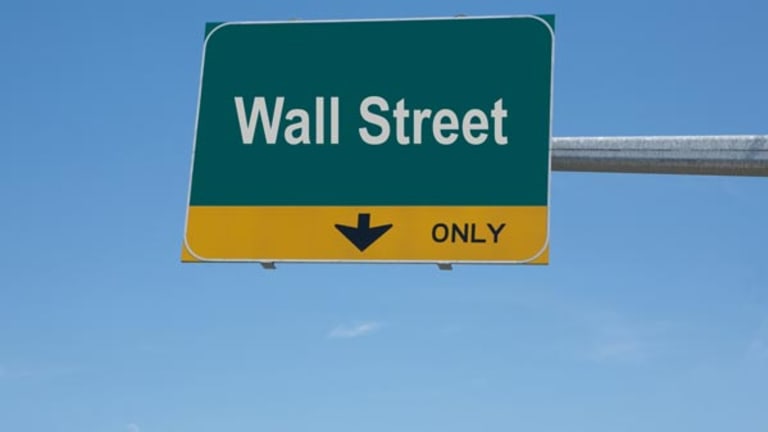 The Five Dumbest Things on Wall Street This Week
Rather in a lather; AOL's big move; short-Circuit City; Times deselect; Impac impacted.
1. Hurricane Dan
Former
CBS
(CBS) - Get Free Report
anchorman Dan Rather stormed back into the news this week.
Rather
sued his former employer Wednesday in New York State Supreme Court. The longtime face of the
CBS Evening News
claims the company destroyed his reputation as "one of the foremost broadcast journalists of our time" by failing to stand behind an expose on President Bush's National Guard service. Rather seeks $70 million in damages.
In September 2004, Rather reported on
60 Minutes
that Bush had failed to perform some of his National Guard duties and enjoyed preferential treatment from his superiors. CBS withdrew the story after questions arose about the authenticity of some source documents. After initially defending CBS' reporting, Rather
apologized, saying that in airing the report CBS "made a mistake in judgment, and for that I am sorry."
Three years later, Rather is still sorry, but for a different reason. The newsman now says the report was accurate. It was his coerced apology that was a mistake.
So why did Rather, who briefly ended his evening newscasts by saying "courage," keep his mouth shut all this time? Because his superiors told him to, the suit claims. Meanwhile, the ungrateful CBS brass sought to make him a "scapegoat" so the network could "curry favor" with the White House.
Those weren't the only injustices visited upon Rather, to go by his lawyers' account. After he got yanked out of the anchor chair in 2005, Rather "was provided with very little support staff, very few of his suggested stories were approved, editing services were denied to him, and the broadcast of the few stories he was permitted to do was delayed and then played on carefully selected evenings when low viewership was anticipated," the suit whines.
Worse yet, consider what happened when Rather asked to go to Louisiana in the fall of 2005 to report on Hurricane Katrina.
CBS "refused to send him," the suit claims, in a bid to further lower his profile by keeping him off the air. The network did this, Rather's suit alleges, knowing full well that "Mr. Rather is the most experienced reporter in the United States in covering hurricanes."
Maybe CBS figured it was windy enough in New Orleans already.
Dumb-o-Meter score: 93. CBS denies the allegations in the suit, calling them "old news."
2. Mailing It In
AOL is ready to get mail at an exciting new address.
The struggling
Time Warner
(TWX)
unit rolled out a host of changes this week aimed at building its lagging Internet advertising business.
AOL realigned its ad network into a new entity called Platform A, which the company promises "will offer advertisers access to the most sophisticated targeting and measurement tools available in the marketplace." AOL also set a distribution agreement with
Hewlett-Packard
(HPQ) - Get Free Report
and moved its headquarters to New York from Dulles, Va.
"New York City is the center of advertising," said AOL chief Randy Falco, "so it makes perfect sense to locate our corporate headquarters here."
It really does, though naysayers might dwell on the timing. Years ago AOL was the pioneer in the Internet access business. Its "You've got mail" slogan became a familiar catchphrase and the title of a popular movie.
But for all its success, AOL failed to quickly respond to the rapid expansion of Net advertising. That cleared the way for the rise of
Yahoo!
(YHOO)
and, of course,
Google
(GOOG) - Get Free Report
.
Even though its rivals' gains long ago relegated AOL to the status of mere curiosity, execs continue to labor under the impression that they're on the cutting edge.
"With these changes," Time Warner operating chief Jeff Bewkes said, "Randy Falco, Ron Grant and their team have positioned AOL to benefit fully from the trends that are reshaping the online advertising business and to expand AOL's leadership in it."
AOL has got mail, but what it needs is a clue.
Dumb-o-Meter score: 88. How does AOL plan to "grow its advertising business and increase the size and engagement of its worldwide audience"? Why, in part by "right-sizing the company's cost structure," of all things.
3. Circuit City Slickers
Circuit City
(CC) - Get Free Report
short-circuited again.
Shares of the Richmond, Va., home-electronics retailer tumbled 16% to a 52-week low Thursday after the company posted its latest
sales shortfall. Circuit City said it swung to a fiscal second-quarter loss as sales in stores open at least a year fell 7.9% from a year ago. The company also expects to lose money in the third quarter, though it aims to return to profitability in the fourth period.
The lousy numbers highlight the widening gap between Circuit City and rival
Best Buy
(BBY) - Get Free Report
, which earlier this week rode strong overseas sales gains to a stronger-than-expected second quarter profit. But Circuit City insists it's making progress in a "transformation" that resulted earlier this year in the
layoff of 3,400 workers.
"Our domestic segment comparable store sales changes improved each month of the quarter," CEO Philip J. Schoonover said Thursday. He adds that various trends "lead us to believe that the store-level changes are having a positive impact on the customer experience."
It's a shame so few customers are around to enjoy it.
Dumb-o-Meter score: 85. The company hopefully cites "the results from the 65 learning center stores that are used to roll out our transformation changes."
4. Hitting the Wall
New York Times Co.
(NYT) - Get Free Report
tore down a short-lived subscription wall.
The New York-based newspaper publisher said Wednesday it will stop charging for online access to its columnists and news archives. The move came two years to the day after the Times rolled out a widely questioned plan to charge $50 annually for those features as part of an offering called TimesSelect.
Some skeptics wondered at the time whether the Times would succeed in getting readers to pay for columns, though the company brushed off those worries.
"This is a great new product," the company said back in September 2005. "TimesSelect provides our readers with unique access to some of the newspaper's most influential and popular columnists as well as a way for members to communicate with the columnists. It also opens the door to one of the world's most extensive newspaper archives in an affordable way."
Many readers declined to open the door, however. The Times said TimesSelect "certainly met and exceeded our goals," but the paid subscriber rolls flattened out this year at around 227,000. The company, which has been hit hard by a downturn in newspaper advertising, concluded it risked surrendering valuable online ad revenue by continuing the service.
But it's not that trying TimesSelect was a mistake. No, just as rolling out TimesSelect was an exciting and uplifting moment, so was consigning the little-used service to the scrap heap.
"Advertisers see the enormous value in making our site open and free to everyone," the company said Wednesday. "With the removal of the pay wall, the audience potential at NYTimes.com, already the No. 1 newspaper Web site in the United States, is vast."
As is the opportunity for more mealy-mouthed corporate-speak.
Dumb-o-Meter score: 82. "Because of online users' growing reliance on search in order to navigate the Web," a statement said Wednesday, "NYTimes.com expects to see a substantially increased number of unique users referred to and accessing the site once the pay wall is gone."
5. Mortgaging the Future
Impac Mortgage
(IMH) - Get Free Report
is feeling the impact of the credit crunch.
The Irvine, Calif., lender canceled its common-stock
dividend and laid off 144 workers Tuesday in the latest fallout from the collapse of the mortgage market. Impac joins rivals ranging from giant
Countrywide
( CFC) to tiny
NovaStar
( NFI) in slashing operations to adjust to sharp declines in U.S. housing sales and prices.
A spike in defaults on recent-vintage loans to homebuyers with poor credit histories has scared investors away from the once-vibrant market for mortgage-backed securities. The squeeze has made it difficult for lenders to raise funding in the market, at a time when demand for riskier mortgage loans has evaporated.
"Given the severe dislocation of the market place, which included unprecedented margin calls, we are left with no other alternative but to downsize our company to better operate and navigate through this difficult and unrelenting environment," CEO Joseph R. Tomkinson said Tuesday. "It is with deep sadness and regret that we are currently exiting the Alt-A mortgage business which we pioneered in the early 1990s."
Impac investors may regret seeing the value of their investments decline 84% over the past year. But that's not an emotion shared by Tomkinson, who prefers to point out his management team's many recent accomplishments.
Tomkinson allows that "we have suffered significant operating losses this year, for which we are not proud of." But he adds that Impac "has protected its shareholders from capital infusions or restructures that would have significantly diluted or wiped out our stockholders' equity in its entirety."
Thanks, but Impac shareholders could probably do without that sort of protection.
Dumb-o-Meter score: 75. "I am proud of my executive management team," the CEO adds, "for their unfailing efforts to manage through this credit crisis."
In our
award-winning effort to enrich the reader experience, the Five Dumbest Things Lab now scores each item using our proprietary Dumb-o-Meter. This cutting-edge technology employs a finely calibrated, 100-point scale measuring sheer Dumbness, as calculated via a closely guarded secret formula.
Got your own idea for the dumbest thing of the week?
Want to get your Five Dumbest in the mail? It's easy. Just become a TSC member -- it's free -- and you'll receive the Five Dumbest in our Before the Bell email newsletter every Friday. The rest of the week, before each trading day, Before the Bell gives you a comprehensive look at the stocks expected to move the market, plus access to a sampling of our premium content from RealMoney. Click here to sign up for Before the Bell!