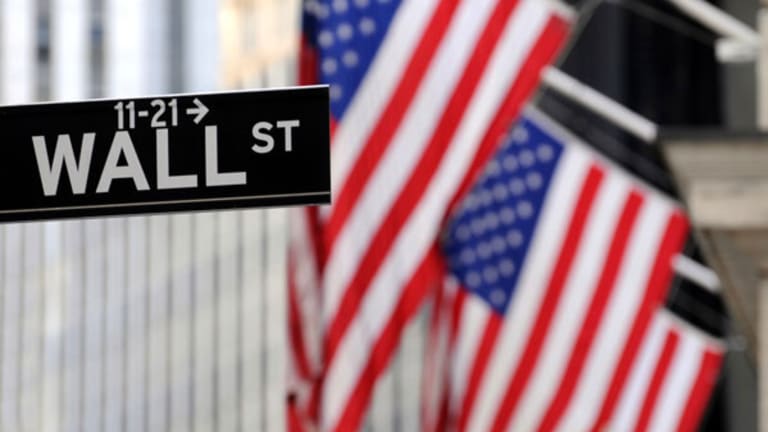 The Five Dumbest Things on Wall Street This Week
H&R Blockheads; JPMorgan's Fed feat; Childish Place; Lucent losses; Limelight's lucky day.
1. Block Heads
H&R Block
(HRB)
is taxing investors' patience.
The Kansas City, Mo., tax preparer came under renewed assault this week. On Wednesday, the dissident shareholders demanding three seats on Block's board won support from proxy advisory firm Institutional Shareholder Services.
ISS said it supports the dissidents, who are led by former
Securities and Exchange Commission
chief Richard Breeden. He wants Block to reconsider costly forays into the bank and brokerage businesses. ISS said it agrees that change is necessary at H&R Block, whose shares have lagged far behind the market in recent years.
"We conclude that the company's long-term underperformance," ISS said, "can be traced to either a failed diversification strategy or poor execution."
There has been plenty of poor execution at Block. The company agreed to sell its Option One mortgage operation this past spring for as much as $1.1 billion -- just months after CEO Mark Ernst insisted the firm would be able to get $200 million more. Even the lower figure now appears in doubt: Closing has been delayed repeatedly amid the collapse of the market for mortgage-backed securities.
You might expect management to take a measured tone with its detractors, given that Block's stock has lost 30% of its market value over two years. But Ernst came out firing Wednesday.
"We are disappointed with ISS' recommendation," he said. Block, he added, "is concerned that many of Mr. Breeden's so-called 'new ideas' could be harmful to shareholder value."
Take it from Ernst -- he knows all about harming shareholder value.
Dumb-o-Meter score: 90. Block got shut out of the debt markets Wednesday but characteristically insisted that using its bank lines would "provide a more stable source of funds to support its short-term needs."
2. Discount Window Dressing
How far
JPMorgan
(JPM)
has fallen.
The firm is named after the financier who saved Wall Street from a
bank panic in 1907. But as the
Federal Reserve
seeks to solve this summer's credit crunch, the modern Morgan looks less heroic.
Take the events of the past week. Last Friday, the Fed cut its rate on so-called discount-window borrowings to 5.75% from 6.25%, saying it wanted banks to lend to high-quality borrowers who have been shut out of the debt markets.
"These changes," the Fed said, "are designed to provide depositories with greater assurance about the cost and availability of funding."
On Wednesday,
Citigroup
(C)
became the first big U.S. bank to say it had borrowed money at the new rate. Shortly afterward, JPMorgan said it too had hit the discount window.
But unlike Citi, which said it took out $500 million "on behalf of clients," JPMorgan stressed that it and its partners
Bank of America
(BAC)
and
Wachovia
(WB)
went to the window strictly for appearances' sake.
The three banks said they took their $500 million loans in transactions "intended to display the effectiveness" of the Fed's discount-window facility. Where Citi hints that it may well lend money out, the JPMorgan trio makes clear that its aim is to "encourage use of Fed discount window."
So what's the point of borrowing money you don't plan to lend out? Why, the firms "believe it is important at this time to take a leadership role in demonstrating the potential value of the Fed's primary credit facility."
Leadership? Sounds more like self-congratulation.
Dumb-o-Meter score: 88. JPMorgan and partners "hope their actions today will highlight that point for the financial community and promote broad acceptance of the use of the facility."
3. Children's Place Kidding Itself
Children's Place
(PLCE)
can't get its act together.
The Secaucus, N.J., apparel chain posted a second-quarter loss and reduced its full-year profit target. The company blamed soft same-store sales and rising markdowns, sending its shares
plunging 18% Thursday in heavy trading.
"We remain cautiously optimistic regarding the second half and are pleased with month-to-date sales trends," said CEO Ezra Dabah. "However, in view of the sales and margin trends we have experienced through the first half, we believe it's best to take a conservative view for the remainder of the year."
The conservative view seems especially appropriate in light of Children's Place's serial bungling. The company said Thursday that it "has been unable to meet several of the deadlines" under its agreement to operate the Disney Store retail chain in North America.
Nothing new there. It was only two months ago that Children's Place agreed to step up its remodeling and maintenance efforts at the stores, settling
Disney's
(DIS)
claim that Children's Place had "committed numerous material breaches of its long-term license agreement."
This is hardly an isolated problem. Children's Place said it "has identified various upcoming deadlines during the third and fourth quarters of fiscal 2007 that it will likely miss" too -- which could leave it in breach of its license.
Children's Place assures investors that "the parties have been discussing modifications" to the deal, but by now its upbeat claims are starting to ring hollow.
"We are committed," Dabah said in June, "to executing on this important remodel program."
Any remodeling at Children's Place should start with the CEO's office.
Dumb-o-Meter score: 85. The company has bigger problems, too. "In connection with the board's ongoing review of internal controls and compliance," Children's Place said it "has identified certain violations of the company's policies and procedures by two executives of the company."
4. The More Things Change...
Alcatel-Lucent
(ALU)
is staying the course.
This week the French telecom-equipment giant lost one of its most respected execs.
Pfizer
(PFE)
hired Alcatel-Lucent's administrative chief, Frank D'Amelio, as its new chief financial officer.
"We are very pleased that an executive with Frank's skills, integrity, global experience and proven leadership is joining our management team," said Pfizer chief Jeffrey Kindler.
D'Amelio isn't the only top exec leaving Alcatel-Lucent. The Paris-based company said Wednesday that science chief Mike Quigley is leaving as well, "to return to Australia."
The moves leave CEO Pat Russo atop the company. That's not necessarily a good sign for shareholders, who have seen their stock lose more than a fifth of its value since late last year, when the merger of France's Alcatel and New Jersey's Lucent took place.
"During the past year, both Mike and Frank have contributed significantly to the planning for and the launch of Alcatel-Lucent," Russo said Wednesday. "With their help, we achieved a number of important milestones in a very short time."
That's one way of putting it. Alcatel-Lucent has posted a string of weak quarters and repeatedly increased its layoff plans. The company has been losing market share to rivals, particularly Swedish wireless-gear giant
Ericsson
(ERIC)
.
Yet Russo, who oversaw a similar decline at Lucent before the merger, remains firmly in control.
"When we announced the merger of Alcatel-Lucent, we acknowledged the breadth and depth of the senior management team," Russo said. "We anticipated that there would be an evolution in leadership responsibilities, which is natural."
What's not natural is that Russo still has her job.
Dumb-o-Meter score: 78. "The discipline for monitoring and managing our integration activities are in place and operational and our integration plans ... are progressing," Alcatel-Lucent claims.
5. Red-Hot Limelight
Limelight Networks
(LLNW)
CEO Jeff Lunsford has a great sense of timing.
Shares of his New York-based streaming video shop jumped 11% Thursday after the company announced a licensing deal with
Microsoft
(MSFT)
.
As luck would have it, the Microsoft announcement came just three days after Lunsford bought 13,250 Limelight shares, for about $7.55 apiece. By Thursday afternoon, after the Microsoft news, Limelight shares fetching $9.44 each.
That's a 25% gain -- not bad for three days' work. Was it just a coincidence that Lunsford happened to plunk down a hundred grand on Limelight stock days before the company scored a deal with Microsoft?
Well, no. Limelight says it knew earlier this month it had signed up Microsoft -- and the company adds that investors should have known too.
CFO and compliance officer Matt Hale says the company told analysts on its Aug. 9 earnings call and in its Aug. 14 quarterly financial filing that it had renewed a big contract with an existing customer.
One tiny quibble: The company didn't name the customer. Hale told
TheStreet.com's
Scott Moritz that Limelight had to wait for Microsoft's go-ahead there. Even so, he insists Lunsford's purchase was above-board.
"We announced the contract on the earnings call and in the
10-Q filing, and baked it into the guidance," says Hale. He adds that "all the material information was disclosed."
Except the information investors actually cared about, that is.
Dumb-o-Meter score: 72. "Jeff just felt like he needed to send a message to the Street that he thought the stock was undervalued," Hale said.
In our
award-winning effort to enrich the reader experience, the Five Dumbest Things Lab now scores each item using our proprietary Dumb-o-Meter. This cutting-edge technology employs a finely calibrated, 100-point scale measuring sheer Dumbness, as calculated via a closely guarded secret formula.
Got your own idea for the dumbest thing of the week?
Want to get your Five Dumbest in the mail? It's easy. Just become a TSC member -- it's free -- and you'll receive the Five Dumbest in our Before the Bell email newsletter every Friday. The rest of the week, before each trading day, Before the Bell gives you a comprehensive look at the stocks expected to move the market, plus access to a sampling of our premium content from RealMoney. Click here to sign up for Before the Bell!