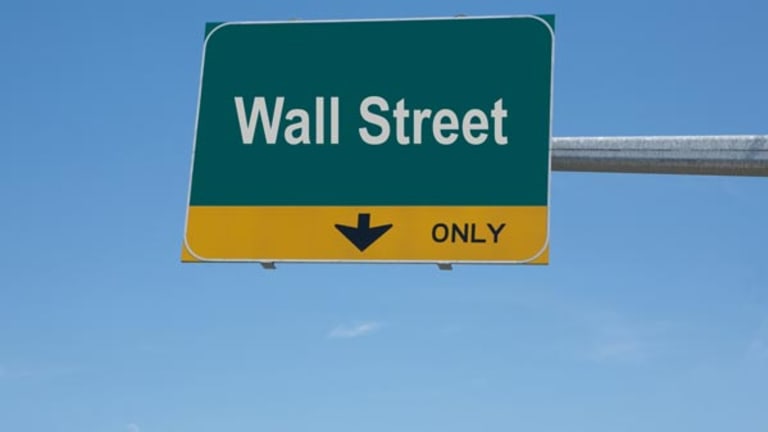 The Five Dumbest Things on Wall Street This Week
Chrysler crackup; Bear banished; questionable Qualcomm; Radian ripped; Luminent lather.
1. Mr. Fix-It
The new Chrysler is already spinning its wheels.
The big automaker celebrated its first day under new ownership Monday with an
unexpected management change. Chrysler's new majority shareholder, Cerberus Capital Management, hired former
Home Depot
(HD)
chief Bob Nardelli to run the Auburn Hills, Mich., company.
Cerberus, which is named after the mythological three-headed dog that guards Hades, had previously planned to leave Chrysler chief Tom LaSorda in place. But the private equity giant decided at the last minute to bring Nardelli in as his boss.
"We are excited to welcome Bob to the Chrysler family," LaSorda said in a statement Monday. "Bob has a proven track record of success and an unwavering focus on performance."
Nardelli has a record, all right. He spent six years atop Home Depot before restive shareholders ran him off in January. Home Depot's stock sputtered as he failed to invest in its retail stores and made an ill-advised detour into the contracting business just as the U.S. housing market peaked. For his trouble, he walked off with $210 million.
Cerberus seems to have learned from the Home Depot fiasco. It's paying Nardelli an annual base salary of just $1, though he could collect millions of dollars in incentive pay by hitting targets tied to Chrysler's improvement. Cerberus was "deeply impressed" by Nardelli's success in bringing down costs at Home Depot, the
Detroit News
reported.
Also impressed is Nardelli's former boss at
GE
(GE)
, the legendary cost-cutter "Neutron Jack" Welch.
"He will bring the right people in," Welch told the
Detroit News
. "He will leave no stone unturned at Chrysler."
That's just what Chrysler's workers are afraid of.
Dumb-o-Meter score: 95. Presumably Nardelli can't do any worse this time around.
2. Bear Raid
Bear Stearns
(BSC)
has stumbled into a sticky trap.
The New York-based brokerage firm has come under ferocious attack as the market for subprime mortgage securities unravels. Two hedge funds run by Bear Stearns Asset Management collapsed earlier this summer, and now Wall Street is wondering how big a hit the firm's earnings will take.
Bear's response, spearheaded by CEO Jimmy Cayne, hasn't exactly inspired confidence. The latest round of trouble started last Friday, when Bear called a conference call to respond to an
outlook cut from ratings agency Standard & Poor's.
Cayne, after some perfunctory remarks about how the firm was "taking the situation seriously," turned the call over to finance chief Sam Molinaro. When the firm opened the floor to questions, an analyst promptly asked Cayne when Bear would consider buying back its stock. Bizarrely, Cayne
wasn't there.
Molinaro stuck around to answer every question, but his answers didn't make anyone feel better.
"I think these times are pretty significant in the fixed-income markets," Molinaro said on the call. "I've been at this for 22 years. It's about as bad as I have seen it in the fixed-income market during that period of time."
It was about to get worse, though. Perhaps realizing he had failed to win back support for his stock, Cayne made another bold move over the weekend. He
pushed out longtime operating chief Warren Spector, effectively blaming him for the hedge fund fiasco.
To his credit, Spector played the fall-guy role with grace.
"I intend to remain a significant shareholder," he said, "and will follow the firm's future success with great pride."
Unfortunately for Bear Stearns, pride comes before the fall.
Dumb-o-Meter score: 91. Bear's future success looks rather questionable at the moment.
3. Questionable Qualcomm
Qualcomm
(QCOM)
is getting its comeuppance.
A federal court ruled against the San Diego-based chipmaker in a case covering two video compression patents. Monday's ruling by U.S. District Judge Rudi Brewster hands a victory to rival
Broadcom
undefined
.
The decision also gives Qualcomm's aggressive legal strategy a black eye. Brewster ruled that Qualcomm deliberately concealed patents from an industry standard-setting group. He said
that Qualcomm failed to share important documents with Broadcom. He even said that Qualcomm had engaged in "constant stonewalling, concealment and repeated misrepresentations."
Those actions will cost Qualcomm. The judge ordered Qualcomm to pay Broadcom's attorney fees, which reportedly amount to around $10 million.
Qualcomm pledged to appeal, though it also said it "acknowledges the seriousness of the court's findings and reiterates its previous apology ... for the inaccurate testimony of certain of its witnesses."
The findings suggest that Qualcomm isn't getting its money's worth from its legal team. Qualcomm said on a conference call with analysts in January that it had budgeted "more than $200 million in legal expenses" for fiscal 2007, as the company mounts court battles with Broadcom,
Nokia
(NOK)
and many others.
"Obviously," CEO Paul Jacobs said in January, "we continue to fight these very expensive legal battles."
Without much success, we might add.
Dumb-o-Meter score: 88. "While we are gratified with the court's ruling," Broadcom said in a press release Tuesday, "we are also disappointed that Qualcomm chose to stoop to such tactics."
4. MGIC's Magic Touch
MGIC
(MTG)
is playing all the angles on its proposed deal with
Radian
(RDN)
.
New York-based MGIC agreed this past winter to buy its Philadelphia-based rival in an all-stock deal then valued at $4.7 billion. The companies said the merger would form a "pre-eminent mortgage and credit risk insurer."
"Our companies have similar goals," MGIC chief Curt Culver said on Feb. 7, "and shared values regarding increasing shareholder value."
MGIC and Radian may have had similar goals then, but they have different ones now. MGIC said late Tuesday that it believes it "is not obligated to complete its pending merger with Radian."
MGIC blamed the decision on losses tied to a subprime mortgage joint venture called C-Bass. MGIC's stock soared 17% Wednesday as investors sighed with relief that the Radian merger might collapse or be renegotiated.
Radian was less pleased. The company has seen its shares lose two-thirds of its value since the merger was announced, as mortgage-industry losses continue to mount. Standard & Poor's said this week that it might downgrade Radian's bonds if the deal doesn't go through.
Despite all that, Radian insists the deal should go forward.
"Stockholders of both companies have already approved the merger," it said in a press statement Tuesday, "and we continue to believe that the transaction is in their best interests."
Forgive stockholders for believing otherwise.
Dumb-o-Meter score: 85. C-Bass recently hired Blackstone "to assist the company in the completion of the process of obtaining more permanent capital" -- its previous capital having proved all too temporary.
5. Lights Out at Luminent
Luminent Mortgage Capital
undefined
spoke too soon.
Luminent shares lost three-quarters of their value Tuesday after the San Francisco-based real estate investment trust
suspended its quarterly dividend. The company had claimed only a week earlier that it would pay the dividend.
"The mortgage industry, and the financing methods that the mortgage industry relies upon, have deteriorated significantly and in an unprecedented fashion," Luminent said in a press release Monday evening. "Effectively, the secondary market for mortgage loans and mortgage-backed securities has seized-up."
If that's unusually colorful language for a press release, consider Luminent's predicament. The company now finds itself "considering the full range of strategic alternatives," Wall Street-speak for trying to find a buyer. Luminent got default notices Wednesday from two lenders.
It wasn't long ago that Luminent was promising to rise above the mortgage mess. Back on July 30, Luminent responded almost archly to a distress signal from rival mortgage player
American Home Mortgage
(AHM)
. When American Mortgage announced plans to conserve cash in the face of margin calls, Luminent responded by claiming that its own dividend "is secure and will not be canceled."
"Luminent is not subject to the loan repurchase risk that is currently impacting certain loan originators," the company sniffed. "Instead, Luminent purchases high quality mortgage loans from originators, and only after Luminent conducts exhaustive due diligence on each and every loan."
A lot of good that did them.
Dumb-o-Meter score: 82. Maybe the company was just all tuckered out after all that due diligence.
In our
award-winning effort to enrich the reader experience, the Five Dumbest Things Lab now scores each item using our proprietary Dumb-o-Meter. This cutting-edge technology employs a finely calibrated, 100-point scale measuring sheer Dumbness, as calculated via a closely guarded secret formula.
Got your own idea for the dumbest thing of the week?
Want to get your Five Dumbest in the mail? It's easy. Just become a TSC member -- it's free -- and you'll receive the Five Dumbest in our Before the Bell email newsletter every Friday. The rest of the week, before each trading day, Before the Bell gives you a comprehensive look at the stocks expected to move the market, plus access to a sampling of our premium content from RealMoney. Click here to sign up for Before the Bell!