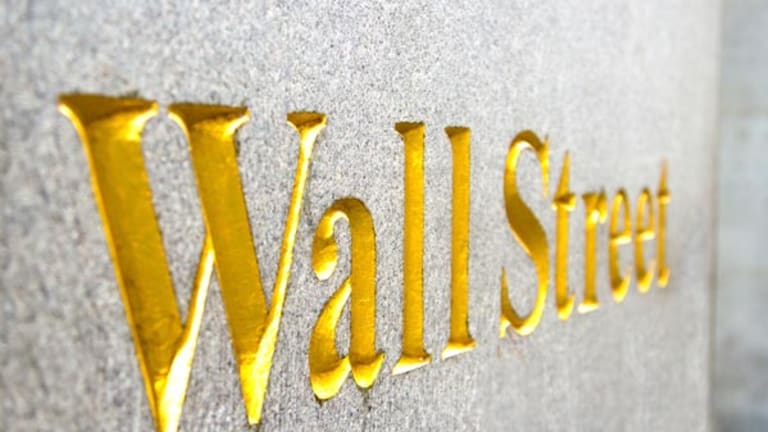 The Five Dumbest Things on Wall Street This Week
Yahoo! yammering; doubting Dow Jones; MGM's buyout mirage; Wendy's frosted; Celgene slip-up.
1. Yahoo! Spells Relief Y-A-N-G
Yahoo!
(YHOO)
found a cure for its leadership ills.
The Sunnyvale, Calif., search giant said Monday afternoon that Terry Semel
resigned after six years as CEO, and named co-founder Jerry Yang CEO and former finance chief Sue Decker president.
Semel, who will stay on as nonexecutive chairman, said on Monday's conference call that the need for a change dawned on him gradually.
"As we continued to discuss it, at the board, I personally found that I was thinking much shorter term," Semel said. "I started to express that very openly to the board, and saw myself more as a -- kind of a coach
rather than a player going forward."
What a coach Semel will make. Critics have been calling for his head for more than a year as Yahoo! has continually lost ground to
Google
(GOOG) - Get Alphabet Inc. Report
. Investor unrest flared up last week at the annual shareholder meeting, where a third of voters withheld support for management's board slate.
The vote was far from the only sign of frustration. Dissident shareholder Eric Jackson wondered aloud why Yahoo! didn't apologize for its poor performance. Shares have dropped 29% since the end of 2005, as Yahoo! repeatedly missed financial targets and stumbled on big technology projects.
Semel blandly promised business would get better, but that didn't mollify Jackson. He challenged Semel at the meeting, asking whether he had enough "fire in the belly." Semel shot back, "Absolutely."
The mess from Semel's tenure at Yahoo! has left everyone with a serious case of heartburn.
Dumb-o-Meter score: 95. Maybe the resignation will make Semel feel better.
To watch Greg Greenberg's video take of this column, click here
.
2. Irrational Exuberance
Dow Jones
undefined
is crying out for help.
The New York company has been shopping itself since it got a $5 billion buyout offer from
News Corp.
(NWS) - Get News Corporation Report
back in April. This week, the Dow Jones board
took control of the sale talks from the controlling Bancroft family. The board pledged to "take the lead" in the "exploration of strategic alternatives."
Alternatives to the News Corp. deal look scarce, though. The rumor mill has churned out possible suitors ranging from Warren Buffett to a team of
GE
(GE) - Get General Electric Company Report
and
Pearson
(PSO) - Get Pearson Plc Report
. Yet so far, Rupert Murdoch's only rival for the publisher of
The Wall Street Journal
is Brad Greenspan.
Greenspan, the self-described founder of the MySpace social networking site, offered Wednesday to buy a quarter of Dow Jones for $60 a share. He said he aims to "keep Dow Jones independent and able to firmly hold on to its culture of integrity and high quality reporting."
Yet Greenspan's not the first guy you might associate with the culture of integrity. He founded a tech company called eUniverse back in 1999 and became its CEO a year later. But Greenspan was ousted in a 2003 proxy battle after the company restated earnings to fix accounting problems.
He didn't go quietly, accusing some directors of having "embarked upon a scheme to entrench themselves in office."
eUniverse then hired new management, changed its name to Intermix and started promoting MySpace. Two years later, News Corp. bought the company for $580 million.
Greenspan still owned Intermix shares, so the deal made him rich. But it didn't make him happy. He sued to stop the sale, claiming management had "defrauded shareholders of more than $20 billion." A Los Angeles Superior Court judge dismissed the suit last October.
Something else that should be dismissed is Greenspan's habit of wrapping himself in MySpace's glory. eUniverse issued plenty of press releases during Greenspan's tenure, but a search of the Factiva publications database shows not one of them mentioned MySpace. News Corp. sniped last year that Greenspan was pushed out of eUniverse "while MySpace was still in its infancy."
Maybe that's why he acts like such a baby.
Dumb-o-Meter score: 93. A spokesman says Greenspan "always realized the value of MySpace" and "wouldn't agree" with the notion that he's freeloading on its success.
3. Kerkorian's Grand Illusion
Buyout bets aren't paying off at
MGM Mirage
(MGM) - Get MGM Resorts International Report
.
The casino operator set plans Wednesday to build a new Las Vegas hot spot with South African developer Sol Kerzner. MGM said joining with Kerzner on the "multibillion-dollar integrated resort property" will allow the company to accelerate growth while conserving capital.
"This is an exciting opportunity for our company," said MGM's finance chief, Jim Murren. "This development will further elevate the value of our surrounding land holdings and assets."
That's dandy, because another announcement Wednesday promptly depressed the value of MGM stock. Shares dropped 7% in heavy trading after billionaire investor Kirk Kerkorian, who owns more than half of MGM's stock,
called off his plan to split the company up.
MGM shares had soared 38% in the month since Kerkorian announced he
wanted MGM's plum Bellagio property all to himself. His investment firm, Tracinda, said in a late May
Securities and Exchange Commission
filing that a deal could lead to "financial restructuring transactions involving all or a substantial portion of the remainder" of MGM. Wall Street took that remark as meaning the company was up for sale.
But on Wednesday, visions of a big MGM sale vanished. Tracinda said in a filing that it had "determined not to pursue negotiations" over Bellagio because MGM's joint venture strategy offers "significant potential to unlock value."
When it comes to takeover hopes, MGM Mirage definitely lives up to its name.
Dumb-o-Meter score: 88. "We are very gratified by the overwhelming interest in our company that followed Tracinda's initial announcement," MGM said Wednesday.
4. Wendy's Frosty Reception
Wendy's
(WEN) - Get Wendy's Company (The) Report
looks fried.
The Dublin, Ohio, fast food chain cut its full-year earnings target Monday. Wendy's said sales in stores open at least a year rose just 0.7% in the second quarter. The company blamed a new pricing strategy for the shortfall.
"We believe our new market-based pricing approach is the right long-term strategy to generate more positive store operating margins," CEO Kerri Anderson said in a press release Monday, "but it has pressured transactions in the short-term."
Wendy's is feeling pressure from all sides lately. Activist shareholders have been demanding changes in the name of boosting the stock. Wendy's has duly shuffled management, spun off Canadian doughnut chain
Tim Hortons
(TMI)
, sold Mexican chain Baja Fresh and bought back lots of stock. But the stock has failed to take off.
Wendy's isn't giving up, though. Under its latest effort to win over Wall Street, the company has taken to announcing once a month that it's
up for sale.
The new plan seemed to work wonders back in April. Shares soared 16% in a day after Wendy's board formed a special committee to consider its options.
"The board's formation of the special committee," Chairman James Pickett said then, "is a positive step in Wendy's continuing efforts to further enhance value for its shareholders, franchisees and other stakeholders."
But the charm started wearing off in May, when the board said it hired J.P. Morgan and Lehman Brothers to oversee the sale process. That day, shares dropped about 0.5%.
So it was no surprise when Monday's press release, headlined "Wendy's to Explore Possible Sale of the Company," was poorly received. Shares sank 4% Monday and dropped again Tuesday as Moody's mulled a downgrade of Wendy's bonds.
Pickett isn't discouraged, though.
"While a sale remains only one of the alternatives under consideration," he said in a press release Monday, "we believe it merits more thorough examination."
If you ask us, Pickett's head is what merits a thorough examination.
Dumb-o-Meter score: 85. "Our employees and operators are producing improved results," Anderson said Monday, "but certain external factors have changed and are impacting results."
5. Celgene Slip-Up
Celgene
(CELG) - Get Celgene Corporation Report
jumped the gun.
The Summit, N.J., biotech surprised Wall Street last Friday by saying its Revlimid cancer drug won full European marketing approval for treatment of multiple myeloma, a cancer of the plasma cell.
"The EU approval of Revlimid," the company said, "is an especially important and positive milestone for Celgene."
It wasn't an especially durable milestone, though. Less than two hours after Celgene reported its EU victory, the company dispatched a bulletin disavowing the announcement. The reversal delivered an unpleasant surprise to anyone who had bought the stock on the European approval news.
"Journalists and other readers should disregard the news release," Celgene said later Friday. "The drug remains under review ... and has not been approved."
The retraction press release conveyed the company's urgency. The headline started with these words: "Kill Kill Kill Celgene."
Someone must have read investors' minds.
Dumb-o-Meter score: 78. Full European approval for Revlimid was really and truly granted Tuesday.
In our
award-winning effort to enrich the reader experience, the Five Dumbest Things Lab now scores each item using our proprietary Dumb-o-Meter. This cutting-edge technology employs a finely calibrated, 100-point scale measuring sheer Dumbness, as calculated via a closely guarded secret formula.
Got your own idea for the dumbest thing of the week?
Want to get your Five Dumbest in the mail? It's easy. Just become a TSC member -- it's free -- and you'll receive the Five Dumbest in our Before the Bell email newsletter every Friday. The rest of the week, before each trading day, Before the Bell gives you a comprehensive look at the stocks expected to move the market, plus access to a sampling of our premium content from RealMoney. Click here to sign up for Before the Bell!