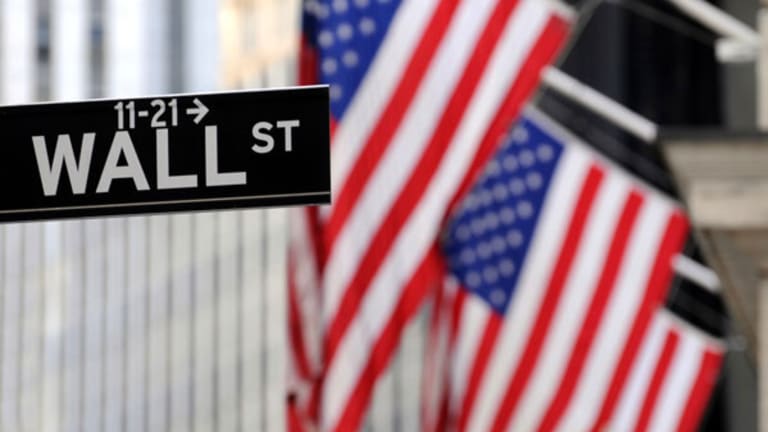 The Five Dumbest Things on Wall Street This Week
Pigs fly at Dow Jones; Citi sleeps; help wanted at Monster; Matria gets mangled; falling Starcom.
1. Pigs Get Slaughtered
The road to a
Dow Jones
( DJ) buyout is getting muddy.
The Bancroft family that controls the New York-based publisher
met Monday with
News Corp.
(NWS)
chief Rupert Murdoch. Murdoch, who has long coveted
The Wall Street Journal
, has launched a $5 billion takeover bid. Critics fret that Murdoch would trample the
Journal's
integrity in his headlong pursuit of business opportunities.
The Bancrofts seem to have put some of those fears aside. Murdoch called the talks "constructive," and someone close to him described the four-hour meeting as "different proposals being bandied about."
But the bandying was only beginning. First, a union that represents some Dow Jones workers enlisted billionaire investor Ron Burkle as a partner in a possible deal. With his deep pockets and political connections, Burkle at least has the stature to be taken seriously.
It's not clear if the same can be said about longtime public relations honcho Brian Tierney, who said this week he too would like to join the fray.
"If there was a formalized bidding process," Tierney said, "it would be our intention to participate."
Of course, intentions only go so far with Tierney. He heads up a group that took over Philadelphia's
Inquirer
and
Daily News
last June for $562 million. Tierney made all the usual noises about sharpening coverage and redeploying scarce resources.
"We don't need a Jerusalem bureau," he told
The Washington Post
. "What we need are more people in the South Jersey bureau."
But what the
Inquirer
got was fewer people everywhere. Just six months after taking over, Tierney set plans to cut newsroom staffing by 17%.
That's not to say his reign has been a failure. Earlier this year, Tierney's papers celebrated an unexpected monthly circulation bounce with a
publicity stunt memorialized by a special pullout section in the
Inquirer
.
"Pigs Fly!" reads a headline above a picture of pigs flying past the newspaper's building. "Daily readership soars with high-flying swine."
Maybe Murdoch isn't the pigheaded one after all.
Dumb-o-Meter score: 93. Dow Jones is just wallowing in high-quality offers lately.
2. Citi Sleeps
Citi
(C)
has been asleep at the switch.
The New York-based bank's Citigroup Global Markets unit agreed Wednesday to pay $15 million to
settle NASD charges that it duped some former phone company workers into gambling away their retirement funds.
Specifically, the NASD says Citi "failed to adequately supervise" a team of brokers based in Charlotte, N.C. The brokers made misleading sales pitches to retirees at BellSouth, which is now a unit of
AT&T
(T)
.
Citi will pay a $3 million fine and $12 million in restitution to 200 BellSouth retirees who swapped out of fixed-annuity pensions into riskier stocks. The NASD says three brokers and two managers got suspensions and fines totaling $295,000.
Among those was Jeffrey Sweitzer, the broker who developed the sales campaign. He got an 18-month suspension and a $125,000 fine.
Sweitzer, says the NASD, drew up sales sheets that told phone company retirees they could expect to make 12% annually in their stock accounts. Of course, many of the retirees ended up losing money instead, which is how they ended up as plaintiffs in a class action suit against Citi and the brokers. The restitution will go to retirees who brought that suit.
"Citigroup failed to follow up on various red flags arising from the brokers' conduct," the NASD says. "Citigroup's compliance officials had an opportunity to review one of the team's seminar handouts in 2001, but failed to detect, correct and follow up on some of the misstatements and omissions contained in the documents."
As usual, no one either admitted or denied any wrongdoing. But touchingly, Citi says it's doing all it can to make sure this doesn't happen again.
"We take this matter very seriously," Citi told
TheStreet.com
in an emailed statement. "The inappropriate actions of a small group of employees in one office more than five years ago don't reflect the dedication and commitment of the vast majority of financial advisers in Charlotte and elsewhere who work hard for clients each day."
That's certainly reassuring.
Dumb-o-Meter score: 90. What fun Citi could have if all its employees were as dedicated as Sweitzer and his chums.
3. Monster: Help Wanted
It's getting really ugly at
Monster
(MNST)
.
The New York-based online jobs company announced its latest management shake-up this week. Monster said goodbye to finance chief Lanny Baker and hired former Symbol Technologies exec Tim Yates to replace him.
Yates joins his former Symbol colleague Sal Iannuzzi, who earlier this year was brought in as Monster's third CEO in a year. Founder Andrew McKelvey left under a stock-option backdating cloud late in 2006, and his successor William Pastore departed in April "by mutual agreement with the board."
By now, though, Monster is scaring lots of execs away. On Wednesday, Iannuzzi unveiled a "business realignment" that will "facilitate quality customer service while providing our associates with an environment that will encourage and foster success."
One person who won't be part of that environment is Doug Klinger, formerly president of Careers North America. Monster said he'll leave to pursue other career opportunities.
All the executive-suite shuffling might seem unnerving, but Iannuzzi counsels calm.
"Monster Worldwide has experienced significant growth and has evolved into a true global business," Iannuzzi said in a press release Wednesday afternoon. "We are fortunate to make this important realignment from a position of strength."
Imagine what Monster might do in a position of weakness.
Dumb-o-Meter score: 85. "Our goal," Iannuzzi continues, "is to build a company that can produce value-added, innovative solutions for our customers and sustainable growth for our shareholders over the long term."
4. Matria Gets Mangled
Matria
(MATR)
is looking blue.
The Marietta, Ga., health-care-enhancement company
surprised investors Wednesday by announcing the loss of a deal it signed just last fall with Wellmark Blue Cross & Blue Shield of Iowa.
Matria gamely said the "status change" won't affect earnings and revenue this year. But shares dropped 9% over two days, as investors recalled the
big promises Matria had made about Wellmark.
When the companies announced their partnership last October, Matria chief Parker Petit pointed to "the opportunity to strategically align with Wellmark and bring about a comprehensive healthcare solution that truly optimizes health while reducing medical expense trends."
The company had lots of impressive numbers on hand and plenty of adjectives to describe its intentions.
"Initially serving the more than 650,000 Wellmark fully-insured members," it said last October, "Wellmark's and Matria's collaboration includes an innovative approach to supporting clinicians."
The sides certainly had an innovative approach to assessing the deal's longevity. Back in October, Matria billed the collaboration as covering "the approximately 2 million individuals for whom Wellmark and its subsidiaries and affiliated companies provide health insurance or pay claims, in a 10-year agreement."
Unfortunately, Matria miscalculated. Only eight months later, the partnership has been annulled. But Matria still has its adjectives even if it doesn't have its rosy numbers.
"It is gratifying," Petit said in October, "to work with a visionary health plan that ensures every benefit dollar has measurable value."
For Matria, this deal's measurable value ended up being zero.
Dumb-o-Meter score: 82. It's hard to see how this fiasco optimized anyone's health.
5. Falling Starcom
UTStarcom
(UTSI)
held an auction, and no one showed up.
Shares in the Alameda, Calif., telecom supplier
sank 11% Monday after UTStarcom ended its eight-month-long search for a buyer. The stock has shed a third of its value since UTStarcom
hired Merrill Lynch last October.
"After careful consideration of a number of short- and long-term alternatives," said Chairman Thomas Toy, "we have determined that our best course of action is to move forward with the company as it exists today."
And what a company it is. Since the beginning of last year, UTStarcom has
restated its earnings to fix $50 million worth of revenue misstatements, repeatedly delayed financial filings to probe a possible
options backdating problem, and announced some head-spinning management changes.
Last May, longtime top executive Hong Lu set plans to step down at year-end. UTStarcom said the head of its China business, Ying Wu, would "assume worldwide CEO responsibilities."
But with the Merrill hiring, Lu decided to stay on till UTStarcom found a buyer. Then in December, UTStarcom admitted that Lu faced possible
Securities and Exchange Commission
charges "in connection with an ongoing investigation into trading activities by third parties."
You'd think that the recipient of a so-called Wells Notice might make a poor choice to continue as CEO. But UTStarcom, which didn't return a call seeking comment, now says it's Wu who will leave the company -- leaving Lu, regulatory baggage and all, firmly in charge.
"In the course of analyzing our strategic alternatives over the last several months," Lu explained in last Friday's press release, "it has become apparent that there are differing opinions regarding the company's strategy to enhance shareholder value."
Gee, it's hard to imagine why.
Dumb-o-Meter score: 80. Shares have fallen 81% since Feb. 18, 2004, when Lu was named to Fast Company's list of "Fast 50" innovators denoting "individuals whose achievements have significantly advanced their companies or industries."